News > Features
Choose your pet's veterinarian with thoughtfulness
Sun., May 9, 2004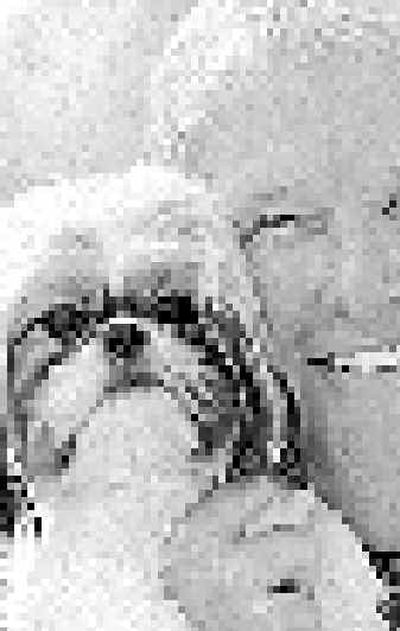 According to a recent survey by the American Animal Hospital Association, nearly 85 percent of pet owners consider their four-legged friends to be members of their family.
It's no surprise that pet owners may consider selecting a veterinarian as important as choosing the right pediatrician for their child, if not more so, because a veterinarian will oversee all of a pet's health care needs throughout its life.
In fact, my friend Dr. Edward Creagan, a Mayo Clinic cancer specialist and author of "How Not to Be My Patient," says that he stands in awe of veterinarians and has referred to them publicly as "pediatricians for life." Double meaning intended.
Regular preventive health care checkups are important, so don't wait until your pet needs medical help to choose a veterinarian. Developing a good relationship with your veterinarian over the course of your pet's life will help ensure your pet's optimal health and happiness.
One of the best ways to begin researching veterinarians and veterinary hospitals is to get recommendations from family, friends and neighbors. Once you have a couple of prospects, take time to check them out.
Request brochures or visit hospital Web sites to narrow your choices.
When selecting a veterinarian, you are not just looking for a medical expert; you are searching for someone to meet your needs as well as those of your pet. It is important to make sure that you and your pet feel comfortable around the doctor.
If you find yourself in a veterinary hospital that makes you smile, your dog's tail wag or cat purr, you're probably in the right place.
You also should feel at ease talking with your veterinarian about various treatment options and payment plans. Just keep in mind, that just like a pediatrician, your veterinarian is first and foremost a spokesperson for your pet's best interests. And sometimes, those recommendations may not dovetail with your previous experiences, expectations or budget.
"Even if the doctor is extremely qualified, if you don't connect on certain issues regarding your pet's health care, you may need to continue your search," says Dr. Dennis Feinberg, AAHA president. "Good communication is the key to establishing trust between the doctor, client and patient."
Remember that different people, including your veterinarian, have different personalities. Just like you don't get along with everyone you meet, so, too, a particular veterinarian may not be the best choice for you if your personalities and values clash.
It is important that your veterinary hospital meet a high standard of pet health care. Ask to tour the facility and meet the veterinarians and support staff. Be sure to get a brochure that explains hospital policies and procedures before leaving.
Write down your questions before you tour the facility. Consider the following questions of any facility that eventually may care for your pet:
• Is the hospital location and parking convenient?
• Does the hospital look and smell clean? Is it well lighted?
• How many veterinarians are in the practice?
• Are there licensed technicians or other professional staff members?
• Does the hospital perform its own x-rays, blood work and other diagnostics? Hospitals that are equipped to offer these services are better prepared, in the case of an emergency, to accurately diagnose and evaluate health problems and begin treatment as soon as possible.
• Does it offer 24-hour emergency care or access to such care at another facility?
• Does the hospital offer convenient office hours? Are appointments required?
• Do the fees fit your budget and are discounts available for multipet households?
• If you have needs for particular pet health care specialties, such as geriatric care, surgery or behavior, do the veterinarians have a special interest or training in any of these areas?
• Does the veterinary practice have a good relationship with veterinarians who are specialists should a difficult case need to be referred?
Sandra Wendel of Omaha, Neb., just went to a new veterinarian. Wendel explained gleefully that her standard poodle Bo loves him!
"The veterinarian seemed to genuinely like Bo, and his office met all your recommended criteria for choosing a veterinarian. His name kept coming up as I surveyed our friends with pets (caring, accessible, can call him 24/7 AT HOME, great office staff, close to our house, back-up staff).
"Best of all, the vet diagnosed a cataract in Bo's eye, which we didn't know about, so he'll be vigilant about that and any complications from it as the years progress."
For a veteran veterinarian who's concerned about your pet's health and who has to use the services of another veterinarian for his own family's pets, I couldn't have paid Wendel to say it any better.
Veterinarians work with a team of professionals, including technicians and other support staff, to deliver your pet's care. You may not be happy if you don't get along with one or more of the team members, so try to meet the entire veterinary team before choosing a hospital.
One way to ensure that your pet receives the best care possible is to choose a hospital accredited by the American Animal Hospital Association. AAHA oversees standards among 3,000 veterinary hospitals in North America and is the only organization to manage a voluntary accreditation program for companion animal hospitals.
Each AAHA hospital undergoes a detailed evaluation of its services and equipment by a trained veterinary practice consultant who inspects the facility on a regular basis.
About 17 percent of small animal veterinary hospitals in the United States and Canada are AAHA accredited. For a listing of AAHA hospitals in your area, visit the hospital locator at www.healthypet.com.
By carefully researching your selection of a veterinarian, you can help ensure the long-term health and well-being of your beloved pets. And as a result, you both win.
Local journalism is essential.
Give directly to The Spokesman-Review's Northwest Passages community forums series -- which helps to offset the costs of several reporter and editor positions at the newspaper -- by using the easy options below. Gifts processed in this system are not tax deductible, but are predominately used to help meet the local financial requirements needed to receive national matching-grant funds.
Subscribe to the Coronavirus newsletter
Get the day's latest Coronavirus news delivered to your inbox by subscribing to our newsletter.
---