News > Features
Haruf returns to old familiar with new book
Sun., May 9, 2004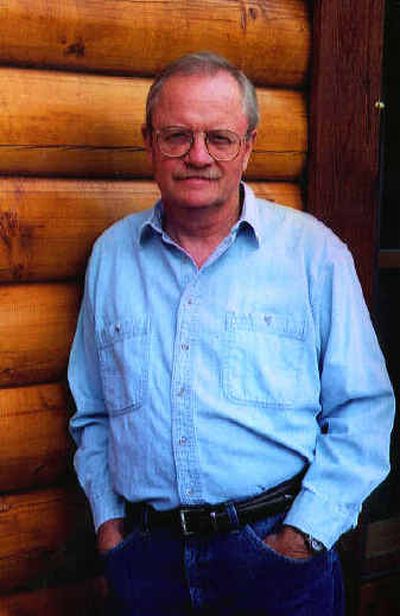 Kent Haruf is best known to Spokane-area readers as the author of "Plainsong," which was chosen in 2002 to inaugurate the community-wide Spokane Is Reading project.
The Colorado-based writer, who read from his novel at The Met to close out the monthlong event, said at the time how pleased he was by such an honor.
"I'm very gratified by that, obviously, and I'm humbled by it, too," the 61-year-old Haruf said then. "The idea of talking to people who have read your work and want to talk to you about it, that sounds like a good time to me. I'm not much of a public person, but that's going to be a treat."
Haruf (rhymes with sheriff) is out in public again, having just begun a tour in support of his new novel, "Eventide" (Knopf, 320 pages, $24.95). He returns to Spokane for a reading Wednesday night at Auntie's Bookstore.
"Eventide" continues the story of small-town life that "Plainsong" began. Many of the same characters — particularly the McPheron brothers, Harold and Raymond — return to fill out Haruf's story about the rhythms and dramas of Holt, Colo.
The key word that applies to these fictional lives: struggle.
Which seems fitting. Haruf's own struggle is one that is explained in nearly every story about him. Though a graduate of the prestigious Writer's Workshop at the University of Iowa, he didn't publish anything until he was 41. That same year his first short story and first novel, "The Tie That Binds," went into print.
As he explains in a recent interview, "It turns out that I had to serve a long apprenticeship."
That apprenticeship paid off. Since his first novel appeared in 1984, Haruf has published "Where You Once Belonged" (1990), "Plainsong" (which was a 1999 National Book Award finalist) and a number of short stories in such literary journals as Prairie Schooner and Gettysburg Review.
Retired from teaching at Southern Illinois University, Carbondale, Haruf lives in eastern Colorado with his wife Cathy.
Living in rural mid-America suits Haruf, whose speech rhythms reflect those of his characters. (Example: He pronounces the word accurate as "ak-er-uht.") In any event, he tries his best to capture the world that he sees around him — although, like any good writer, he tries to do so in a way that speaks to an audience wider than his own small circle.
"My intent is to be absolutely as accurate as I can be in portraying people in this part of the world," he says. "But, of course, I want them to be characters that people all over the world can connect with. And I hope that's so."
His job is made easier by the fact that he is familiar with his material, from the breeding and selling of cattle to the teaching of high school English.
"I know these lives," he says.
"Eventide," though, forced him to do research into new areas. For example, in one family of characters the parents have developmental disabilities that complicate not only their lives but that of their caseworker. To get things right, Haruf talked to social workers and public defenders.
As for the rest of the story, he says, "That's just a matter of living 61 years. Henry James said that a writer is someone 'upon whom nothing is lost.' Well, if you are somebody who is trying to write, you are paying attention to everything around you."
One thing he doesn't pay attention to is the growing complexity of life in the 21st century. And he sees no reason why he should.
His intent, he says, to explore "what is most basic and elemental and universal about human nature. When you strip all the computers and cell phones and fast lanes away from human beings, what are they like at their core."
Those who appreciate Haruf's writing are typically generous in their praise.
"Much as 'Seinfeld' was called the TV show about nothing," wrote Amazon.com reviewer Valerie Ryan, "Haruf's books are so low-key and straightforward that a careless reader might miss the fact that they are about everything that life has to offer: love, sorrow, malice, understanding, and the connections that make and keep us human, to name a few."
"Well, that's very flattering and generous, and I hope she's right," Haruf says. "I certainly like to think so."
Local journalism is essential.
Give directly to The Spokesman-Review's Northwest Passages community forums series -- which helps to offset the costs of several reporter and editor positions at the newspaper -- by using the easy options below. Gifts processed in this system are not tax deductible, but are predominately used to help meet the local financial requirements needed to receive national matching-grant funds.
Subscribe to the Coronavirus newsletter
Get the day's latest Coronavirus news delivered to your inbox by subscribing to our newsletter.
---