Sports
Mussina continues mastery of Mariners
Sun., May 9, 2004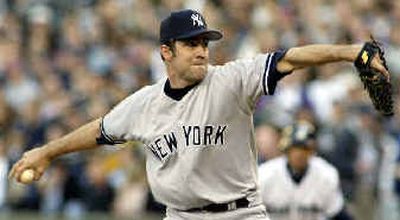 SEATTLE – A Yankees veteran pitcher and a Mariners team trying to turn around its season had a reality check Saturday night – and unfortunately for Seattle , the real Mike Mussina showed up.
The Mariners were giddy with five wins in their previous seven games, and the New York Yankees were beginning to wonder if Mussina – 2-4 with a 5.88 earned-run average coming in – had misplaced his ability. So who would prevail, the struggling right-hander who had dominated Seattle throughout his career or a Mariners team hoping it had turned some kind of corner.
Mussina outpitched Gil Meche, and when the Yankees broke out an extra-base hit barrage, New York won easily and Mussina had his first shutout effort of the season, 6-0.
"What you saw tonight was a pitcher working both sides of the plate, throwing a great curveball and raising and lowering eye levels with all his pitches," Mariners manager Bob Melvin said. "He was tough."
With the second largest regular-season crowd in Safeco Field history (46,454) looking on, Meche matched Mussina zero for zero through five innings of well-played baseball. And Meche might even have won the hearts of that crowd when, in the third inning after back-to-back two-out walks, he ended the New York threat by striking out Alex Rodriguez.
Whatever magic Meche carried through five innings, he didn't have when the sixth began.
"Our guy didn't pitch poorly at all – Gil pitched well," Melvin said. "Their guy just pitched better."
Each of the first four Yankees Meche faced in the sixth doubled, and after A-Rod started the rally, each of the last three doubles pushed home a run. Jason Giambi hit one off the center-field fence, 1-0. Gary Sheffield doubled past a diving Raul Ibanez in left field, 2-0. Jorge Posada doubled to center, 3-0. Just that quickly – and with about as much excitement – Meche was gone and so were the Yankees.
Meche allowed three runs, reliever Ron Villone three more and Mussina… . well, Mussina pitched like the man who single-handedly knocked Seattle out of the postseason in 1997.
Or like the man who – first as a Baltimore Oriole, now as a Yankee – has a 16-5 career record against the Mariners.
Whatever had ailed Mussina against teams such as Tampa Bay and Boston, Chicago or Oakland, had no effect upon Seattle's complete inability to hit him.
Mussina had allowed 60 hits in 41 innings this season prior to Saturday. Against Seattle, he allowed four hits in eight innings.
"We had one chance, early, and when we didn't take advantage of it, he shut us down," Melvin said. "We had – what? – one hit over the last seven innings?"
In the eighth inning, Melvin called in rookie reliever J.J. Putz, who hadn't allowed a run in his first four appearances this season. All Putz did was strike out the side in that eighth inning, then set New York down in order in the ninth inning - striking out A-Rod and Giambi in the process.
"J.J. hit 95 mph a couple of times and had a good breaking pitch tonight," Melvin said. "He's doing what Julio Mateo and Rafael Soriano did last year – he's come up and made an impression. Who knows what his role will be later this season?"
Nice as that was, it didn't do much to salve the wounds of a Mariners team now 12-18 in 2004 – and 8 1/2 games behind the American League West-leading Anaheim Angels. Thirty games into the season, the Mariners have been shut out three times.
Local journalism is essential.
Give directly to The Spokesman-Review's Northwest Passages community forums series -- which helps to offset the costs of several reporter and editor positions at the newspaper -- by using the easy options below. Gifts processed in this system are not tax deductible, but are predominately used to help meet the local financial requirements needed to receive national matching-grant funds.
Subscribe to the sports newsletter
Get the day's top sports headlines and breaking news delivered to your inbox by subscribing here.
---