News > Business
'Sweatshop-free' firms target socially conscious
Sun., May 9, 2004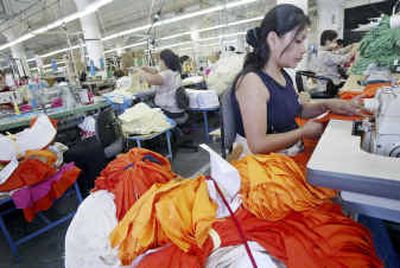 LOS ANGELES — In an industry with a history of sweatshops, two garment companies are convinced they can make money without underpaying or overworking employees.
American Apparel and SweatX, which specialize in T-shirts and other casual clothes, are marketing themselves as "sweatshop-free" to boost sales among young consumers.
Being socially responsible isn't easy in a business like the garment trade, which has low profit margins and customers more interested in price than politics. Some industry analysts say success could lie in the right mix of style and social consciousness.
"There is a bit of a grass-roots movement because of the younger generation that does their homework about where their clothes come from," said Marshall Cohen, a fashion and retail analyst for the market research firm NPD Group. "They're willing to endorse products when the message is a good message."
At Los Angeles-based American Apparel, the average pay among the 1,700 workers on the sewing floor is about $12.50 an hour, nearly twice the state minimum wage of $6.75, CEO Dov Charney said. Workers also get paid vacation days and health benefits for $8 a week.
SweatX was founded by the Union of Needletrades, Industrial and Textile Employees in 2002 with $1.5 million from the Hot Fudge Social Venture Fund established by Ben & Jerry's co-founder Ben Cohen. Workers at the Los Angeles-based firm make $10.60 an hour while getting medical coverage and two weeks of paid vacation a year.
Among the supporters of the company are the popular rock band Foo Fighters, which sells SweatX T-shirts on its Web site emblazoned with the band's logo and the message, "This T-shirt was made in a sweatshop-free, employee-owned and unionized garment factory."
CEO Rick Roth believes consumers want such "ethically made" products.
Sweatshop-free labels, however, may not be enough to attract many customers, especially when the clothes must be priced relatively high because of production costs, said Ilse Metchek, director of the California Fashion Association, an industry networking group in Southern California.
To pay its wages, American Apparel must charge as much as $18 in its stores for a T-shirt, compared to about $10 charged elsewhere for a T-shirt made in U.S. sweatshops and overseas factories.
"You're not going to go all over town to shop for that one item that's not made in Mexico — you're just not," Metchek said.
And Cohen said sweatshop-free firms must build appeal among all age groups, not just young people. "Consumers, as they continue to age, tend to become more practical than political," he said.
Style, critical for any garment maker to survive, has attracted shopper Leigh Watson to the clothes. The 29-year-old agent for music video directors likes the look of American Apparel garments as much as the sweatshop-free tag.
"The fabric is great, they have a great style and great designers," she said outside an American Apparel store in Los Angeles — one of seven operated in this country and Canada.
"I guess you just feel better wearing something that someone in a sweatshop didn't get 20 cents to make," she said.
Much of the California garment industry is centered in Los Angeles, where a 2001 survey by the U.S. Labor Department found about two-thirds of factories had been cited for violations of labor laws.
Other figures compiled in 2003 by Sweatshop Watch, an industry watchdog group, determined there were about 100,000 garment workers in California — mostly Hispanic and Asian immigrant women — who work at least 10 hours a day without minimum wage or overtime pay.
At American Apparel, Alma Amaya, a 28-year-old data processor in the cutting department, said she appreciates the work environment after spending nine years in sweatshops. Amaya said she routinely logged 10-hour days in sweatshops and made about $80. When she began sewing at American Apparel, she could make $120 a day or more, depending on her output.
Founded in 1997, American Apparel has become one of the country's largest makers of blank T-shirts. The privately held firm does not release full financial figures, but CEO Charney said sales reached $82 million in 2003 — more than double the total from the previous year.
He credits the stylish appeal of the clothing as much as the "warm, fuzzy" feeling consumers get from buying it. "We got a niche down, we know what we've got and we know how to deliver, so worrying about cheap labor is a waste of time," he said.
The 2-year-old SweatX has also seen its business grow. CEO Roth wouldn't reveal the privately held company's financial figures but did say "we were pretty far in the hole, and we're just above breaking even now.
Local journalism is essential.
Give directly to The Spokesman-Review's Northwest Passages community forums series -- which helps to offset the costs of several reporter and editor positions at the newspaper -- by using the easy options below. Gifts processed in this system are not tax deductible, but are predominately used to help meet the local financial requirements needed to receive national matching-grant funds.
Subscribe to the Coronavirus newsletter
Get the day's latest Coronavirus news delivered to your inbox by subscribing to our newsletter.
---