Sports
Catchings helps WNBA dress up its image
Mon., May 10, 2004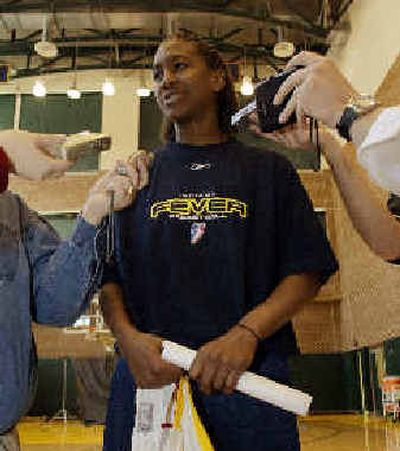 Iman. Naomi. Tyra. Now Tamika?
Well, maybe not. But Indiana Fever forward Tamika Catchings sure felt like a supermodel on a recent promo film shoot for the WNBA.
Catchings, 24, was among the top players showcased in the "This Is Who I Am" campaign. The results can be seen on the Web, in print and on TV. The first spot is being shown through the first two rounds of the NBA playoffs and conference finals on ESPN, TNT and ABC.
"Everybody is like, 'Oh, you look so beautiful,' and I'm like, 'Dang, I don't always look beautiful?' " Catchings joked.
A second commercial is planned, and the WNBA also has done subsequent shoots and will incorporate top draft picks Diana Taurasi and Alana Beard. During the WNBA season, those spots will run on ESPN2, ABC and NBA-TV.
The league's most recognizable and accomplished players were chosen by the WNBA in conjunction with their teams. Catchings, who has career averages of 19.2 points and 8.3 rebounds, was also featured in last year's "This Is Who I Am" campaign, wearing athletic garb.
"In 2002, Tamika was Rookie of the Year, she was an All-WNBA first-teamer and All-Star both years and one of the original seven core members of the U.S. Senior National Team," said Teri Schindler, vice president of programming and marketing for the league. "So I think she represents the absolute best of the best in female athletes."
Good looks and fame aside, the 6-1 Catchings hardly leads the glamorous life.
She spends about 15 minutes getting ready most mornings. After the alarm clock goes off, she takes a shower, gets dressed and makes her bed before heading out the door. Most of the time she wears her hair in braids, so all she has to do is put them back in a ponytail.
"I don't wear makeup. I wear ChapStick or lip gloss," said Catchings.
The shoot was held in a warehouse with different settings such as a basketball court, a workout area and a place with just a white backdrop for the players to pose all dressed up.
"We had specific stations that we wanted to run the players through to show the gamut of roles that they play in their lives," Schindler said.
The fashion shoot made it into the commercial. In the first version, Catchings was wearing camouflage pants in white, light green and pink. A pinkish-beige tank top and green hat completed the ensemble.
"That was probably the coolest one because they had the music going and the lights flashing," Catchings said. "You know the models, how they come down with their little walk? It was like that. I felt like a supermodel."
Fever forward Natalie Williams has been featured in a commercial before, albeit not as glamorous as Catchings' shoot.
"I think it's great they're putting them out there," Williams said. "I think it's important for the WNBA."
Schindler said they "overshot," taking plenty of still photos and video for use in other projects. Photos of Catchings in various poses and outfits have been featured on the Fever's Web site.
"I think these players show you that they're more than just No. 24 on the court," says Fever general manager Kelly Krauskopf.
Local journalism is essential.
Give directly to The Spokesman-Review's Northwest Passages community forums series -- which helps to offset the costs of several reporter and editor positions at the newspaper -- by using the easy options below. Gifts processed in this system are not tax deductible, but are predominately used to help meet the local financial requirements needed to receive national matching-grant funds.
Subscribe to the sports newsletter
Get the day's top sports headlines and breaking news delivered to your inbox by subscribing here.
---