Sports
Orangemen's Powell magician with a stick
Mon., May 10, 2004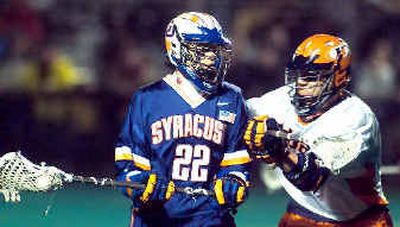 SYRACUSE, N.Y. – In quiet moments, Mike Powell plays the guitar and fancies himself an entertainer. Not much changes when he picks up a lacrosse stick and takes the field for the Syracuse Orangemen.
In a recent 16-10 win, he scored twice on behind-the-back shots and threaded his stick between his legs before sending a perfect pass to a teammate at the edge of the crease.
"To have that type of player just adds that much excitement to the game," Syracuse head coach John Desko said. "I don't think we've had anybody better."
Don't tell that to Powell's two older brothers, Casey and Ryan. They also played at Syracuse and finished their careers tied with a school-record 287 points.
But Mike Powell needs just six points to pass his siblings and has a chance to do something no other player in the country has done – win the Jack Turnbull Award for attackman of the year a record fourth straight time.
"I'm just glad we're having a good season," said Powell, a senior who has 36 goals and 28 assists in 12 games for the Orangemen (10-2). "I definitely want to go out with a bang."
Judging by what he's accomplished so far, barring injury, that's more or less a given. In 60 career games, Powell has 139 goals and 143 assists for 282 points. (Joe Vasta of Air Force holds the national record of 343 points, set from 1983-86.)
"The kid has an amazing ability to do things at a higher speed than anybody else in the game. It's hard to keep up with him," Princeton coach Bill Tierney said. "You don't defend him. I can't remember too many guys where I tell my team if they can hold him to six points we'll be OK."
Powell grew up in the northern New York city of Carthage dreaming of playing in the Carrier Dome. He would pile in the family car with his brothers for the hour drive to watch Orangemen Paul and Gary Gait transform the sport's offensive play with their assortment of trick shots in the late 1980s.
The 5-foot-10, 165-pound Powell donned a Syracuse uniform at age 17 and quickly became a star on a powerful team. The Orangemen have won eight national championships since 1983, the most in Division I, and have made the Final Four of the NCAA tournament 21 straight times.
Powell says he owes much of his success to his father, even though dad never played lacrosse.
"My father taught all of us from a young age that you have to work hard for what you get," Powell said. "Whenever I'd get hit, dad would say, 'If you're not dead, then get up.' He felt if your opponent saw that you were injured in any way, then he's gotten to you. We've carried that onto the lacrosse field."
Local journalism is essential.
Give directly to The Spokesman-Review's Northwest Passages community forums series -- which helps to offset the costs of several reporter and editor positions at the newspaper -- by using the easy options below. Gifts processed in this system are not tax deductible, but are predominately used to help meet the local financial requirements needed to receive national matching-grant funds.
Subscribe to the sports newsletter
Get the day's top sports headlines and breaking news delivered to your inbox by subscribing here.
---