Sports
Signs of life
Mon., May 10, 2004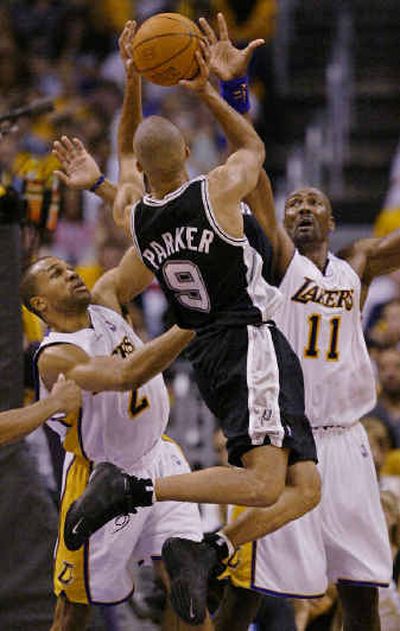 LOS ANGELES – Kobe Bryant was the first one to hit the floor and Shaquille O'Neal wasn't far behind. Five minutes into the most important game of the season – one the Lakers would win 105-91 – the Lakers' two stars were sprawled across the hardwood, diving after their dignity.
Spurs forward Hedo Turkoglu, who had the misfortune to fumble the ball at midcourt, bore the brunt of their aggression, particularly O'Neal's lumbering leap. The end result was a foul on the Lakers' 350-pound center, and a long moment where it looked like Turkoglu might have been spot-welded to the court. But the statement was clear: Forget the Alamo(dome).
Indeed, the Lakers' annihilation of San Antonio Sunday made it hard to believe that the Spurs had won the first two games of this Western Conference semifinal series with relative ease. For two nights in Texas, the Lakers were powerless to stop Tim Duncan and Tony Parker as they pick-and-rolled to a 2-0 lead, but Sunday the Spurs' duo ran out of magic.
O'Neal (28 points, 18 rebounds, eight blocks) and Bryant (22 points, six assists) combined for 50 points; Duncan and Parker offered a total of 18.
"It seemed like a desperate situation," O'Neal said. "But we're at home. This is our building, our city. They made their run at their crib, now we make our run at our crib."
If the Lakers execute as well Tuesday night as they did Sunday, then they'll easily "hold serve at home," as Bryant called it. It won't be easy, though – not with Bryant flying off to Colorado for three days of hearings regarding his sexual assault case. He'll rush back for Game 4, leaving his teammates behind to prepare.
Then again, it's hard to imagine that Phil Jackson will make any significant strategy changes while Bryant is away. Although O'Neal and Bryant have feuded over which star should be the centerpiece of the team, Jackson believes it should be O'Neal; the Lakers are at their best when Bryant accepts that.
Sunday, he did. O'Neal got the ball nearly as often as he asked for it, mixing baby hooks, jumpers and, of course, dunks to shoot 11 of 13 from the floor. Bryant only occasionally slowed up Jackson's vaunted triangle offense with superfluous dribbling, but took his shots when they were available and made 4 of 7 from 3-point range.
"My teammates were looking for me all the time, and I urge them to look for me for the rest of the series," O'Neal said. "If they do, we'll be fine."
The Spurs, on the other hand, were left looking for answers. Parker had 50 points and 14 assists in the first two games of the series, prompting the L.A. media and fans to crucify Gary Payton for soft defense. The Lakers staunchly defended their point guard – saying he was getting no help on the pick-and-roll – and vowed to clog the lane more in Game 3.
Sunday, Bryant was a rover on defense, sliding off to pick up Parker as well as dropping down to double-team Duncan (10 points, 13 rebounds) on the block. After having their game plan "torn apart," as Bryant put it, in the first two games, the Lakers appeared to solve the Spurs' basic set and forced San Antonio to fire wildly from the perimeter. Manu Ginobil led the Spurs with 17 points.
"I love roaming around, I love causing havoc out there," Bryant said.
Duncan admitted that the Spurs – who had won 17 straight games, dating back to March 23 – might have been due for a loss. The question is if they're due for three more. Last year, the Spurs beat the Lakers 4-2 in the conference finals by winning the first two games at home, losing the next two at Staples Center, then taking one in each building to close the series out.
The Lakers have other ideas, as evidenced by the greaseboard in their locker room that says simply, "11 more wins," a reminder of how many victories stand between them and another championship.
"I think everybody came here to see what Laker team was going to show up, how hard we were going to play," Bryant said. "And they got an answer."
Local journalism is essential.
Give directly to The Spokesman-Review's Northwest Passages community forums series -- which helps to offset the costs of several reporter and editor positions at the newspaper -- by using the easy options below. Gifts processed in this system are not tax deductible, but are predominately used to help meet the local financial requirements needed to receive national matching-grant funds.
Subscribe to the sports newsletter
Get the day's top sports headlines and breaking news delivered to your inbox by subscribing here.
---