Sports
Sindelar tastes thrill of victory for first time in 370 tourneys
Mon., May 10, 2004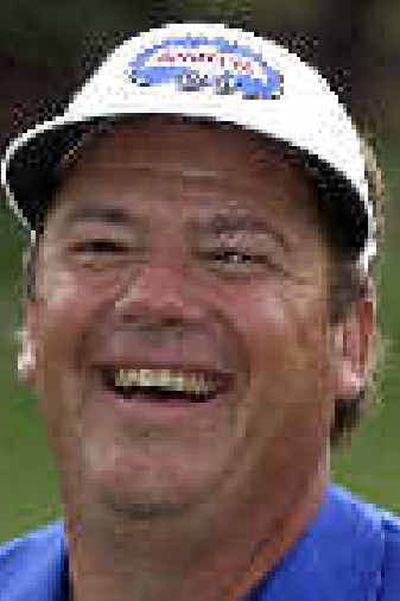 CHARLOTTE, N.C. – Joey Sindelar had a hunch someone would come out of the pack to win the Wachovia Championship on Sunday. He just didn't think it would be him.
Sindelar was 14 years and 370 tournaments removed from his last PGA Tour victory. He had spent the last five years struggling to keep his card. Worse yet, he was three shots behind with three holes to play at Quail Hollow, perhaps the most demanding finish on tour.
"My caddie, John (Buchna), told me I would need a couple of birdies and a possible accident to win," Sindelar said.
He got his two birdies, including a 4-iron into 3 feet on No. 17, the toughest hole on the course.
Arron Oberholser delivered the wreck.
And after two playoff holes, the 46-year-old Sindelar was posing with the trophy and pinching himself.
"It will take me a while to understand this is real," he said.
Sindelar birdied three of his last four holes, waited for Oberholser to wilt, then polished him off with a par in the playoff for his seventh career victory, and his first since the 1990 Hardee's Classic.
How long ago was that?
Tiger Woods had just won his first U.S. Junior Amateur title. Sindelar's first child was still in diapers.
"They think those trophies in my case are replicas, that I picked them up at a local sporting goods store," Sindelar said of his two sons, who had never seen him win. "Now, we've got a real one to show them."
Sindelar, awash in joy and disbelief, earned $1.08 million, more than he ever made in any of his previous 20 years on the PGA Tour.
Oberholser tried to put a positive spin on a shocking collapse.
An eagle on the par-5 15th put him two shots ahead with three to play. But the pressure proved too much as Oberholser bogeyed the next two holes and needed a spectacular shot out of the trees on the 18th hole to make par and give himself a chance in the playoff.
"I'm not going to beat myself up over this," Oberholser said. "It's going to happen. You've just go to be patient and enjoy the process. It's easy to get frustrated."
Sindelar closed with a 69, while Oberholser had a 72. They finished at 11-under 277.
Woods, errant as ever, gave himself a chance with a 30-foot birdie putt on the 17th and nearly chipped in for birdie on the 18th. He closed with a 68 and joined Carlos Franco one shot behind. Franco (70) had a 35-foot birdie putt on the final hole that caught the right lip.
"At least I put myself in position," Woods said after his best chance at winning in two months.
Phil Mickelson had a bogey-free 67, the best round of the day, to finish in a tie for fifth.
Vijay Singh held out hope for a third straight victory and got within one shot of the lead with an eagle on the 15th hole, but a bogey-double bogey finish did him in.
Michelob Ultra Open
Se Ri Pak shot a 6-under-par 65 and passed five players in the final round to win the Michelob Ultra Open in Williamsburg, Va.
Pak finished at 9-under 275 to win the 22nd tournament of her career and earn the final point she needed to qualify for the LPGA Hall of Fame.
The 26-year-old South Korean, in just her seventh season on tour, needs to play three more years on tour to solidify her spot in the Hall.
Hall of Famer Juli Inkster (67) and third-round co-leader Lorena Ochoa (71) tied for second at 7 under. Annika Sorenstam finished in a tie for eighth at 282 after a 71.
Michelle Wie, 14, closed with a 1-over 72 and finished in a tie for 13th.
FedEx Kinko's Classic
Larry Nelson rallied from three strokes off the lead, shooting a 5-under-par 67 for a one-stroke victory at the FedEx Kinko's Classic in Austin, Texas.
Nelson rallied with three birdies on the back nine and finished at 7-under 209 at The Hills Country Club, one stroke ahead of Bruce Lietzke (69).
Morris Hatalsky shot a 71 and finished at 5 under, tied with Bob Gilder (65) and Wayne Levi (72).
Second round co-leader Bob Charles, who at 68 was trying to become the tour's oldest winner, closed with a 4-over 76 and finished at 1-under 215.
British Masters
England's Barry Lane won his first title in nine years, shooting a 6-under 66 for a three-stroke victory in the British Masters in Meriden, England.
He finished at 16-under 272, followed by Argentines Eduardo Romero (69) and Angel Cabrera (67). Patrik Sjoland of Sweden (69) was next at 276.
Local journalism is essential.
Give directly to The Spokesman-Review's Northwest Passages community forums series -- which helps to offset the costs of several reporter and editor positions at the newspaper -- by using the easy options below. Gifts processed in this system are not tax deductible, but are predominately used to help meet the local financial requirements needed to receive national matching-grant funds.
Subscribe to the sports newsletter
Get the day's top sports headlines and breaking news delivered to your inbox by subscribing here.
---