News > Nation/World
At least eight Palestinians, six Israelis die in Gaza Strip
Wed., May 12, 2004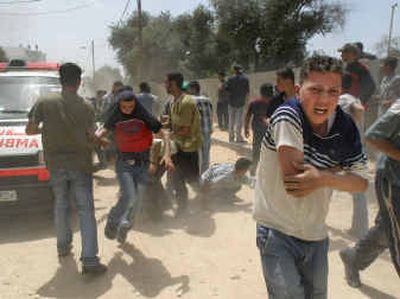 GAZA CITY — Ferocious fighting on the outskirts of Gaza City on Tuesday killed at least eight Palestinians and six Israeli soldiers —the deadliest incident in the Gaza Strip for the troops in the more than 3 1/2-year-old conflict.
The deaths of the soldiers, whose armored vehicle ran over a bomb during a raid against weapons makers in the Zeitoun neighborhood, shook Israel at a time when it was already agonizing over whether to withdraw Jewish settlers and their military defenders from the coastal strip.
The Israeli toll from Tuesday's incident — plus televised footage showing Palestinian militants posing with what they said were body parts belonging to the soldiers — stirred especially powerful emotions across the Jewish nation.
The incident was expected to intensify debate over Israeli Prime Minister Ariel Sharon's proposal to pull out of Gaza, rejected in a May 2 vote by members of his Likud Party. Sharon plans to seek government approval for a new proposal, although officials say it will probably differ little from the original, which called for abandoning all 21 settlements in the Gaza Strip and four in the northern West Bank.
"Today we received a painful reminder about the heavy price we pay in the struggle to defend out country and our citizens' security," Sharon said in remarks before parliament. He called a meeting of his top Cabinet ministers to discuss possible military responses.
Supporters of evacuating the Gaza Strip cited the soldiers' deaths as proof that it was time for Israel to exit an area it would probably relinquish as part of any final peace agreement with the Palestinians. Gaza is home to 7,500 Jewish settlers and 1.3 million Palestinians.
"We should know one thing: We have nothing to do there," said Binyamin Ben-Eliezer, a former defense minister who is a Labor member of the parliament. "I just hope that all those who rejected the prime minister's plan understand the price we are paying."
Withdrawal opponents, however, seized upon the fatal ambush as a sign that Israel's battle against terrorism in Gaza is unfinished.
Housing Minister Effi Eitam, a vocal critic of the Sharon proposal, said, "The less our presence will be there, the more difficult it will be for us to make sure the place isn't becoming a kingdom of terror."
The raid drew denunciations from Palestinian Authority leaders, who accused Israel of stirring up trouble. More than 100 Palestinians were reported wounded as the fighting continued into the evening.
"Israel does not want calm," Palestinian Authority Prime Minister Ahmed Qureia told reporters. "Every time we try to restore peace, they strike back with military actions."
Palestinian Authority President Yasser Arafat was reinforcing the barricades around his compound in the West Bank city of Ramallah, the latest sign that he was concerned that Israel would take action against him. Sharon has said he no longer feels obliged to honor a commitment to President Bush not to harm Arafat, whom Israeli holds responsible for attacks on its people.
Amid the renewed violence, Palestinian officials said Tuesday that Secretary of State Colin L. Powell would meet this weekend with Palestinian Authority Foreign Minister Nabil Shaath. In Washington, a State Department spokesman said that it was "possible" the two men would meet, because both would be attending a gathering in Jordan, but that the schedule "hasn't been nailed down yet."
Local journalism is essential.
Give directly to The Spokesman-Review's Northwest Passages community forums series -- which helps to offset the costs of several reporter and editor positions at the newspaper -- by using the easy options below. Gifts processed in this system are not tax deductible, but are predominately used to help meet the local financial requirements needed to receive national matching-grant funds.
Subscribe to the Coronavirus newsletter
Get the day's latest Coronavirus news delivered to your inbox by subscribing to our newsletter.
---