News > Features
Don't mind them, Ruben, have another sandwich
Wed., May 12, 2004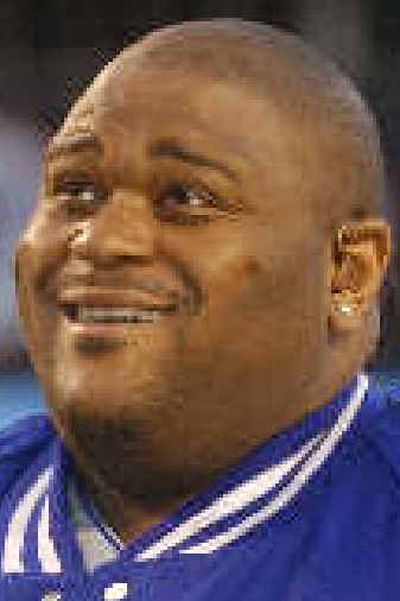 Michael Moore not only is taking heat over his controversial new anti-Bush documentary "Fahrenheit 9/11," he's also under fire from PETA. People for the Ethical Treatment of Animals has selected the gadfly filmmaker as one of its "Flab Five" who need a "Veg Eye for the Fat Guy" makeover.
"Looks like the 'Downsize This' author has been doing too much supersizing," PETA says. "We'll be sending him a nice little care package, a makeover kit filled with health and diet tips, PETA's vegetarian starter kit, and suggestions on how he might change his lifestyle."
"American Idol" winner Ruben Studdard is also being targeted.
"If 'The Velvet Teddy Bear' doesn't want to become known as 'The Velveeta Teddy Bear,' he might want to idle his meat and dairy intake," the group says.
Other celebs who'll be receiving PETA's Flab Five pack include Luciano Pavarotti ("He's three tenors rolled into one!"), John Madden ("Pass on the Turducken and rush for the salad bar"), and actor John Goodman ("TV's 'West Wing' senator looks like he's been indulging in a few too many Buffalo wings").
Says a PETA spokesman: "It's a light-hearted approach to a serious issue. The Veg Eye has the potential to save these guys' lives."
You know they see green in those greens, Greene
The fitness guru who trimmed down Oprah Winfrey and is riding his bicycle across the country to promote health and wellness is sticking up for his sponsor, McDonald's.
Bob Greene is biking 3,000 miles over 36 days as part of the fast food restaurant's "Go Active!" challenge. Greene said that those who criticize McDonald's — like Morgan Spurlock, director of the new documentary "Super Size Me" — are just taking cheap shots.
McDonald's introduced new Happy Meals last month specially for adults, with salad, bottled water and pedometers. "They don't need to be doing that," Greene said. "They're taking it to another level."
Guess the hammer-and-cycle days aren't over
Ewan McGregor has come up against something he probably didn't expect on his 20,000-mile motorcycle world tour: gun-toting militiamen.
The 33-year-old "Moulin Rouge" star and his companion, actor Charley Boorman (son of film director John Boorman), were detained by armed border guards demanding documentation while trekking across the Ukraine. They were freed after a local businessman recognized McGregor.
We're sure Charley will do himself proud
Country singer Charley Pride is expected to make a full recovery following brain surgery, his manager says.
Pride, 66, was hospitalized last week with a subdural hematoma, a blood clot that occurs when blood from a torn vessel collects between the brain and the skull. "He wants to go back to work," manager John Daines said.
Sounds like her vamping days are done
Actress Kate Beckinsale and her "Underworld" director, Len Wiseman, were married in a small weekend ceremony at the lush Bel-Air Hotel in Los Angeles.
In addition to last year's "Underworld," in which she played a vampire warrior, Beckinsale stars in the current "Van Helsing" as the leader of an anti-Dracula crusade.
The birthday bunch
Composer Burt Bacharach is 75. Talk-show host Tom Snyder is 68. Comedian George Carlin is 67. Actor Bruce Boxleitner is 54. Singer Billy Squier is 54. Actor Gabriel Byrne is 54. Country singer Kix Brooks (Brooks and Dunn) is 49. Actor Ving Rhames is 43. Actor Emilio Estevez is 42. Actress Vanessa Williams ("Soul Food") is 41. Actor Stephen Baldwin is 38. Actress Kim Fields is 35. Actor Jason Biggs is 26. Actors Sullivan and Sawyer Sweeten ("Everybody Loves Raymond") are 9.
Local journalism is essential.
Give directly to The Spokesman-Review's Northwest Passages community forums series -- which helps to offset the costs of several reporter and editor positions at the newspaper -- by using the easy options below. Gifts processed in this system are not tax deductible, but are predominately used to help meet the local financial requirements needed to receive national matching-grant funds.
Subscribe to the Coronavirus newsletter
Get the day's latest Coronavirus news delivered to your inbox by subscribing to our newsletter.
---