Sports
Matsuura pulls a surprise at Indy
Wed., May 12, 2004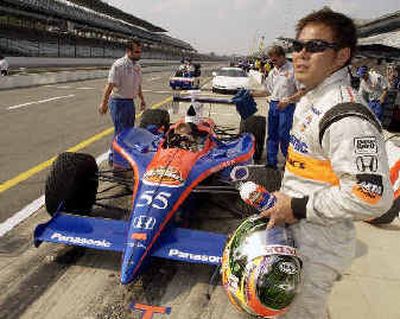 Helio Castroneves and Scott Dixon spent the first two days of practice pulling away from everyone else at Indianapolis Motor Speedway.
On Tuesday, Kosuke Matsuura caught both drivers — and zipped past them.
Matsuura, a rookie from Japan, pulled the surprise of the week. He turned a lap of 221.857 mph — the quickest this month on the 2 1/2 -mile oval.
"I'm very, very happy," he said. "We haven't finished qualifying yet. It's better than nothing, but I'm very happy."
Pole Qualifying is Saturday. The Indianapolis 500 will be run May 30.
Matsuura has been the top rookie on the IRL circuit this season, and his best finish came last month when he was eighth in Motegi, Japan.
But for the second straight day, Matsuura made a huge jump on the speed chart.
He was 14th Sunday with a lap of 216.695. By going 219.034 on Monday, he was sixth.
On Tuesday, Matsuura knocked teammate Adrian Fernandez out of the top spot in the final hour of qualifying.
Fernandez, of Mexico, was second Tuesday at 221.705 — the only other driver to top 221 this week.
Brazilians Tony Kanaan and Castroneves, a two-time Indy 500 champion, were next. Kanaan went 220.855, Castroneves 219.937.
Bryan Herta, of Andretti Green Racing, was the top American, finishing fifth at 219.909. IRL champion Dixon was 10th at 219.047.
"I had a slight tow," Matsuura said of his fast lap. "But that time was with new tires and after a tuneup. I could have made a better time after that tow, but it wasn't necessary because it's only Tuesday."
Speeds were up dramatically Tuesday over the first two days. Although it was still warm and muggy at the track, three drivers topped 220 and 10 were over 219. In the first two practice sessions, Castroneves was the only driver to top 220 and seven topped 219.
Travelin' man
Robby Gordon ran 21 laps at Indianapolis then was scheduled to fly to Charlotte, N.C., for a test with his NASCAR team.
Gordon is expected back in Indianapolis today before traveling to Richmond, Va., for Busch series testing Thursday.
He will run his Nextel Cup car in practice Friday and will race in the Busch event Friday night.
On Saturday, Gordon returns to Indianapolis for practice and qualifying and will fly back to Richmond for the Nextel Cup race Saturday night.
Gordon crashed his primary car late in Monday's practice at Indianapolis and his best lap Tuesday was 214.149.
"We're just getting started with this car," he said. "We have more work to do in terms of the chassis setup. … But we'll have both cars ready for Saturday."
Gordon is trying to complete his third double by competing in the Indianapolis 500 and the Coca-Cola 600 on May 30.
Celebrity day
Olympic gold medalist Dan Gable, Purdue quarterback Kyle Orton and Indiana Republican gubernatorial candidate Mitch Daniels spent Tuesday at the track.
Gable won the gold in the 1972 Munich Olympics before coaching Iowa's wrestling team to 15 national championships. On Tuesday, he had another job — official starter of practice.
Both Daniels, who served as President Bush's budget director before stepping down to run for governor, and Orton rode around the track in the two-seat car.
After attending about 40 Indianapolis 500s, Daniels said he had more respect for the drivers following his laps.
Orton returned to the track after attending last year's race and did a double take when told the race cars travel the length of a football field in less than a second, a little quicker than the 170 to 180 mph his car traveled.
"It's a rush," he said with a smile. "They go so fast, I just couldn't believe it."
Local journalism is essential.
Give directly to The Spokesman-Review's Northwest Passages community forums series -- which helps to offset the costs of several reporter and editor positions at the newspaper -- by using the easy options below. Gifts processed in this system are not tax deductible, but are predominately used to help meet the local financial requirements needed to receive national matching-grant funds.
Subscribe to the sports newsletter
Get the day's top sports headlines and breaking news delivered to your inbox by subscribing here.
---