Sports
Pomante to return to Whitworth
Wed., May 12, 2004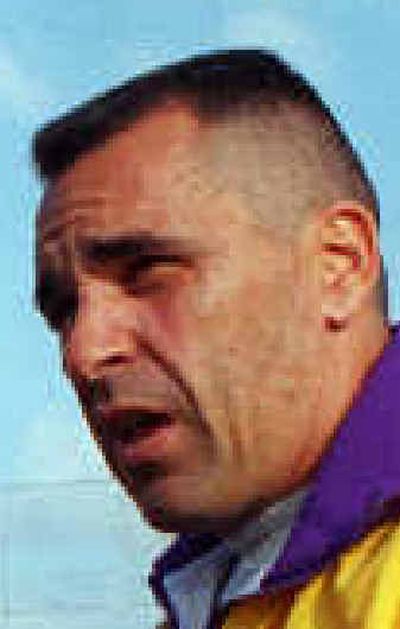 Dave Pomante always told his football players at Rogers, "Once a Pirate, always a Pirate."
But last season he was a Bullpup, assisting at Gonzaga Prep after burning out at Rogers, where he coached for 19 years and compiled a 24-80 record in 12 years as the head coach.
However, Pomante is a Pirate again, joining the football staff at Whitworth, where he was an All-American in 1980.
"I'm back to being a Pirate again. I'm pretty excited," Pomante said between classes at Rogers, where he has taught for 20 years. "Actually I became a human being at Whitworth. A lot of the things philosophically I tried to do at Rogers I got from being a player and student at Whitworth. Elated is the word."
Pomante, a native of Michigan, replaces Chris Casey, who took the head coach position at Aloha (Ore.) High School in February.
"Dave is a great fit for the entire Whitworth College community," Pirates head coach John Tully said. "He will be a valued member of our coaching staff, a wonderful colleague and a great ambassador for Whitworth College."
Pomante graduated from Whitworth in 1981 and received his Masters in 1987. He was an All-American nose guard as a senior despite being 5-foot-8 and under 200 pounds. He set a team and Northwest Conference record with 20 sacks. However, he never really thought about returning.
"I really didn't," he said. "As I told people my whole goal when I came out of college was to be a high school coach and teacher. Then when I got the head job here I thought I would be the head coach until I was 65. Then I just burned out.
"When the opportunity came to apply there, I was a little nervous about taking the step. After I got over the nervousness, I was really excited about the change and the challenge and the opportunity. I feel re-energized."
Pomante will also teach activities classes at Whitworth.
Pomante said it was easy to assist his former assistant Dave Carson at Gonzaga Prep last fall but it was difficult to teach at one school and coach at another.
"Being an assistant I really enjoyed," Pomante said. "I really enjoyed Gonzaga Prep and that community, because they compete hard, but I felt conflicted because I was still teaching here. After doing my head coaching stint, right now my feeling is that I want to be an assistant coach and I want to be an assistant coach until I retire. I'm hoping this is my last move."
Still, leaving will not be easy.
"In one sense it is hard because of all the friendships I have here," he said. "At the same time, teaching here has gotten to be more of a grind for me. I'm looking forward to teaching in a different element, because people chose to be there, they're paying for being there. One of the things that is so hard here is trying to externally motivate people."
Pomante is a member of the Whitworth College Heritage Gallery Hall of Fame and has been on the ballot for the College Hall of Fame small school category.
Local journalism is essential.
Give directly to The Spokesman-Review's Northwest Passages community forums series -- which helps to offset the costs of several reporter and editor positions at the newspaper -- by using the easy options below. Gifts processed in this system are not tax deductible, but are predominately used to help meet the local financial requirements needed to receive national matching-grant funds.
Subscribe to the sports newsletter
Get the day's top sports headlines and breaking news delivered to your inbox by subscribing here.
---