News > Features
Sweet and savory salmon
Wed., May 12, 2004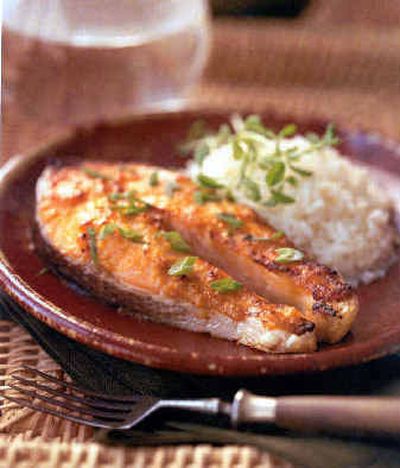 There's an affectionate credit line for a miso-glazed salmon recipe in "Good Housekeeping Light and Healthy Cookbook: 375 Delectable Recipes for Everyday Meals" (Hearst, 2003, $24.95).
"Brian Hagiwara, one of Good Housekeeping's favorite photographers, shared this special recipe," a note explains, praising the taste of the rich salmon with its sweet and savory glaze using miso, the flavorful Japanese bean paste. Serve with a side of steamed aromatic rice.
The recipe would fit a low-fat eating plan nicely, since it packs only about 7 grams of fat per serving. In addition, it takes only about 20 minutes to prepare.
Miso-Glazed Salmon
From "Good Housekeeping Light and Healthy Cookbook: 375 Delectable Recipes for Everyday Meals" (Hearst, 2003, $24.95)
1/4 cup white miso
5 teaspoons sugar
4 teaspoons seasoned rice vinegar
3 teaspoons water
2 teaspoons minced, peeled fresh ginger
4 salmon steaks, 1 inch thick (6 ounces each)
1 green onion, thinly sliced diagonally
Preheat broiler. Lightly spray rack in broiling pan with nonstick cooking spray.
In small bowl, mix miso, sugar, vinegar, water and ginger; set aside.
Place salmon steaks on rack in broiling pan. Place pan in broiler at closest position to heat source; broil salmon 5 minutes. Remove pan from broiler and spread half of miso mixture on salmon; broil 1 minute longer.
Remove pan from broiler; turn salmon over and top with remaining miso mixture. Broil salmon until miso mixture is bubbly and salmon is opaque throughout, 3 to 4 minutes longer. Sprinkle with green onion before serving.
Yield: 4 main-dish servings.
Nutrition information per serving: About 260 calories, 7 grams fat (1 gram saturated, 24 percent fat calories), 35 grams protein, 13 grams carbohydrate, 86 milligrams cholesterol, 870 milligrams sodium.
Local journalism is essential.
Give directly to The Spokesman-Review's Northwest Passages community forums series -- which helps to offset the costs of several reporter and editor positions at the newspaper -- by using the easy options below. Gifts processed in this system are not tax deductible, but are predominately used to help meet the local financial requirements needed to receive national matching-grant funds.
Subscribe to the Coronavirus newsletter
Get the day's latest Coronavirus news delivered to your inbox by subscribing to our newsletter.
---