News > Nation/World
Deal calls for al-Sadr to disarm
Thu., May 13, 2004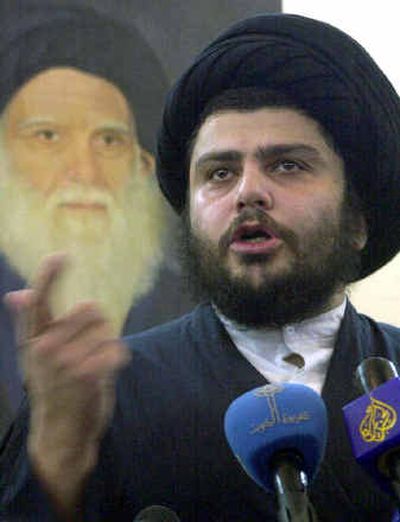 BAGHDAD, Iraq — Iraqi Shiite leaders and a rebellious cleric reached an agreement Wednesday that would demobilize his potent anti-occupation militia, as U.S. soldiers engaged in sharp street fighting against those forces in a holy city south of here.
Fighting near some of Shiite Islam's holiest sites, U.S.-led forces battled Shiite insurgents throughout the day in Karbala, 60 miles south of Baghdad. U.S. military officials said soldiers killed at least 22 members of the militia loyal to Moqtada Sadr, a young Shiite cleric who has emerged as the chief nemesis of the occupation.
Six U.S. soldiers were injured in the fighting, and American officials later cast doubt on the likelihood of a negotiated solution to the conflict as Sadr continued to whip up passions against the occupation.
"I want you to pay attention to what your army is committing against our detainees," Sadr, addressing the American public, told a news conference in the city of Najaf. "They want to humiliate all people, not only the Iraqi people."
Meanwhile, U.S. authorities said Wednesday a young American who was beheaded by militants had been warned by the FBI to leave Iraq and was offered a plane ride to safety at a time when a new wave of violence spread across the country, making road travel extremely dangerous.
Mystery surrounded not only Nicholas Berg's disappearance but also why he had been held by Iraqi police for about two weeks and questioned by FBI agents three times. Berg's family disputed U.S. officials' claims that Berg was never in U.S. custody.
"The Iraqi police do not tell the FBI what to do, the FBI tells the Iraqi police what to do. Who do they think they're kidding?" Berg's father, Michael, told the Associated Press from his home in West Chester, Pa., a Philadelphia suburb.
Berg was last in contact with U.S. officials in Baghdad on April 10, and his body was found Saturday in Baghdad. Staff members at the $30-a-night Al-Fanar Hotel in Baghdad told the AP that Berg stayed there for several days until April 10.
Two e-mails sent by Berg to his family and friends show the 26-year-old telecommunications expert traveled widely and unguarded throughout Iraq — an unsafe practice rarely done by Westerners.
The FBI warned Berg shortly before his disappearance that Iraq was too volatile a place for unprotected American civilians but he turned down a State Department offer to fly him home, U.S. officials said Wednesday.
The young man was beheaded on a video posted Tuesday on a Web site. It bore the title "Abu Musab al-Zarqawi shown slaughtering an American," referring to an associate of Osama bin Laden believed behind a wave of suicide bombings in Iraq.
Amid the fighting there were signs of progress in negotiations aimed at easing the military standoff in the Shiite south, once the region most receptive to the U.S. invasion that toppled Saddam Hussein.
Shiite political leaders said Grand Ayatollah Ali al-Sistani, Iraq's most respected Shiite spiritual leader who is based in Najaf, endorsed an agreement Wednesday that would demobilize Sadr's thousands-strong militia and effectively recognize it as a legitimate political party.
Sadr, 31, the son of a respected ayatollah assassinated by Hussein's government, has been hunkered down in Najaf for more than a month under the protection of his well-armed militia. The presence of his armed band has antagonized many local business owners, as well as Shiite spiritual leaders who view him as an ambitious upstart with few religious credentials.
The agreement calls for the Iraqi police to assume security responsibilities in Najaf and for the Mahdi Army, as Sadr's militia is known, to disarm. U.S. forces would withdraw under the agreement, and a special Iraqi court would be established to try those accused of crimes committed since Sadr's arrival. The deal also calls for all "political prisoners" to be released from the U.S.-run detention system, a fresh demand in the wake of the prisoner-abuse scandal.
U.S. officials reacted skeptically to the agreement, brokered by a group of Shiite leaders they have turned to in the hopes of resolving a standoff fraught with political peril for the occupation.
Sadr is wanted by U.S. forces for the April 2003 murder of the rival moderate cleric, Abdul Majeed Khoie, who was killed on his return from Great Britain. The agreement that emerged Wednesday does not specifically address Sadr's legal status.
But Shiites involved in the negotiations say they envision U.S. authorities delaying any action on the arrest warrant until after the planned handover next month. Daniel Senor, the chief spokesman for the U.S. occupation authority, said Wednesday that any viable agreement must require Sadr to "submit to Iraqi justice."
Local journalism is essential.
Give directly to The Spokesman-Review's Northwest Passages community forums series -- which helps to offset the costs of several reporter and editor positions at the newspaper -- by using the easy options below. Gifts processed in this system are not tax deductible, but are predominately used to help meet the local financial requirements needed to receive national matching-grant funds.
Subscribe to the Coronavirus newsletter
Get the day's latest Coronavirus news delivered to your inbox by subscribing to our newsletter.
---