News > Spokane
Family grateful for outpouring of sympathy
Thu., May 13, 2004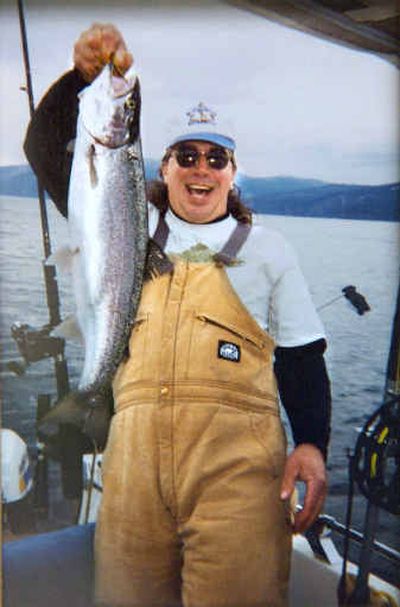 Jennifer Cmos, a lanky, red-haired sixth-grader, bit her lip and fought back tears, her springer spaniel Annie at her side.
On the front porch of her family home Wednesday afternoon, the 12-year-old couldn't bring herself to say anything yet about the horrible accident at Spokane's Wastewater Treatment Plant.
Her uncle, Terry Dearing, gave his niece an arm squeeze and said it was OK for her to be at a loss for words about losing her bike-riding buddy, her fishing and camping pal — her dad.
On Wednesday morning, the body of Jennifer's father, Mike Cmos, was recovered from inside a 2-million-gallon digester tank that took about 40 hours to drain. The 46-year-old maintenance mechanic died Monday when the 40-foot tank's domed concrete roof imploded with him on top.
Cmos' widow, Kathy, is too grief-stricken to talk about her loss and hasn't left the family home near Downriver Golf Course since the accident, said Dearing, her brother.
The family is grateful for the outpouring of sympathy and support, said Dearing, who is acting as the family spokesman.
"His co-workers down there are all like brothers," Dearing said.
Police chaplains Beth Wilson and Denny Klaja have been at the family's home in shifts since the tragedy. "They were great support," Dearing said.
There's also been a steady stream of family friends, relatives, co-workers and neighbors, who have brought food, flowers and tears of sympathy to the family's doorstep. Even Mayor Jim West paid a visit to offer his respects.
"He was loved by everybody," Dearing said, holding a framed photograph of his late brother-in-law on the front porch of the family home on West Alice Avenue.
In the recent photo, Mike Cmos is brimming with pride, holding a lunker of a trout he caught in Lake Pend Oreille.
He spent the last week of April at the North Idaho lake, enjoying his favorite pastime — fishing.
When he wasn't fishing Lake Pend Oreille, he liked to make beer and spend time at Bead Lake in Pend Oreille County, where his family parks a small trailer on an undeveloped lot, Dearing said.
Mike Cmos was born and raised in Spokane and attended North Central High School. After a brief stint as a meat cutter, he got a job on March 30, 1980, with the city at the wastewater treatment plant, shortly after marrying his wife, Kathy.
"They've been married 25 years, and I've never heard him raise his voice," Dearing said of the man his sister married.
The city wastewater plant on Aubrey L. White Parkway is only a little more than a mile from the family home.
"He'd ride his bike to work almost every day, and that's what he did on Monday," Dearing said.
Cmos talked about taking Monday off because his daughter didn't have school that day, Dearing said.
"Whenever she had a day off from school, he'd take a vacation day to spend time with her," Dearing said.
"They'd go fishing and camping together, bike-riding," Dearing said of Cmos and his only child. "He was the perfect picture of a family man."
Jennifer decided to spend Sunday night and Monday with her 71-year-old grandmother, Barbara Dearing, "so Mike just decided to go to work that day," Terry Dearing said.
Sitting on the front porch Wednesday afternoon, Barbara Dearing wiped away tears.
"I was in the hospital for a week last winter, and all my pipes froze solid," she said. "Mike was the first one over there, helping me. He spent four days in the crawl space under my place, and didn't leave until everything was unthawed and working."
"He was that kind of guy, just the greatest. I loved him so much," she said of her late son-in-law.
Besides a fishing pole, Mike Cmos liked to hold a Taylor 410 acoustic guitar.
Every Thursday or Friday night, he and his co-worker, Bob Darilek, and another friend or two would get together, usually at Cmos' home, for a jam session. Cmos' wife, Kathy, didn't mind.
They called their informal band, "Bad Habit."
"He joked and would say playing music for him was like a 'bad habit,' " Dearing said.
His band played old rock 'n' roll classics together for years, sometimes for free at local resorts or at friends' weddings. Neil Young and Tom Petty were among Mike Cmos' favorites, Dearing said.
"They especially liked to play Lynyrd Skynyrd's 'Free Bird,' I know that for sure," said Darilek's wife, Marilyn. She said she met her husband while he and Cmos were playing music at a wedding in 1994.
"He was the kind of guy with his arms open, always ready to give you a hug," Marilyn Darilek said. "He just had a wonderful smile and was a very kind person."
Bob Darilek said he hopes to put up a plaque at the treatment plant in memory of his co-worker and fellow rocker.
"He was one of those very few people who everybody loved," Darilek said. "Everybody who knew him has an empty spot right now – that's the kind of guy he was."
Local journalism is essential.
Give directly to The Spokesman-Review's Northwest Passages community forums series -- which helps to offset the costs of several reporter and editor positions at the newspaper -- by using the easy options below. Gifts processed in this system are not tax deductible, but are predominately used to help meet the local financial requirements needed to receive national matching-grant funds.
Subscribe to the Coronavirus newsletter
Get the day's latest Coronavirus news delivered to your inbox by subscribing to our newsletter.
---