Giant maples cleared to make way for retirement apartments
Thu., May 13, 2004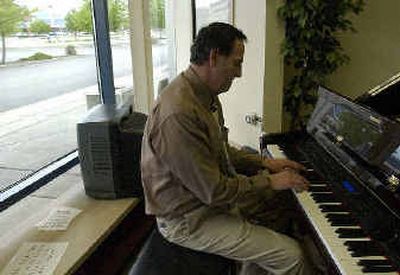 The complaints came in to the city, the newspapers and the site's neighbors when the giant maple trees were eliminated at the corner of Harrison Avenue and Third Street in Coeur d'Alene last week.
They aren't quite paving paradise to put up a parking lot; it will be an apartment building.
The two-story, 16-unit building will house retirement apartments, all disabled-accessible.
The trees were cut to allow room for a sidewalk and exit access onto Harrison.
Two of the trees were dying anyway, and another was smack in the middle of the property.
"We hated to cut those trees," said Gary Ulvan, who owns the property with his wife Liesa.
"We have to have a sidewalk, and the trees were too close to the curb. We will plant new ones, but we know they won't be as grand as those were."
The apartments will all be one-bedroom units of about 600 square feet.
The U-shaped complex will have an entry with a fully enclosed common area. Rents will be $500-$600.
The parking lot will be entered from Third Street.
"This is a great location with grocery, drug and hardware stores all close by," Ulvan said.
He also owns the neighboring Interstate Typewriter building.
(See below for more about more felled trees).
Café Trinity boasts Southern foods
With "trinity" in the name referring to celery, onions and green peppers — all staples in Southern recipes — Café Trinity has opened at 116 N. First Ave., Sandpoint. The restaurant is in the former home of Thor's Pizza next to Starbuck's.
"The trinity is a base for Southern-inspired American food," said Claudia Dick, who owns the business with Gabriel Cruz. "These ingredients and a brown sauce smother things like gumbos and etouffee (a thick stew)." The restaurant also serves Creole dishes, crawfish, steaks, seafood, red beans and rice and a "great burger," she said. Beer and wine are available.
Decorated in earthy tones, the facility has an exhibition kitchen open to a dining bar and seating for 58 people inside and 58 people outside on the deck above Sand Creek. Live music is featured on weekends.
Originally from Canistoga, S.D., Dick first came to North Idaho in 1998 and permanently settled here in 2002. Coming from Morgan Hill, Calif., Cruz began his North Idaho business ventures with the Beyond Hope restaurant in 2000.
Fifteen employees have the place open 11 a.m. to 3 p.m. for lunch and at 5 p.m. for dinner. It's closed Mondays. Phone 255-7558.
Asian dishes at Three Cranes
Offering foods with a Japanese spin and mostly made from scratch with fresh ingredients to be served quick and healthy, Three Cranes is a take-out eatery at 212 Fourth Ave. in Sandpoint.
New owner Jack Martin said the menu includes teriyaki dishes, stir-fry, noodles, Asian rolls and white-sticky and wholegrain brown rice. Originally from Fort Lauderdale, Fla., Martin and his family came to North Idaho in 1995 "for the kids," he said. For seven years he was a chef at Dockside Restaurant and a manager with Tito Macaroni's in Coeur d'Alene.
Hours at Three Cranes are 11 a.m. to 6 p.m. weekdays and 11 a.m. to 2 p.m. Saturdays. Phone 255-1555.
Laundromat, thrift store on Appleway
The Appleway Laundromat offers customers the use of 16 brand new washing machines and 14 dryers at 634 Appleway (across from Carpet Warehouse), Coeur d'Alene. The business includes clean waiting and folding areas and a laundry service.
Owners Cindy and Pat Grom, who bought the business plaza, came to Coeur d'Alene last year from San Luis Obispo, Calif. The Laundromat is open 7:30 a.m. to 10:30 p.m. daily.
Next door, a variety of items, clothing, collectibles and antiques are for sale at Pocket Change Thrift Store. The business is owned by Joanne Halfhide. The store opens at 11 a.m. Wednesday through Friday and 10 a.m. Saturdays. Phone 765-7660.
Music Land opens at Factory Mall
A full line of keyboard instruments and lessons to play them are offered at Music Land, a new store on the west side of the Factory Outlets (across from Mikasa). The inventory includes electronic keyboards, pianos and organs based on the Suzuki and Kurzweil brands. The store also offers repairs and tuning.
Centering on the Christian music market, owners Dave Farrow and Jake Baleat have many years' experience with keyboard instruments and writing music. Farrow originally is from Saskatoon, Canada, and Baleat is from Spokane.
Hours are 10 a.m. to 6 p.m. Monday through Saturday. Phone 457-8559. Their website is www.dprmusic.com.
This one will be a parking lot
Howls filled the air along with the buzz of chainsaws as trees and bushes were leveled last week in the former Robin Hood Campground at Northwest Boulevard and Lincoln Way, Coeur d'Alene.
The property will be paved for a parking lot for neighboring North Idaho College, which eliminated a large parking area to begin construction of its new health-science building. Although the tallest Ponderosa pines were spared, other greenery was cleared to allow safer visibility.
Local journalism is essential.
Give directly to The Spokesman-Review's Northwest Passages community forums series -- which helps to offset the costs of several reporter and editor positions at the newspaper -- by using the easy options below. Gifts processed in this system are not tax deductible, but are predominately used to help meet the local financial requirements needed to receive national matching-grant funds.
Subscribe to the Coronavirus newsletter
Get the day's latest Coronavirus news delivered to your inbox by subscribing to our newsletter.
---