News > Nation/World
Israeli armored convoy attacked
Thu., May 13, 2004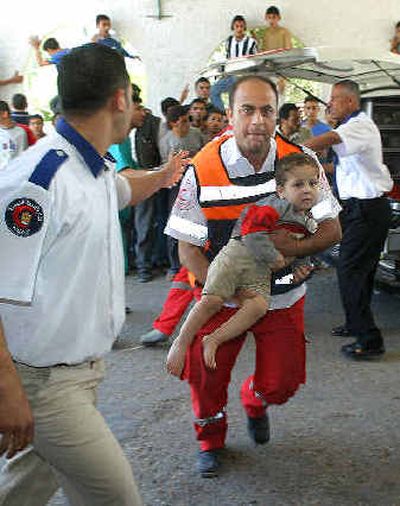 GAZA CITY, Gaza Strip – Palestinian militants on Wednesday evening bombed a second Israeli armored convoy, killing an officer and four soldiers and injuring three others along the Gazan border with Egypt.
A similar bombing on Tuesday killed six Israelis in an armored personnel carrier. Palestinian militants collected the remains of the Israeli soldiers and refused to return them, and Israel responded with a huge offensive that continued through Thursday morning with a missile strike against a Rafah refugee camp.
The shooting, shelling and missile strikes since Tuesday have killed at least 20 Palestinians and injured more than 176.
The convoy bombed Wednesday was patrolling an Israeli-controlled border road in the southern part of the rectangular, seaside Gaza Strip when the explosion occurred. Militants again collected the remains of the soldiers and refused to return them.
Israeli forces moved into Rafah to fight them. Early Thursday morning an Israeli Apache helicopter fired a missile on the Rafah camp, killing seven Palestinians and injuring six.
The new violence will likely intensify debate over Israeli Prime Minister Ariel Sharon's plan to unilaterally withdraw settlers and soldiers from Gaza in a bid to establish more defensible borders. The proposal stalled after Sharon's Likud Party defeated the measure in a May 2 vote.
The initial incursion on Tuesday that sparked the Gaza battles was part of Sharon's effort to destabilize militant groups and drive home the message that Israelis aren't leaving to reward Palestinian violence. Both armored vehicles that were blown up were packed with explosives intended to destroy smuggling tunnels used by Palestinian militants.
Palestinian witnesses said Wednesday's blast scattered debris and human flesh over a 500-yard radius. The explosion occurred at 6 p.m. near the city of Rafah. It was impossible for most journalists to get there because the Israeli military has divided the Gaza Strip into three sections to prevent the movement of militants.
A written statement by the militant group Islamic Jihad claimed responsibility for the attack. It said the attack was carried out by rocket-propelled grenade and was aimed at avenging "Zionist crimes" and the March assassination of a senior leader of the Islamic militant group Hamas, Sheik Ahmed Yassin.
The explosion was so powerful that local journalist Tamer Keshta said debris from the armored vehicle landed on his street a third of a mile from the scene. "I felt myself flying," he added.
As in Tuesday's attack, Islamic Jihad militants scurried to confiscate soldiers' remains in hopes of blackmailing Israeli authorities. One Rafah leader of the group boasted to Keshta that his men had collected a leg and part of a shoulder.
Israel already had been fighting in the Zeitoun neighborhood of Gaza City, where Tuesday's bombing took place. By nightfall Wednesday, residents reported Israeli tanks were pushing into Rafah, and Israeli television quoted an unidentified senior military source as saying his forces were "taking their gloves off."
In intense fighting on Wednesday, Israeli snipers took positions on rooftops and balconies, and Apache attack helicopters roamed overhead. Rifle and machine-gun fire pierced the air.
From the loudspeakers of Gaza's mosques came calls for armed Palestinians to confront the Israelis: "God is great, come and fulfill the jihad" (holy war).
Ahmed Abu Arabiya heeded the call with a slingshot. He said an Israeli soldier shot him in the left knee.
"I swore at the guy who was in a tank. I told him, `Come on, you bastard!"' said the 17-year-old as he lay in the emergency room Wednesday morning between a moaning, badly wounded gunman and another teenage boy who was shot in the leg.
Amid the fighting, Islamic Jihad said it had reached an agreement with fellow militants in the Al Aqsa Martyrs Brigades and Egypt on returning the Israeli remains on the condition that Israel withdraw immediately from Gaza City and returned the remains of Palestinians in its possession.
"The ball is in the Israeli court," said Islamic Jihad spokesman Khader Habib.
Local journalism is essential.
Give directly to The Spokesman-Review's Northwest Passages community forums series -- which helps to offset the costs of several reporter and editor positions at the newspaper -- by using the easy options below. Gifts processed in this system are not tax deductible, but are predominately used to help meet the local financial requirements needed to receive national matching-grant funds.
Subscribe to the Coronavirus newsletter
Get the day's latest Coronavirus news delivered to your inbox by subscribing to our newsletter.
---