News > Business
Oil prices spurt to level not seen since fall of 1990
Thu., May 13, 2004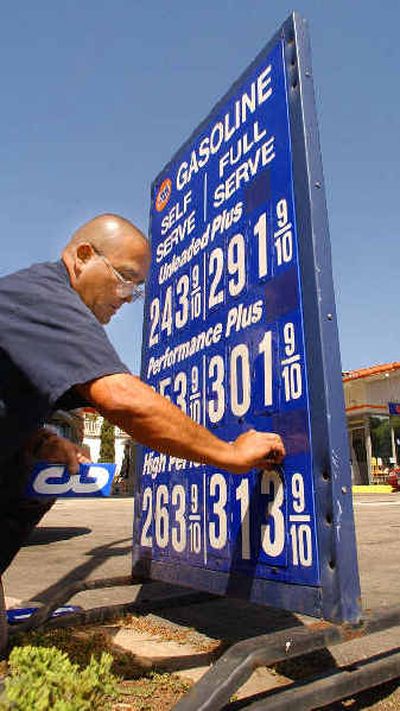 LONDON — Demand for oil is growing at its fastest rate in eight years, but the economic recovery could fizzle unless suppliers keep pace by drilling new wells and producing fresh crude, the International Energy Agency warned Wednesday.
With oil prices reaching new 13-year highs, OPEC, which pumps a third of the world's oil, announced plans for talks next week to consider a Saudi proposal that the group raise its production ceiling in a bid to cool the market.
In New York, June crude futures jumped 71 cents to close at $40.77. Oil futures contracts last traded above $40 a barrel in the fall of 1990 leading up to the Persian Gulf War.
The growth in demand for crude continues to outstrip expectations, the International Energy Agency said in its monthly oil market report. Given China's thirst for imported oil and the soaring demand for gasoline and jet fuel in industrialized countries, the agency revised its 2004 demand forecast upward to 80.6 million barrels a day — an increase of 2.5 percent over last year. World demand hasn't risen this fast since 1996, the agency said.
The IEA is the energy watchdog for rich oil-importing countries. Although it analyzes the supply and demand for crude, it avoids trying to predict prices.
Reviewing the price surge of recent months, the Paris-based agency said that geopolitical concerns in the Middle East, bottlenecks in the U.S. gasoline market and an increase in speculative buying of oil futures contracts have all had an effect.
Most important, however, has been the stingy output from the Organization of Petroleum Exporting Countries. By forcing importers to run down their oil inventories, OPEC has been the decisive factor in creating "a market on steroids," the IEA argued.
The agency noted that higher demand for oil is a sign of a rebounding world economy.
"But this welcome resurgence in economic activity brings to the fore the issue of securing the necessary supplies to sustain the recovery," it said. The IEA urged suppliers to boost investment in exploration for oil and called on refiners to increase their production capacity for gasoline and other refined products.
"That's really a critical point," agreed Jim Placke of Cambridge Energy Research Associates in Washington. "If you don't start going out to explore for and produce new resources, (then) three to five years from now when you need them they're not going to be there."
Many OPEC members are already pumping all the crude they can to cash in on high prices. Saudi Arabia is the only member with significant capacity to pump more oil from existing fields.
Local journalism is essential.
Give directly to The Spokesman-Review's Northwest Passages community forums series -- which helps to offset the costs of several reporter and editor positions at the newspaper -- by using the easy options below. Gifts processed in this system are not tax deductible, but are predominately used to help meet the local financial requirements needed to receive national matching-grant funds.
Subscribe to the Coronavirus newsletter
Get the day's latest Coronavirus news delivered to your inbox by subscribing to our newsletter.
---