This column reflects the opinion of the writer. To learn about the differences between a news story and an opinion column, click here.
Opinion > Column
The Slice: You can't wash away the love
Thu., May 13, 2004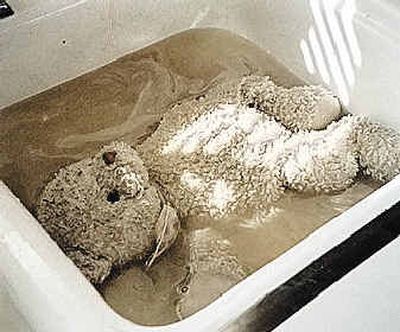 Baby used to be dazzlingly white. Then Ryan Hueter started loving on him.
Baby's not white anymore.
The Slice asked for snapshots of mangy yet beloved stuffed animals. And Angie Hueter sent two of her son's high-mileage bear.
One tiny picture shows the snow-white Baby shortly after an aunt presented the toy bruin to the North Side family before Ryan was born in April 2002.
The other shows the bear, a million hugs and a gallon of drool later, soaking in a plastic tub during one of its first baths. The color of the bath water calls to mind a stagnant bog. "Yuck," said Ryan's mom.
Baby used to be known as Night Night Bear. But after hearing countless conversations anticipating the arrival of his little sister, Ryan dubbed his loyal companion "Baby."
"It is one loved bear," said Angie Hueter. "If Ryan is hurt, he has to have it. If he's sad, he has to have it. And he can't sleep without it."
Now this particular bear isn't supposed to be washable. But Hueter felt that she had no choice. Baby had gotten so incredibly, uh, loved.
When Baby is returned to Ryan after washing and drying, the little boy picks him up by one ear and gives him the sniff test. At first, the lad seems puzzled. Something's different.
"It's as if he's thinking 'Who is this impostor?' " said Hueter.
But Ryan scrutinizes Baby and finally concludes that it is, after all, his trusted friend and confidant. And then off the two of them go to see what adventures the day holds in store.
"Slice answer: "What word best describes the outrageous prices at Safeco Field?" wrote Mark Luhnow. "The obvious answer is 'My-Oh-My!' "
"One reader wonders: "How many guys watch the Food Network because they've got a thing for Rachael Ray?"
"Great-boss moments: "I had a boss at the then Bon Marche in Yakima named Kevin Fredrickson," wrote Spokane's Denise Stranahan. "Kevin was a store manager and a Spokane boy who was moving up in the ranks of management in the company."
One day in 1977, in the middle of a huge sale, Stranahan had an allergic reaction to something she ate at lunch. She broke out in hives. "I became a swollen, red mess," she recalled.
Someone else could have been delegated to take her to the hospital, of course. But Fredrickson did it himself.
"You know how long it takes in an emergency room?" she wrote. "Well, he waited with me the entire time and managed to find the humor in the situation."
Then he drove her home and went back to the store.
"I ended up working with Kevin again later in my career in both Seattle and Spokane at The Crescent," said Stranahan. "Unfortunately, he passed away in 1993. But he always had my undying loyalty."
"Today's Slice question: What's the biggest downside to our lack of humidity?
---
---