News > Idaho
Ex-smokers give up old friend with new ones
Sat., May 15, 2004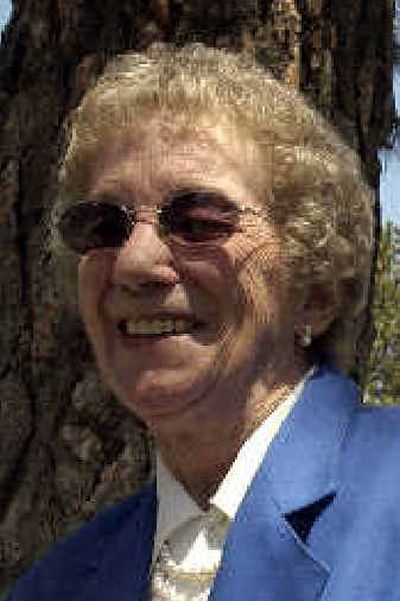 When Peggy Bolingbroke was growing up, cigarette smoking was considered glamorous. Today at Heritage Place senior apartments in Coeur d'Alene, her peers complain when smoke drifts under doors or lingers on clothing.
Bolingbroke, 68, felt the pressure to quit from her family and her doctor. Signs of emphysema helped persuade her to join the smoking cessation class offered by Panhandle Health District this spring.
Employees and residents at Heritage Place were invited to attend the free on-site program, which was paid for by the Idaho Millennium Fund. The fund was set up in 2000 from money awarded to states from a settlement with tobacco companies.
Although Bolingbroke is still smoking, she's cut back significantly and considers the class a success.
"I don't smoke in my car anymore, and that was automatic," she said. "I'm only smoking one quarter of what I've smoked for 40 years. I know I can quit."
Buying fewer cigarettes, she's watched her grocery bill plummet. Like many seniors on a fixed income, Bolingbroke found the financial burden of smoking becoming too great.
The participants in the mostly senior group were well aware that smoking damaged their health, their instructor, Lynda Barker, said.
They are having a hard time breathing, their fingers are yellowing and they know they need to quit, but they just can't, she said. The program gives the tools and information to make it possible. Several members quit completely after smoking for decades.
Barker likens quitting to the loss of an old friend and gave the 12 group members permission to grieve.
She told them not to push cigarettes to the back of their mind, but to think of them. Remember them. Ask what kind of a friend that cigarette had been. One group member's affair with cigarettes had lasted 60 years. The 80-year-old woman quit "cold turkey" when Barker presented a list of ingredients in cigarettes that included ammonia, butane and formaldehyde.
Others recall the jar of a black, gelatinous substance presented by their teacher. It helps them visualize what a year of smoking deposits in the lung.
For six weeks, Barker asked the members to sit together for an hour and a half each week and think, talk and learn about smoking.
Because residents and staff participated, they can still encourage each other now that class has ended, Barker said.
Panhandle Health District plans to offer more smoking cessation classes to the public through workplaces this summer. Heritage Place paid its workers for their time with the group so lost wages wouldn't hinder their progress. Deb Kruse, food service supervisor, attended with four of her co-workers. Each day at work, they ask one another how they did the night before. Because so many of her kitchen staff are smokers, it's been hard for her to quit. Now she's no longer smoking at home or in her car.
"I have the support of the other people in the group," she said.
Heritage Place adopted a policy this spring to become a smoke-free facility. It is phasing out smoking by "grandfathering in" those who already live there and smoke in their apartments, but not allowing new residents this privilege. Smoking will only be permitted in designated outdoor areas. The stated purpose of the policy is to protect public health and guarantee the right of nonsmokers to breathe clean air.
When you've held a cigarette in your hand for 40 years, giving it up isn't easy, Bolingbroke said. When she gets in her car, sometimes she thinks there's something missing.
There's something she should be doing.
"Then I remember, 'Oh, I should be smoking,' " she said.
She and her classmates say that they aren't coughing as much anymore. They breathe better and notice more odors, like the scent of BenGay lingering in an empty elevator. Sometimes when the cravings hit, they hold a straw between their fingers and reminisce about the days when smoking was fashionable.
"I remember feeling mad that I had to give this up," Bolingbroke said. "I really enjoyed smoking."
What sticks with her most from her class is that smoking is a choice.
"It's up to me," she said. "Nobody else can do it."
Local journalism is essential.
Give directly to The Spokesman-Review's Northwest Passages community forums series -- which helps to offset the costs of several reporter and editor positions at the newspaper -- by using the easy options below. Gifts processed in this system are not tax deductible, but are predominately used to help meet the local financial requirements needed to receive national matching-grant funds.
Subscribe to the Coronavirus newsletter
Get the day's latest Coronavirus news delivered to your inbox by subscribing to our newsletter.
---