News > Spokane
Former POWs share memories of their sacrifice
Sat., May 15, 2004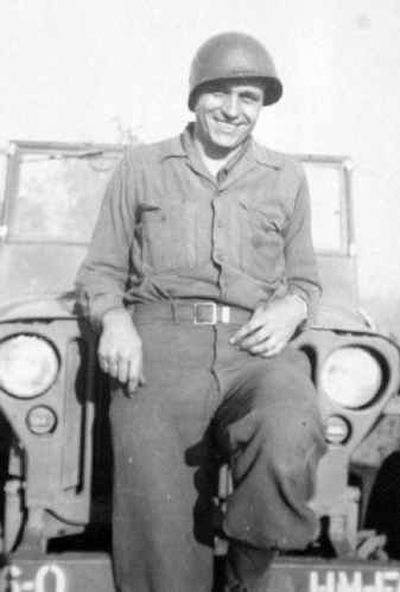 YAKIMA – Each year, members of the American Prisoners of War come back to their annual convention, and each year they are fewer in number.
They come here to be with old friends who know how they feel and to share stories. When they are all gone, there will be no one left to tell about the sacrifices they made 60 years ago so future generations could live in peace.
Already, some of them shake their heads at recent events at Abu Ghraib prison in Iraq and wonder if anyone has ever really listened to them.
"It's scandalous and a disgrace to the world," Jack E. Jones, 80, said of the treatment of Iraqi prisoners.
The Bellevue, Wash., veteran, who was among 63 former POWs who gathered here Thursday, knows what it means to be mistreated in captivity. He spent 13 months as a prisoner of the German army after the bomber in which he was a gunner was shot down over Berlin in 1944. He was kept at Stalag 17-B near Krems, Austria, until he was forced to march 290 miles in the spring of 1945 as Russian and American troops closed in on Hitler's army.
When he was liberated by Gen. George Patton's 13th Armor on May 2, 1945, he weighed only 113 pounds. He had weighed 160 pounds when he was captured. Starvation was something prisoners held by both Germany and Japan have in common, and they suffer the effects of that deprivation today.
The U.S. Department of Veteran Affairs has made finding and treating former POWs a priority, said Dr. Mack Orsborn, a VA physician in Seattle. Of the 130,000 Americans taken prisoner by enemy forces in World War II, he estimates 33,000 are still living.
Of those still living, about 11,000 are unaccounted for – that is they have never filed a claim with the VA, they have no Social Security numbers or addresses on record.
The VA's regional office in Seattle has made a name for itself helping POWs once ignored by the federal agency. If a veteran can prove he was a prisoner, he may be eligible for enhanced benefits, including about $2,300 a month for POWs who can show 100 percent disability as a result of injuries sustained in captivity. This may include heart problems from edema, traumatic arthritis, stomach and gastrointestinal problems and post-traumatic stress disorder, which an estimated 89 percent of ex-POWs suffer.
"To have $2,300 a month in their last years gives them dignity in their lives," Orsborn said.
But first the veteran has to prove he was a POW. As Lloyd Schultz of Hayden, Idaho, is finding out, that is not always easy. His records were destroyed in a St. Louis military warehouse fire in 1972.
The VA has declared Schultz 40 percent disabled, and he and his sister live on little more than his Social Security benefits.
Proving his disabilities were the result of time spent in German captivity would be a godsend for him in his remaining years, but so far, he has only his detailed account of the nine months he spent at the infamous Nazi concentration camp, Nordhausen, as evidence.
Schultz, 83, said he was with the 516th Ordinance Company of the 1st Army Division when he was captured at the Battle of the Bulge. He and a sergeant had been sent to disarm a 155 mm "Long Tom" field artillery piece that had overturned. He was standing in the back of a jeep removing the gun's breech so the Germans couldn't use it when the two soldiers heard footsteps crunching in the snow. It had to be the enemy.
His sergeant panicked and fled in the jeep, hurling Schultz headfirst into the Long Tom and knocking him out. He awoke in a German hospital. After Schultz spent a short time in a small prison camp building Messerschmitt parts as forced labor, the SS loaded him into a rail car crowded with other prisoners for an eight-hour trip to Nordhausen.
Once there he was assigned the crematoria detail, Schultz said, and spent the next nine months loading bodies into the oven.
"They were so skinny, we were just burning bones," he said. "We cremated bodies; we never knew who they were."
He slept in a 2-foot-by-2-foot cubicle, no pillow, no blanket, no coat. He was not tattooed, as many POWs were, because he had dog tags.
After his liberation by the 104th U.S. Infantry Division, he saw the tunnels at Nordhausen where forced labor built the V-2 rockets the Nazis rained down on London.
At 5 feet 11 inches, he weighed only 110 pounds.
"To this day, I can't smell or taste" because of the stench of burned and rotting flesh.
Friends of his have contacted the German government, the Simon Wiesenthal Center, the Elie Wiesel Foundation and the National Holocaust Museum in search of Nordhausen records. So far, nothing has turned up linking Schultz to the concentration camp.
But Carroll McInroe, POW coordinator at the Spokane Veterans Affairs Medical Center, who interviewed Schultz, believes the man's story "stacks up." There are just too many details that only a Nordhausen survivor could know.
Schultz cannot stand to watch the images of the Abu Ghraib prison that have been shown on television and in newspapers.
"That's about how they treated us," he said.
"Those … SS could do whatever they wanted to us, and those guys (the American MPs) thought that, too. But once you're taken prisoner, you should be treated well."
He recalled a day before his capture when his platoon lieutenant stopped some soldiers from beating a German prisoner.
"The Germans will treat our captured like that," the officer said.
Schultz paused and said, "the human being is the cruelest animal on this Earth."
Local journalism is essential.
Give directly to The Spokesman-Review's Northwest Passages community forums series -- which helps to offset the costs of several reporter and editor positions at the newspaper -- by using the easy options below. Gifts processed in this system are not tax deductible, but are predominately used to help meet the local financial requirements needed to receive national matching-grant funds.
Subscribe to the Coronavirus newsletter
Get the day's latest Coronavirus news delivered to your inbox by subscribing to our newsletter.
---
Subscribe and log in to the Spokesman-Review to read and comment on this story