Sports
All over but waiting for Smarty Jones
Mon., May 17, 2004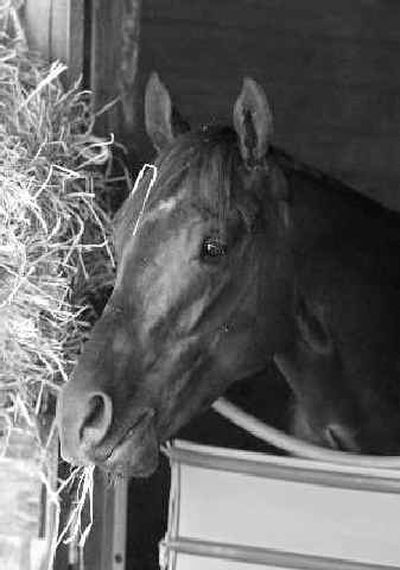 Smarty Jones is laying low, at least for a while.
The Kentucky Derby and Preakness winner returned to his home turf at Philadelphia Park on Sunday, a day after his record 11 1/2 -length win at Pimlico set the stage for a dramatic Triple Crown try at the Belmont Stakes in three weeks.
The colt will be rested leading up to the Belmont. He took a short walk around the barn Sunday morning before being loaded into his trailer. He arrived in Bensalem, Pa., shortly before 1 p.m. as his trailer – followed by several TV helicopters – cruised past the security gate.
Smarty Jones will stay off the track for at least a couple of days and be limited to light walks around the barn, said assistant trainer Bill Foster. The undefeated colt could go for a jog on Wednesday and relax at home before being shipped to New York by the middle of next week.
The three-week break between the Preakness and the Belmont was needed, according to trainer John Servis.
"I'm tickled to death to get the extra week," Servis said. "I was a little concerned going into the Preakness. I thought he was a little vulnerable, the fact that we were coming right back in two weeks, and there were two fresh horses in there (Rock Hard Ten and Eddington) that I was pretty worried about.
"The race he ran was incredible, and I'm sure he'll enjoy the extra week going into the Belmont."
Not everyone is taking time off – jockey Stewart Elliott will be back in the saddle today at Philadelphia Park.
Smarty Jones is 8 for 8 and, with a win in his next start, would become just the 12th Triple Crown champion and the first to sweep the Derby, Preakness and Belmont since Affirmed in 1978.
He would also claim a $5 million bonus and become racing's richest horse.
Unlike last weekend's public workout when nearly 5,000 fans jammed the park, there was no celebration for Smarty Jones on Sunday.
Only two fans waited by the entrance to the stable area, Suzy Bowden, of Malvern, Pa., and her 14-year-old daughter Bonnie. But they weren't getting back to the barns, which were off limits to the public and members of the media.
Suzy Bowden had a video camera and was hoping to catch a glimpse of Smarty. Instead, all she got was footage of a white trailer, missing out on a chance to see the Pennsylvania-bred colt.
"We had to take a chance," Bowden said. "We'll never get tickets to the Belmont. Just to say we were here makes us feel like part of history."
There was little fanfare inside Philadelphia Park, where a few fans scooped up what was left of the Smarty Jones merchandise. Mostly hats and photos of the Kentucky Derby win remained. Keychains, glasses and more than 5,000 shirts were sold out by late Saturday when the park was packed with Smarty Jones revelers.
"Smarty Jones brought us here (Saturday). We wouldn't be here otherwise," said John Mancini, of Feasterville, Pa., who returned to buy his granddaughter a Smarty Jones hat.
Smarty Jones' popularity keeps growing, especially in his hometown.
"We're hoping he'll lead the Memorial Day parade," said Arlene Weidmann, of Bensalem. "Everybody's so excited to have a winner here. People at the flea market are all talking about Smarty Jones."
Belmont field looks like a big one
Smarty Jones might face an unusually large field in the Belmont Stakes when he attempts to become the first Triple Crown champion in 26 years.
The Kentucky Derby and Preakness winner is likely to face several familiar foes, including Preakness runner-up Rock Hard Ten and third-place finisher Eddington.
Also being considered for the 1 1/2 -mile Belmont on June 5 are three horses trained by Nick Zito – Birdstone, Royal Assault and The Cliff's Edge.
The Cliff's Edge, who was fifth in the Derby despite losing his two front shoes, was scratched from the Preakness with a sore right front foot. Zito said the colt may be ready for the Belmont.
Royal Assault won the Sir Barton on Saturday's Preakness undercard, and Birdstone was eighth in the Derby.
Other possible starters include Derby runners Master David (ninth), Tapit (12th), Castledale (14th) and Friends Lake (15th).
The Peter Pan Stakes on Saturday will help determine the Belmont fate of several horses, including Master David, Friends Lake, Sinister G and Swingforthefences.
Read the Footnotes, who was seventh in the Derby, has a chipped knee and will not make the Belmont.
Preakness ratings up
Smarty Jones' record 11 1/2 -length victory in the Preakness had the race's highest overnight TV ratings since 1990.
The 2-3:45 p.m. (PDT) telecast, in which Smarty Jones won the second leg of the Triple Crown after his Kentucky Derby victory, drew a 7.2 overnight rating on NBC. That was a 29 percent increase from last year's 5.6. The 1990 Preakness, won by Summer Squall, had a 7.8.
Local journalism is essential.
Give directly to The Spokesman-Review's Northwest Passages community forums series -- which helps to offset the costs of several reporter and editor positions at the newspaper -- by using the easy options below. Gifts processed in this system are not tax deductible, but are predominately used to help meet the local financial requirements needed to receive national matching-grant funds.
Subscribe to the sports newsletter
Get the day's top sports headlines and breaking news delivered to your inbox by subscribing here.
---