Sports
Chance for more gold thrills Brown
Mon., May 17, 2004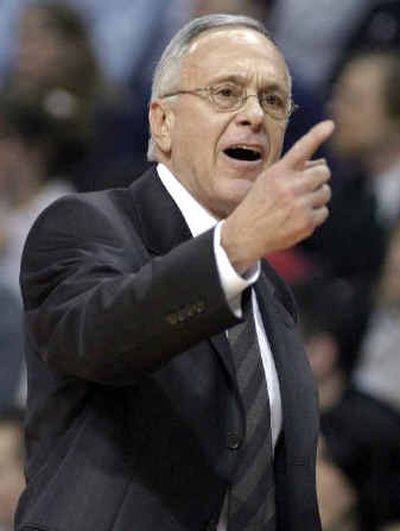 NEW YORK – Forty years ago in Tokyo, Larry Brown was an athlete at the 1964 Olympics.
He scaled a fence to watch the swimming finals, lent his official credential to a pole vaulter who used it to get into a basketball venue, and tooled around on a bicycle.
"People were great. It was so well-organized. I didn't notice any animosity from the athletes or the host country," Brown recalled in a recent interview with the Associated Press.
Four decades later, he will return to the Olympic Games – as coach of the U.S. men's basketball team – but he isn't expecting the experience in Athens to be anything like Japan.
Several top players opted out, and the world political situation figures to prompt some hostility toward American athletes. Still, Brown is eager to try to win a gold medal.
Coaching the U.S. team is a task he considers a duty and an honor, after serving as an assistant under Rudy Tomjanovich on the 2000 team that won gold in Sydney.
Having been to more than his share of hostile arenas, Brown is expecting that dynamic to jump to a whole new level – not only when the Americans play in Athens, but also in exhibitions against Serbia and Montenegro in Belgrade and the Turkish national team in Istanbul.
"I wanted that," Brown said. "I asked the USOC if we could get the most competitive games in the most difficult environments for our team, because obviously we're going to experience some difficulties in Greece."
When Brown made that request, he was expecting to be traveling through Europe with a team full of NBA superstars including Kobe Bryant, Jason Kidd, Karl Malone, Elton Brand, Kevin Garnett, Ray Allen, Vince Carter and Shaquille O'Neal.
But none of those players – with the possible exception of O'Neal – will be donning the red, white and blue. All withdrew citing injuries, fatigue or family issues, and some suggested concerns about security played a role in their decisions.
Brown's team could include Tim Duncan, Allen Iverson, Tracy McGrady, Richard Jefferson, Mike Bibby, LeBron James, Stephon Marbury, Shawn Marion and Amare Stoudemire – none of whom has any Olympic experience.
Brown expects the level of hostility toward American athletes to come as a sobering surprise to his players.
In Tokyo, the world was nearly two decades removed from the end of World War II, when the United States dropped atomic bombs on Hiroshima and Nagasaki. Brown said he encountered no hostility.
In Europe this summer, the U.S. team will enter a foreign forum where anti-American sentiment has grown, in large part because of the war in Iraq.
"Most of these guys have been adored wherever they've played. Compared to Ohio State at Indiana, or North Carolina at Duke, I guess it'll be taken up a notch or two. It's going to be an interesting thing to see how our players respond."
But McGrady is now one of the players having second thoughts about going to Athens, as is Bibby.
Among the candidates to replace them are Sam Cassell and Ron Artest, a pair of players with plenty of passion but almost no experience with international rules.
The medal Brown won as a player in Tokyo is on display at the bottom of his staircase, his only piece of memorabilia not stuffed away in storage.
"I look at this as the greatest honor I could ever have in my career," Brown said. "I want to focus on the guys who are going, and how proud we all should be to have an opportunity to represent our country at a time when guys are sacrificing a lot more than we are.
"I would hope that maybe by us going, if we would send the best team and act the right way, maybe people would have a good feeling about us."
Local journalism is essential.
Give directly to The Spokesman-Review's Northwest Passages community forums series -- which helps to offset the costs of several reporter and editor positions at the newspaper -- by using the easy options below. Gifts processed in this system are not tax deductible, but are predominately used to help meet the local financial requirements needed to receive national matching-grant funds.
Subscribe to the sports newsletter
Get the day's top sports headlines and breaking news delivered to your inbox by subscribing here.
---