News > Nation/World
U.S. troops in S. Korea may head to Iraq fight
Mon., May 17, 2004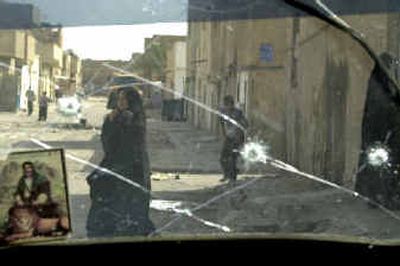 BAGHDAD, Iraq – Amid ongoing violence in Iraq, the United States is looking to move some of its 37,000 troops stationed in South Korea to bolster forces in Iraq, South Korean and U.S. officials say.
Tapping into the U.S. military force in South Korea would be a historic move by the Pentagon, underscoring the degree to which the military is stretched to provide enough troops for Iraq while meeting its other commitments.
In Iraq on Sunday, fighters loyal to radical cleric Muqtada al-Sadr drove Italian forces from a base in the southern city of Nasiriyah and attacked coalition headquarters there with grenade and mortar fire as tensions in the Shiite region escalated.
Two U.S. soldiers died elsewhere, and gunmen killed three Iraqi women working for the U.S.-led coalition.
Two Iraqi fighters were killed and 20 were wounded in battles in Nasiriyah, mostly at two bridges across the Euphrates, residents said.
The Italian troops evacuated their base as it came under repeated attack. Portuguese police were called out to support the Italians, their first action since the force of 128 deployed to Nasiriyah in November, a Portuguese duty officer said, speaking on condition of anonymity.
At least 10 Italians were wounded, one critically, contingent spokesman Lt. Col. Giuseppe Perrone told the Associated Press by phone. He said the Italians relocated to the nearby Tallil air base.
Also in Nasiriyah, a convoy transporting the Italian official in charge of the city, Barbara Contini, came under attack as it neared the headquarters of the U.S.-led Coalition Provisional Authority, Perrone said. Two Italian paramilitary police were wounded.
Fighting in the southern city began Friday. All but two civilian staffers of the coalition were evacuated from Nasiriyah headquarters to a military base because of attacks by al-Sadr's fighters. The radical cleric, who launched an uprising last month, faces arrest in the murder of a rival, moderate cleric last year.
Elsewhere in southern Iraq, assailants in Basra fired a mortar shell that hit a house near a British military base, killing four Iraqi civilians, including 2-year-old twin girls, witnesses said. Four people were wounded. All the victims were related.
Gunmen fired on a minibus and detonated explosives in Baghdad on Sunday, killing two Iraqi women and their driver and injuring another woman. Police said the women were working for the Americans but did not specify their jobs.
Early Sunday, a female Iraqi translator working with U.S. troops was killed and another was critically injured when gunmen broke into their houses in Mahmoudiyah, said Dawood al-Taee, director of the city's hospital.
The civilian killings appeared to be part of a rebel strategy to deter cooperation between Iraqis and the coalition, which plans to hand over sovereignty on June 30.
One U.S. soldier was killed Saturday night when a bomb exploded beside a vehicle in Baghdad, the Army said Sunday. A second soldier died of wounds suffered during a firefight Saturday south of the capital, the military said.
The deaths brought to 777 the number of U.S. service members who have died since the beginning of military operations in Iraq last year. Of those, 567 died as a result of hostile action and 210 died of non-hostile causes.
In central Baghdad, several explosions were heard near the U.S.-controlled Green Zone. It was unclear what caused the blasts, but smoke could be seen rising from the west side of the Tigris River.
Meanwhile, officials said the Pentagon was talking to Seoul about using some Korea-based forces in Iraq.
"The U.S. government has told us that it needs to select some U.S. troops in South Korea and send them to Iraq to cope with the worsening situation in Iraq," said Kim Sook, head of the South Korean Foreign Ministry's North American Bureau.
A senior U.S. defense official, speaking on condition of anonymity, said any shift in troops from South Korea would be part of the next rotation of American troops in Iraq, set to begin late this summer.
The coalition is struggling to disband al-Sadr's army and sideline its radical leadership before handing power to a new Iraqi government. American forces and al-Sadr fighters fought heavy battles in recent days in the southern holy cities of Najaf and Karbala.
On Sunday, American tanks drove through Karbala and exchanged gunfire with insurgents. The tanks also opened fire to break up an anti-American demonstration.
Coalition forces guarding large quantities of captured arms and explosives at Karbala's Mukhaiyam mosque came under mortar fire three times overnight from Saturday to Sunday, said Lt. Col. Robert Strzelecki, spokesman for the Polish-led multinational force in south-central Iraq.
Earlier in the week, coalition troops drove out insurgents using the mosque as a base of operations.
Apparent gunfire slightly damaged one of Shia Islam's holiest shrines in Najaf on Friday, prompting calls for revenge against the Americans and even suicide attacks against the coalition.
The U.S. military has said al-Sadr's al-Mahdi Army was probably responsible, but Iran's supreme leader on Sunday accused the United States of damaging the shrine through "shameless" and "foolish" actions.
"Muslims can't tolerate the shameless incursion of American forces into sacred places," Ayatollah Ali Khamenei was quoted as saying by the official Islamic Republic News Agency.
Two U.S. tanks were stationed Sunday in a main square in Najaf, while militiamen held positions in the cemetery and other areas.
Several mosque imams from Fallujah, a Sunni stronghold west of Baghdad that was the site of heavy fighting last month, visited al-Sadr in Najaf to show solidarity. The siege of Fallujah by U.S. Marines ended when the coalition allowed an Iraqi force led by former officers in Saddam Hussein's army to take over security in the city.
An explosion in the southern city of Samawah killed at least one Iraqi security force member, and there also was shooting between Iraqi security forces and al-Sadr supporters, Japan's Kyodo News reported.
Two mortar shells were fired at Dutch soldiers guarding the provincial governor's building in Samawah, Kyodo said. Japanese soldiers had virtually confined themselves to their base on the southern outskirts of the city because of deteriorating security.
Mohammed Rahim, an ambulance driver in southern Amarah, said hospital officials picked up 21 bodies from a British base after authorities asked that ambulances recover al-Sadr fighters slain Friday. British troops said they would hand over another seven bodies, Rahim said.
Also Sunday, the Arab news network Al-Jazeera broadcast video of two Russians taken hostage May 10 in Iraq and read a statement from a group demanding that foreign troops withdraw. Moscow strongly opposed the war and does not have any troops in Iraq.
In London, Defense Secretary Geoff Hoon said Sunday the government is considering whether to sending more troops to Iraq. Prime Minister Tony Blair said this month that Britain was talking with the United States about increasing its presence here after the withdrawal of Spanish, Honduran and Dominican troops.
Britain has 7,500 troops in southern Iraq.
Local journalism is essential.
Give directly to The Spokesman-Review's Northwest Passages community forums series -- which helps to offset the costs of several reporter and editor positions at the newspaper -- by using the easy options below. Gifts processed in this system are not tax deductible, but are predominately used to help meet the local financial requirements needed to receive national matching-grant funds.
Subscribe to the Coronavirus newsletter
Get the day's latest Coronavirus news delivered to your inbox by subscribing to our newsletter.
---