News > OurGen
'Van Helsing' perfect matinee movie
Mon., May 17, 2004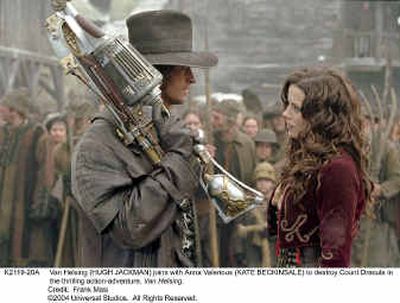 Film writer and director Stephen Sommers is passionate about classic horror movies. In his own work, he recreates the characters who inspired him to become a filmmaker. He first did this with "The Mummy" in 1999, which Sommers said he chose because the creature had been redone the least. His choices make his movies more unique than most of the classic projects that have been rehashed by modern directors.
After a half-decent sequel ("The Mummy Returns") and a dreadful prequel ("The Scorpion King," which Sommers wrote but didn't direct), the horror lover is striving for distinction once again. But most of the famous beasts in fright cinema history have all been used and reused. So, Sommers decided to take the vampire slayer from the original Dracula novel and turn him into a superhero who would fight three of the most well-known movie monsters.
Hugh Jackman plays the title character in "Van Helsing," where he battles Dracula, Frankenstein and the Wolf Man. Sommers's concept for this outing is clever, and the film ends up being even better plotted than I expected. Three of his major plot twists actually fly in the face of predictability and tie the story together nicely. His action scenes manage to use up the special-effects budget but not detract from the movie's plot. They prove Sommers's abilities as a decent director by lasting long enough to impress the audience but not so long that we get bored. Even the acting is top notch.
Jackman can handle most action/adventure roles well, but this one in particular possesses the right balance of debonair and humanism to match his onscreen personality. Kate Beckinsale proved in "Underworld" that she also is capable of the action-hero genre, and she fits her part as a warrior princess who Van Helsing must protect and fight alongside. In her second vampire film, Beckinsale lacks fangs so the beauty in her face shows through.
The only real problem with "Van Helsing" stems from Sommers' desire to make it original. His concept and basic plot are excellent, but subtle thefts throughout disrupt the film's flow and cause it to fail as a true adventure. It is reminiscent of how "The Mummy Returns" borrowed its action scenes from "The Matrix," "Crouching Tiger, Hidden Dragon" and even "The Lost World: Jurassic Park."
For example, Helsing suffers from amnesia similar to the memory loss of Jackman's Wolverine character in the "X-Men" films. He does know that the secret to his past is connected to the arch villain Dracula, while Wolverine's answer also could be found in his nemesis, played by Brian Cox. Helsing swings around on a grappling hook that looks like it could belong to Batman, but when he is in the air he resembles Spider-Man. The plot's most essential twist may seem to be a clever surprise, but it was used in "Underworld," starring Beckinsale and her co-stars. Not only does an image in the sky at the film's end come straight out of "Return of the Jedi," but it then condenses down to a "Lion King" finish visually.
These may all be subtle distractions, but they provide enough disruption to make "Van Helsing" unworthy of the price of an $8 movie ticket. Sommers's work is exciting and entertaining enough for a matinee price. The primary problem is that — no matter how hard he tries — Sommers will likely never make another film that lives up to the true action/adventure, Indiana Jones' feel of "The Mummy."
Grade: B
Local journalism is essential.
Give directly to The Spokesman-Review's Northwest Passages community forums series -- which helps to offset the costs of several reporter and editor positions at the newspaper -- by using the easy options below. Gifts processed in this system are not tax deductible, but are predominately used to help meet the local financial requirements needed to receive national matching-grant funds.
Subscribe to the Coronavirus newsletter
Get the day's latest Coronavirus news delivered to your inbox by subscribing to our newsletter.
---