News > Spokane
Air tanker loss a big blow
Tue., May 18, 2004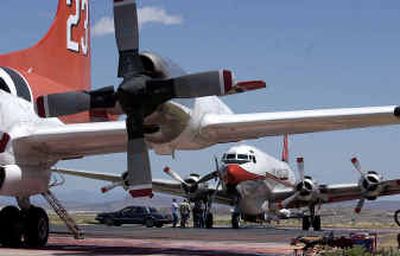 Regional wildfire managers are nervous at the prospect of a fire season without their most powerful firefighting weapon, heavy air tankers capable of draping vast stretches of forest with fire retardant.
Last week, the federal government canceled all contracts for the planes because of safety concerns stemming from a pair of crashes in 2002. The news is coming at the dawn of a potentially catastrophic fire season – forest conditions already are at Julylike moisture levels.
"We're quite concerned," said Steve Harris, fire prevention coordinator for the Washington state Department of Natural Resources. "We definitely need those air tankers."
Bucket-equipped helicopters and smaller single-engine air tanker planes will remain in service across the region. And the state of Washington will continue to station one PBY air tanker at Deer Park. The PBY skims across the surface of a lake, scooping up water.
None of these aircraft, however, packs the punch of the heavy air tankers, which can haul upwards of 3,000 gallons of fire retardant. Questions also remain whether the state-contracted PBY tanker will be allowed to assist on fires on federal lands, Harris said.
The heavy air tankers, including the P-3, DC-4 and DC-7, are especially valuable when wildfires jump into the forest canopy, Harris said. Such crown fires are fiercely hot and tough to control. After years of drought, forests in the area are stressed and prone to crown fires, he said.
"You can't put folks out there in front of a crown fire," Harris said. "The only thing you can do is throw some retardant at it. That's the only safe way to attack that crown fire."
Although 33 heavy air tankers were taken out of service nationwide by the contract cancellation, the U.S. Forest Service is working to ensure that communities have access to other aerial firefighting resources, said Rose Davis, spokeswoman for the National Interagency Fire Center in Boise. Those planes are dispersed wherever needed. The agency also leases and owns about 850 aircraft, mostly helicopters.
"We're confident we have enough resources for the upcoming Western fire season," Davis said.
The contracts for the heavy air tankers were canceled after the National Transportation Safety Board determined their airworthiness could not be assured, Davis said. Three of the tankers have crashed since 1994 and the safety board scolded the Forest Service for not being able to ensure the fleet's safety.
"We really didn't have a lot of options," Davis said.
Most of the planes have been in service since World War II or the early days of the Cold War. Their frames weren't designed to carry heavy payloads of fire retardant, Davis said. Air tankers logged 5,082 flight hours in 2003, which represents about 5 percent of all flight hours for U.S. Forest Service aircraft, according to agency reports.
Although the aircraft play an important firefighting role, they remain a support tool, Davis said. "You have to remember that wildfires are put out on the ground."
At least one heavy air tanker has traditionally been stationed in Coeur d'Alene. Two others are usually stationed in Moses Lake, Wash.
Helicopters and single-engine air tankers are the most common aerial firefighting tool used, but the heavy tankers remain an invaluable asset, said Mike Denney area supervisor for the Idaho Department of Lands.
"They're not a key tool, until you get the big fires, like what we had up in Myrtle Creek last year," near Bonners Ferry, he said.
Idaho now is looking at stationing at least one additional single-engine air tanker in the area, Denney said. Demand for aircraft surged after the Forest Service announcement.
"Everybody's scrambling for aircraft," Denney said.
Fuel-moisture levels taken last week near Hayden are cause for concern, Denney said. Branches and sticks less than an inch in diameter were at 8 percent moisture levels – dangerously close to typical mid-summer levels of 5 or 6 percent.
Large stumps and logs were at 22 percent moisture levels, Denney said. That might sound high, but foresters are used to seeing these fuels sopping with springtime moisture. It would take weeks of cool, wet weather to soak these large fuels, Denney said.
Spring wildfires typically only char logs and stumps, said Harris, with the Washington Department of Natural Resources. Not this year. Stumps and logs have been "fully consumed" by fire during a handful of small, early season fires, he said.
"The forest conditions are quite alarming to us," Harris said. "There's just no moisture in the ground."
Summer has arrived early. As of May 1, snowpack levels in Washington were 63 percent of average, according to a statement from the Natural Resources Conservation Service.
"The last month has canceled any gains made by heavy snows and rains this year," said Scott Pattee, a water supply specialist with the agency.
Local journalism is essential.
Give directly to The Spokesman-Review's Northwest Passages community forums series -- which helps to offset the costs of several reporter and editor positions at the newspaper -- by using the easy options below. Gifts processed in this system are not tax deductible, but are predominately used to help meet the local financial requirements needed to receive national matching-grant funds.
Subscribe now to get breaking news alerts in your email inbox
Get breaking news delivered to your inbox as it happens.
---