News > Business
Boeing lands order from Brazilian carrier
Tue., May 18, 2004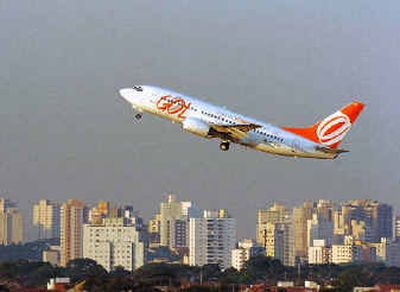 SAO PAULO, Brazil — Brazil's newest airline, the low-cost carrier Gol, plans to buy up to 43 Boeing passenger jets in a $2.7 billion deal that could triple its fleet of planes flying in Latin America's largest country, the company announced Monday.
The company, whose full name is Gol Linhas Aereaes S.A., has placed a firm order for 15 737-800s for delivery between 2007 and 2009 at a cost of about $960 million.
The carrier holds an option to buy 28 more between 2005 and 2010, meaning the total deal could be worth up to $2.7 billion for Chicago-based Boeing Co. at list prices, although airlines typically negotiate steep discounts.
Gol, which operates only in Brazil, could start using some of the new planes on international routes throughout Latin America, company president and chief executive Constantino Oliveira Jr., said in an interview with the Associated Press.
The company is studying the possibility of flying to other Latin American countries and hopes to decide by the end of this year whether to expand internationally, he said. But Gol has no plans for flights to the United States or Europe.
"We are talking only about South America and Latin America where we can keep our business model and discipline," Oliveira said.
Gol started operating in Brazil in 2001, modeling itself after U.S.-based Southwest Airlines. It cut fares as the country's other major airlines suffered huge losses because of the plunge in travel following the Sept. 11 attacks in the United States.
By late last year, Gol had captured nearly 20 percent of the Brazilian passenger flight market, putting it in third place behind Varig and Tam and ahead of Vasp.
Oliveira said Gol improved its market share to 22 percent of the Brazilian market during the first four months of this year and anticipates it will capture more of the domestic market by the end of the year.
Local journalism is essential.
Give directly to The Spokesman-Review's Northwest Passages community forums series -- which helps to offset the costs of several reporter and editor positions at the newspaper -- by using the easy options below. Gifts processed in this system are not tax deductible, but are predominately used to help meet the local financial requirements needed to receive national matching-grant funds.
Subscribe to the Coronavirus newsletter
Get the day's latest Coronavirus news delivered to your inbox by subscribing to our newsletter.
---