News > Features
Coffee's fancy cousins laden with lots of calories
Tue., May 18, 2004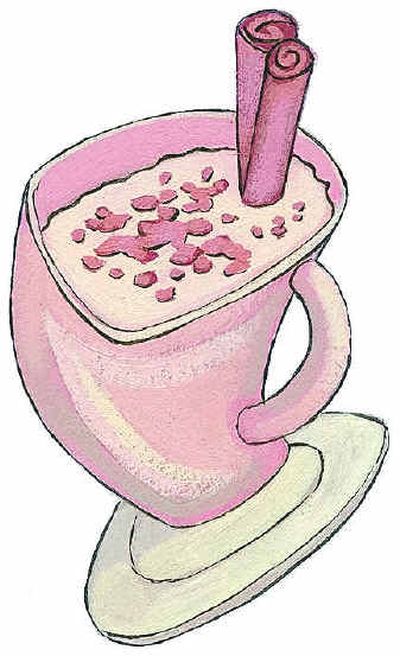 To the unsuspecting person looking for a refreshing treat, a 16-ounce frozen coffee confection or frothy coffee drink can sure beat run-of-the-mill java.
But although that unadorned cup of coffee has no calories before the addition of milk, cream or sugar, the same can't be said of its fancier cousins. Hot and cold lattes, espressos, mochas, cappuccinos and spiced teas known as chais can pack a hefty caloric punch. They may also supply a hefty chunk of the day's fat, carbohydrates and sugar.
And yet somehow, coffee tends to fall under the radar. "People have some idea that coffee is this calorie-less beverage and that you're just adding a little something' to it," said Lola O'Rourke, a registered dietitian in Seattle, where Starbucks pioneered the modern coffeehouse. "In the days when people drank coffee black, or with a little milk, cream or sugar, you probably weren't adding more than 100 calories."
Today, depending on whether that drink is 12, 16 or 24 ounces, and whether it's whipped up with nonfat, whole or soy milk — or even half-and-half — a consumer may be sipping 150 to 500 calories. A spritz of whipped cream can add 130 calories.
"I think people haven't fully incorporated that into their consciousness," O'Rourke said.
Not that the nutritional information is hard to find.
Starbucks discloses nutritional facts for all its beverages on its Website, www.starbucks.com. Consumers also can find the information in a book kept in every Starbucks store.
On a recent hot morning in Beverly Hills, Calif., a visiting Katie Clarke, 26, of Boston, said she and her co-workers regularly go for Starbucks runs. Her regular order used to be a Frappuccino, a blended coffee-milk drink that can be flavored with mocha syrup, chocolate syrup, caramel, chocolate chips or toffee, until she checked the Starbucks nutritional information.
A mocha Frappuccino has 290 calories, 4 grams of fat and 58 grams of carbohydrates (48 from sugar).
Now, she said, "I just try to be a little bit more aware." She's changed her regular drink to a mocha latte with nonfat milk.
Workers at Peet's Coffee & Tea, a specialty coffee retailer founded in Berkeley, Calif., will read consumers the calorie and fat content for coffee and tea drinks. But that leaves today's carb-conscious dieters without carb and sugar specifics readily obtainable for packaged and many prepared foods.
Peet's espresso-based drinks are made with whole milk, and its Caffe Freddo ice-blended drinks are made with 2 percent milk unless patrons request otherwise, a spokeswoman said.
Step into a Coffee Bean & Tea Leaf store, and you're at a loss to know what's in the drink your barista is preparing. The L.A.-based chain doesn't publish its nutritional information, although it plans to make it available on its Web site.
However, the Coffee Bean can prepare its signature Ice Blended drinks (a mixture of ice, nonfat milk, coffee extract and proprietary flavored powders) with powders containing no added sugar (think NutraSweet), or no added sugar or added fat. That can halve calories, fat and carbs, the company says.
In response to a request for the unpublished nutritional breakdowns, the company provided them for lattes, iced lattes and Vanilla Ice Blended drinks, which ranged from 74 to 359 calories for 16-ounce servings without whipped cream.
The National Coffee Association in 1999 found that 29 million Americans drank gourmet coffee beverages daily, often for the caffeine boost.
"Caffeine is the reason I order it," Stephanie Pottruck of West Hollywood says of the latte or Ice Blended she gets a couple of times a week at Coffee Bean & Tea Leaf. The 26-year-old producer became a fan of Ice Blended drinks after college, when she discovered the fat-free, no-sugar-added versions.
"It was exciting to me — the idea of a milkshake that wasn't that fattening."
Still, the growing appeal, especially among teens and college students, of gourmet coffee drinks made with sugar, sugar syrups and hydrogenated fats concerns nutritionists focused on the obesity epidemic.
For example, a 24-ounce Java Chip Frappuccino from Starbucks, with chocolate chips, whipped cream and chocolate syrup, packs 650 calories, 25 grams of fat, 17 grams of saturated fat and 99 grams of carbs. Federal recommendations for a 2,000-calorie diet are to keep fat under 65 grams, saturated fat under 20 grams, and carbs under 300.
Reporting in the April issue of the Journal of the American Dietetic Association, researchers from Simmons College in Boston found that undergraduate and graduate students who drank gourmet coffee concoctions consumed an extra 200 calories and 32 grams of sugar a day.
The calorie-dense liquids aren't as satisfying as food and "don't stop you from eating that amount of calories in something else," O'Rourke warned.
Local journalism is essential.
Give directly to The Spokesman-Review's Northwest Passages community forums series -- which helps to offset the costs of several reporter and editor positions at the newspaper -- by using the easy options below. Gifts processed in this system are not tax deductible, but are predominately used to help meet the local financial requirements needed to receive national matching-grant funds.
Subscribe to the Coronavirus newsletter
Get the day's latest Coronavirus news delivered to your inbox by subscribing to our newsletter.
---