Sports
Glaus out 2 months with shoulder injury
Tue., May 18, 2004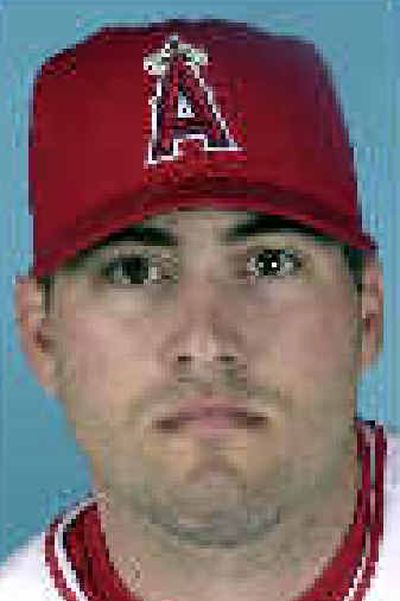 Anaheim Angels slugger Troy Glaus, a three-time All-Star who has hit an A.L.-leading 11 home runs in just 108 at-bats, will have surgery on his right shoulder Friday and be sidelined for at least two months.
Glaus was limited to 91 games last season because of a shoulder injury he sustained while trying to make a diving catch. He was taken out of the lineup in New York last Wednesday after apparently hurting his shoulder a night earlier in his last at-bat against the Yankees.
The surgery will be performed by Angels team physician Dr. Lewis Yocum to repair fraying of the labrum and rotator cuff, and Glaus will be placed on the 60-day disabled list, the team said Monday.
Glaus, 27, was hitting .296 with 29 runs scored and 28 RBIs. Twenty of his 32 hits were for extra bases, and he reached double figures in home runs in his 24th game – fastest in club history.
Injury bug strikes Braves
Marcus Giles is wearing a sling instead of a uniform. Rafael Furcal is having trouble gripping the baseball. Eli Marrero is struggling to put on weight.
Such is the state of the Atlanta Braves.
While many predicted the Braves to falter this season, no one could have foreseen the devastating series of injuries and ailments that would make it difficult for this perennial playoff team to keep the same lineup on the field.
Manager Bobby Cox has spent a lot of time writing in names such as Jesse Garcia and Dewayne Wise – journeymen who had to fight just to make the team in spring training.
"Everybody out there is doing their best, playing their best until the last out is made," pitcher Mike Hampton said. "It's just not enough against the people we're facing."
The top four hitters in the projected order – Furcal, Giles, Chipper Jones and J.D. Drew – haven't been together since the first week of the season.
Cardinals' rotation holding up
At the start of the season, the St. Louis Cardinals' weakness seemed to be their starting rotation.
Instead, a mostly modest starting five has nearly kept pace with more celebrated staffs in Chicago and Houston.
In the team's just-completed six-game homestand, Matt Morris, Jason Marquis, Woody Williams, Jeff Suppan and Chris Carpenter combined for a 1.96 ERA and four victories, pitching seven or more innings in five of the games.
"I'm a very optimistic, very positive guy," manager Tony La Russa said. "I think they've pitched like we expected them to pitch, which is good and getting better."
Together, they've piled up 23 quality starts of six or more innings, second best in the major leagues to the Chicago Cubs' 25.
Good news for Cubs
Cubs right-hander Kerry Wood threw off flat ground, and Mark Prior pitched a regular side session at Wrigley Field on Monday.
Wood missed his scheduled start Sunday after feeling tightness in his right triceps. Tests showed inflammation but no tears, and the Cubs are hoping he won't have to miss more than the one start. He'll throw off flat ground again today.
Prior, on the disabled list since the start of the season because of an inflamed Achilles' tendon and sore elbow, is on track to return in June.
MLB creates pension fund
Major League Baseball will provide more than $1 million in pensions to former Negro Leagues players through a new charitable program.
The fund will benefit 27 players, all of whom played after Jackie Robinson broke baseball's color barrier in 1947.
Baseball set up a program in 1997 to provide pensions to Negro Leagues players before 1948.
The new fund will benefit additional players who spent parts of at least four seasons in the Negro Leagues, starting before 1958.
Clearing the bases
The Colorado Rockies purchased the contract of pitcher Aaron Cook from Triple-A Colorado Springs. Cook was called up to make the start against the Philadelphia Phillies on Monday. To make room for Cook, the Rockies optioned pitcher Scott Dohmann to Colorado Springs… . The Arizona Diamondbacks placed pinch-hit specialist Greg Colbrunn on the 15-day disabled list because of tendinitis in his right wrist. The move is retroactive to Sunday. To fill the roster spot, Arizona recalled infielder Scott Hairston from Triple-A Tucson.
Local journalism is essential.
Give directly to The Spokesman-Review's Northwest Passages community forums series -- which helps to offset the costs of several reporter and editor positions at the newspaper -- by using the easy options below. Gifts processed in this system are not tax deductible, but are predominately used to help meet the local financial requirements needed to receive national matching-grant funds.
Subscribe to the sports newsletter
Get the day's top sports headlines and breaking news delivered to your inbox by subscribing here.
---