News > Business
India's stock market suffers record decline
Tue., May 18, 2004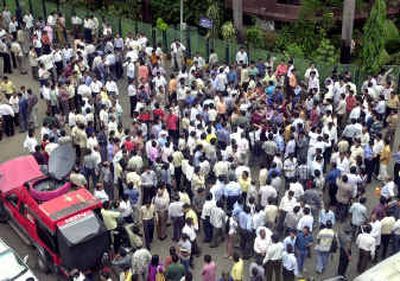 BOMBAY, India — India's stock market took the biggest plunge in its 129-year history Monday as investors panicked over how communist parties would influence the policy of the incoming coalition government of Sonia Gandhi.
Stock market regulators halted trading twice during the day and the government reportedly instructed state-run financial institutions to buy heavily into the market to stop the tumbling share prices.
The market partially rebounded later in the day.
In the biggest ever intraday slide — the benchmark index of the Bombay Stock Exchange, the Sensex, tumbled to 4282.98 points, down 15.52 percent, before trading was suspended for the second time. The Nifty index of the National Stock Exchange, the country's largest, which opened in 1994, plunged 17.47 percent.
The Sensex closed Monday at 4505.16 points, down 11.14 percent from Friday, and the Nifty closed 12.24 percent lower, at 1388.75 points.
Earlier Monday, the Securities and Exchange Board of India ordered suspension of trading twice as stock prices tumbled more than 15 percent on the country's two main bourses.
Share prices began recovering later Monday when markets resumed trading for the third time.
Share prices have been on a downward spiral since Thursday, when vote counting for the April-May national elections showed a stunning defeat for Prime Minister Atal Bihari Vajpayee's National Democratic Alliance. Since Thursday, the price drop has wiped out more than 2 trillion rupees ($45 billion) in market value, brokers said citing unofficial figures.
The market plunged on fears the Congress party — which will head the new government — could slow the privatization of state-run companies and undo market-friendly policies to appease leftist parties, whose support is crucial for a parliamentary majority.
Local journalism is essential.
Give directly to The Spokesman-Review's Northwest Passages community forums series -- which helps to offset the costs of several reporter and editor positions at the newspaper -- by using the easy options below. Gifts processed in this system are not tax deductible, but are predominately used to help meet the local financial requirements needed to receive national matching-grant funds.
Subscribe to the Coronavirus newsletter
Get the day's latest Coronavirus news delivered to your inbox by subscribing to our newsletter.
---