News > Features
New CT scanner produces images in color, 3-D
Tue., May 18, 2004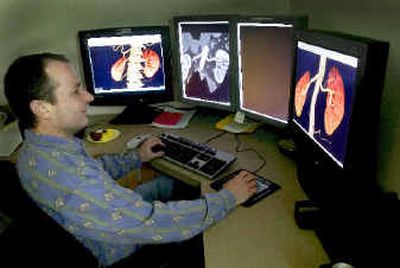 Machines that make images of the inner workings of the human body are getting fancier. Spokane's newest and flashiest medical toy is probably the new 16-slice computed tomography (CT) scanner at Rockwood Clinic on the South Hill.
It's part of a $5 million upgrade to imaging equipment at the South Hill clinic and at Rockwood's Spokane Valley location.
Radiologist Dr. Kyle Colvin compares the new scanner to a sports car. "It's faster, it's better, it's finer," he said.
Faster scanning means less distortion to the image and less radiation exposure for the patient.
In addition, a new generation of software produces color images that appear three-dimensional on the radiologist's computer screen. The pictures are easier for regular folks to understand and, Colvin added, easier to understand for doctors who aren't trained in radiology.
CT scanners use X-rays and digital imaging software to produce cross-sectional pictures of organs and bones. They're great for studying the abdomen, brain and spine for tumors, lesions and injuries.
For now, the new scanner will be used that way. But as more research is done, the CT scanner may play a larger role in diagnosing blockages in blood vessels around the heart. That turf now belongs to interventional cardiologists, who perform diagnostic heart catheterizations in cath labs. Colvin said if CT scanning ends up being used to diagnose clogged arteries, more patients will come into cardiologists' offices and cath labs knowing they need treatment.
Another prediction from Colvin: Rockwood won't have the city's only 16-slice CT scanner for long. Indeed, Kathleen Wilson, chief operations officer at Spokane's Inland Imaging, said: "When we need to purchase a new CT scanner, it will be at least 16-slice."
Outreach grant
The Providence Cancer Center, a partnership between Sacred Heart Medical Center and Holy Family Hospital, has received a grant from the Susan G. Komen Breast Cancer Foundation. The grant will be used to develop a program to bring breast health education and breast cancer support to rural Eastern Washington women.
The plan is to bring free teleconferences featuring physical therapists, dietitians and health specialists to groups in Deer Park, Colville and Newport by September.
Local journalism is essential.
Give directly to The Spokesman-Review's Northwest Passages community forums series -- which helps to offset the costs of several reporter and editor positions at the newspaper -- by using the easy options below. Gifts processed in this system are not tax deductible, but are predominately used to help meet the local financial requirements needed to receive national matching-grant funds.
Subscribe to the Coronavirus newsletter
Get the day's latest Coronavirus news delivered to your inbox by subscribing to our newsletter.
---