News > Nation/World
Official's assassination adds to Iraq's woes
Tue., May 18, 2004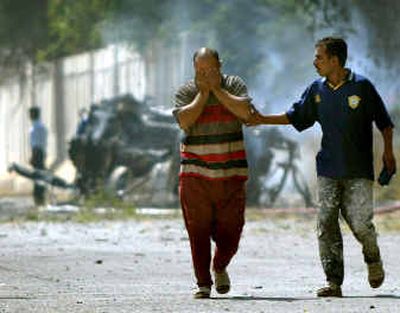 WASHINGTON – The assassination of the president of the U.S.-appointed Iraqi Governing Council on Monday further complicates President Bush's already troubled plan to return sovereignty to an interim Iraqi government in six weeks, U.S. officials and lawmakers say.
The suicide bombing that killed Izzedin Saleem just outside the American "Green Zone" in Baghdad is likely to fuel an international fight over how much power to give the interim Iraqi government that is to take power June 30, they said.
With 44 days until the scheduled handover, the administration had been hoping to avoid a struggle in the U.N. Security Council like the ones that preceded the Iraq war.
But a fight seems likely now, said a State Department official, speaking on condition of anonymity.
Saleem's killing "is going to feed the debate over the Security Council resolution that we want" to legitimize the new government, the State Department official said. "We're in for an interesting battle inside the Security Council."
The assassination also could complicate U.N. special envoy Lakhdar Brahimi's efforts to form an interim Iraqi government, U.S. and U.N. officials said.
The members of the interim government have yet to be chosen, their powers – particularly in the critical area of military and police forces – have yet to be defined and the security situation in Iraq has eroded badly.
Brahimi is having trouble getting Iraqi leaders to agree on who should serve in the interim government, officials in Washington said. It's supposed to have a president, two vice presidents, a prime minister and 26 Cabinet members.
With the clock ticking, simply handing over power to the Iraqi Governing Council is "very much a possibility," the official said. "If we can't get consensus . . . there may be no other choice."
The U.S.-appointed council is unpopular with Iraqis, but some of its members – including former Iraqi exiles backed by the Pentagon – would like to remain in power.
Administration officials vowed to push ahead with the planned handover despite Saleem's assassination, which they blamed on insurgents seeking to derail Iraqi democracy.
"Terrorists may have taken his life, but they will never be able to kill his dreams or those of the Iraqi people," Secretary of State Colin Powell said in a statement. "Their cowardly act only strengthens our resolve to build a democratic, united, peaceful Iraq."
But outside analysts said the killing underscores the fact that Iraqis who cooperate with the U.S.-led occupation are increasingly the targets of insurgents as the June 30 date approaches, and cannot rely on U.S. forces for protection.
Saleem, a Shiite Muslim also known as Abdel Zahraa Othman, wasn't an important political figure, said Michael O'Hanlon, a senior fellow at the Brookings Institution, a moderate-liberal Washington think tank.
But, O'Hanlon said, "It's one more symbol of a decaying security environment. . . . One more reason people will be cynical, less prone to help us."
The killing "does indicate that . . . as there is more responsibility assumed by Iraqis, they are clearly in harm's way in the same way that our fighting forces are," Senate Foreign Relations Committee chairman Richard Lugar, R-Ind., said on CNN.
The United States is attempting to put an "Iraqi face" on the problem, partly through accelerating training for Iraqi police and military forces.
Powell said Friday that U.S. forces would leave Iraq after June 30 if the interim government asked them to go. He said he thought it was unlikely that the interim government would make such a request.
But France and Russia, which opposed the war, are pushing to give the interim government full authority over its military.
Local journalism is essential.
Give directly to The Spokesman-Review's Northwest Passages community forums series -- which helps to offset the costs of several reporter and editor positions at the newspaper -- by using the easy options below. Gifts processed in this system are not tax deductible, but are predominately used to help meet the local financial requirements needed to receive national matching-grant funds.
Subscribe to the Coronavirus newsletter
Get the day's latest Coronavirus news delivered to your inbox by subscribing to our newsletter.
---