Sports
Scramble on to fill field for Indy 500
Tue., May 18, 2004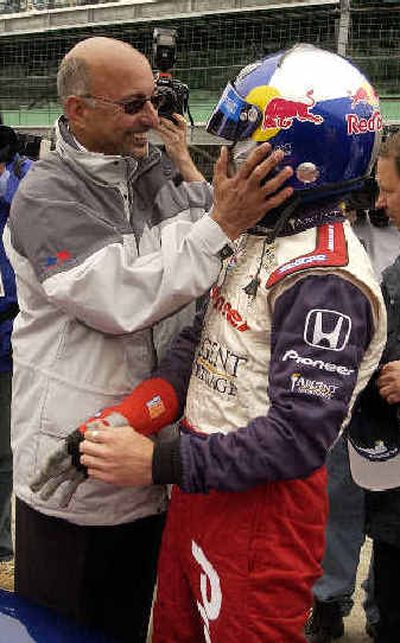 INDIANAPOLIS – The scrambling behind closed garage doors the next few days will be as important to some race teams as the weeks of practice leading up to the Indianapolis 500.
There are plenty of cars available to fill the seven remaining spots in the 33-car lineup, and there are plenty of unemployed drivers eager to get the call. The problem is matching car with driver and finding enough sponsorship money to put a credible program together in time for the final round of qualifications Sunday.
"It's money; it's all about money," car owner Paul Diatlovich said Monday. "With the price of racing going up, it's a lot more costly for independent teams to compete."
Diatlovich, co-owner of the small, Indianapolis-based PDM Racing, said he had no immediate prospects for his two entries in the May 30 race. The track is closed until Wednesday, giving him and others a narrow window before the last four full days of practice before the race.
"We're still fighting for survival," Diatlovich said. "But it's not looking too much brighter. We've had some good opportunities, but they seem to evaporate on us."
PDM had its best season in 2000, when then-rookie Sam Hornish Jr. drove in eight races and had two top-10 finishes. Hornish left for Panther Racing the next year, winning IRL series championships in 2001 and 2002, and PDM has struggled since. Hornish joined Team Penske this year in place of retired Gil de Ferran, the 2003 Indy 500 winner.
Jimmy Kite was 13th for PDM at Indianapolis last year, his only IRL start of the season, and is one of the drivers who have been making the rounds in search of a job. Others include former Indy winners Buddy Lazier and Arie Luyendyk.
"For the right reason and the right deal, I would," the retired Luyendyk said. "But I wouldn't do it just to make up the field."
Luyendyk was to have driven for Mo Nunn Racing last year but was hurt in a crash before the race. Nunn then hired Alex Barron, who finished sixth. Barron is now driving for Cheever Racing with teammate Ed Carpenter, a rookie who drove the final three races last year for PDM.
Tora Takagi qualified one car for Nunn on Sunday, and the team has had inquiries about making another entry available and will look at its options this week, Nunn said.
Oriol Servia, who drove last year in the former CART series with Patrick Racing, and Roberto Moreno, a two-time Indy starter who also drove in CART last year with the Herdez team, are also making the rounds.
The only remaining drivers with confirmed rides but still not qualified are Greg Ray, who owns his own Access Motorsports team; rookie P.J. Jones, who was hired Sunday by Beck Motorsports; and rookie Marty Roth, another underfunded owner-driver who has struggled for speed in the only car he entered.
Local journalism is essential.
Give directly to The Spokesman-Review's Northwest Passages community forums series -- which helps to offset the costs of several reporter and editor positions at the newspaper -- by using the easy options below. Gifts processed in this system are not tax deductible, but are predominately used to help meet the local financial requirements needed to receive national matching-grant funds.
Subscribe to the sports newsletter
Get the day's top sports headlines and breaking news delivered to your inbox by subscribing here.
---