Sports
Sharpe to take CBS TV job
Tue., May 18, 2004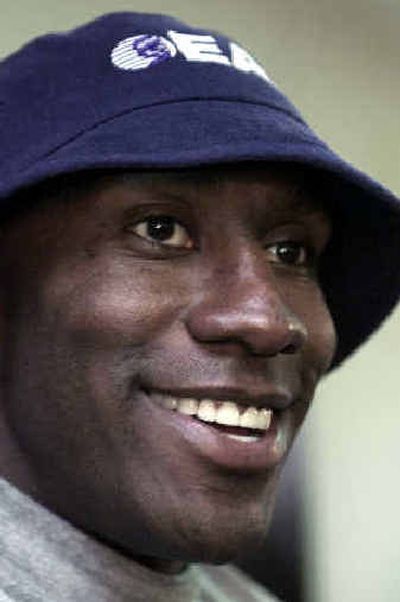 DENVER – Denver tight end Shannon Sharpe is retiring, after all.
The NFL's career leader in receptions and yards at his position will replace Deion Sanders on "The NFL Today" pregame show, CBS spokeswoman LeslieAnne Wade confirmed Monday. She said the official announcement will be made today.
Sharpe, who will be 36 in June, had wavered on whether to return for a 15th NFL season before announcing last month he would be back. The eight-time Pro Bowler had expressed interest in a TV analyst job in the past and changed his mind about retirement when Sanders left CBS in a contract dispute.
The loquacious Sharpe seems to be a perfect replacement for Sanders.
One of the most outspoken and entertaining players for more than a decade, Sharpe showed he can handle himself in front of a camera as an analyst during last season's playoffs. His brother, Sterling, was a commentator for ESPN for seven years before joining the NFL Network this year.
Sharpe leaves the playing field as one of the best tight ends in history.
He's the NFL's career leader in receptions (815) and yards (10,060) for tight ends, and last season he passed Jerry Smith for most touchdowns with 62.
Sharpe has won three Super Bowl rings – two with Denver, another with Baltimore – and was part of an NFL-record 12 straight playoff wins from 1997-01. Last season, Sharpe caught 62 passes for 770 yards and eight touchdowns, second only to Kansas City's Tony Gonzalez in the AFC.
The Broncos have prepared themselves for the loss of Sharpe, signing free agent tight ends Byron Chamberlain, Jed Weaver and O.J. Santiago and re-signing Patrick Hape. Also on the roster are Jeb Putzier, Mike Leach and Dwayne Carswell.
Sharpe was scheduled to make $760,000 with the Broncos next season, but could make more with CBS.
Local journalism is essential.
Give directly to The Spokesman-Review's Northwest Passages community forums series -- which helps to offset the costs of several reporter and editor positions at the newspaper -- by using the easy options below. Gifts processed in this system are not tax deductible, but are predominately used to help meet the local financial requirements needed to receive national matching-grant funds.
Subscribe to the sports newsletter
Get the day's top sports headlines and breaking news delivered to your inbox by subscribing here.
---