News > Spokane
Spokane students sign up new voters
Tue., May 18, 2004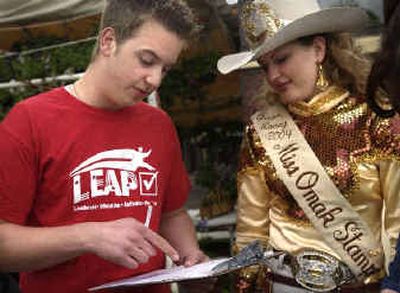 Among the throng of clipboard-toting people usually swarming around big events is a new group that is not pushing any political agenda.
It doesn't want signatures on a petition. It won't try to sway your vote.
It just wants to make sure you can vote.
The students in red shirts – most recently roaming among Lilac Festival parade spectators – are part of LEAP, which stands for "Leadership, Education, Activation, Purpose." Their aim is to register Spokane County residents to vote.
"I think it's important for everyone to get involved with their community, to get their voice out there and vote," said Gonzaga Prep senior Sevrina Bacon. "Once kids graduate, they need to take the leap to grow up, become adult citizens of the U.S. and represent."
The nonpartisan LEAP started with a Mead High School student's idea to get every graduating senior in Spokane County registered to vote. Students learning about political participation and chronically dismal voter turnouts decided to take matters into their own hands.
In the 2000 presidential election, 58 percent of the voting-age population in Washington state voted. In the 2002 elections, only 40 percent voted.
Students from Mead, Mt. Spokane, Lewis and Clark, Ferris, St. George's and Gonzaga Prep high schools have leapt on board. Any interested student from any Spokane County high school is invited to join LEAP.
Students, who have gone through training with Spokane County Auditor Vicky Dalton, make sure the voter-registration form is filled out correctly and signed in the right places. They also have information about absentee ballots and how to change political affiliations.
Though the LEAP students originally planned to focus on 18-year-olds, they quickly realized many older residents are unregistered, too.
With stacks of mail-in registration forms and boxes of pens, the group heads out to events that draw a lot of people. LEAP students started at the opening of the Hillyard skate park and also stood outside the Bloomsday trade show.
The result: 75 new voters.
The students hope to have a presence outside high school graduation ceremonies "so graduates will have an opportunity to take the LEAP by registering to vote as a symbolic step toward the next phase of their life," said organizer Kevin Workman, a Mead High School government teacher.
Registration, of course, is only half the battle. The tougher challenge is getting registered voters to the polls.
Mead senior Eric Arendt says it helps to make things personal.
"People will care if you can relate voting to something they care about," he said. "You tell them that if they get involved with the community and vote, they can get results like the skate park. If they don't care about foreign policy, you don't talk about that. It's about finding a way to tie in the issues they care about."
LEAP participants hope their efforts will expand to other cities and that graduating seniors will take LEAP with them when they head off to college.
Local journalism is essential.
Give directly to The Spokesman-Review's Northwest Passages community forums series -- which helps to offset the costs of several reporter and editor positions at the newspaper -- by using the easy options below. Gifts processed in this system are not tax deductible, but are predominately used to help meet the local financial requirements needed to receive national matching-grant funds.
Subscribe to the Coronavirus newsletter
Get the day's latest Coronavirus news delivered to your inbox by subscribing to our newsletter.
---