Sports
Stallone takes crack at reality TV with "The Contender"
Tue., May 18, 2004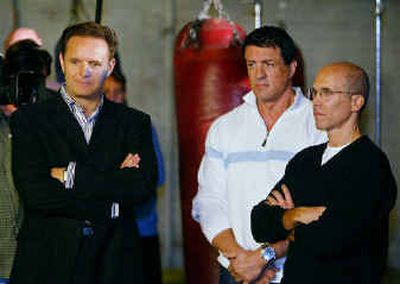 NEW YORK – Sylvester Stallone stepped into the ring Monday and, though wearing jeans and a long-sleeve shirt, struck a blow for his upcoming TV series "The Contender."
The site was a lower Manhattan gym hosting five days of tryouts for aspiring pugilists who aim to be among the 16 contenders vying for the million-dollar purse on NBC's contest-drama.
Each hopeful filled out forms, was examined by a doctor, then waited to be paired off for 3 minutes of sparring under the watchful eye of Frank Stallone, the show's boxing consultant and the host's brother.
Meanwhile, the man who made "Rocky" a symbol of the American dream had a headlock on the attention of reporters and camera crews gathered for his appearance.
" 'The Contender', is not about boxing. It's about people who box – and that's a big difference," he said.
Maybe that's why "casting call" was the operative term: Not only was each tryout being assessed for his boxing ability, but also being interviewed to gauge his potential star appeal.
"We're looking for star power," said Mark Burnett, the series' executive producer and the creator of such hits as "Survivor" and "The Apprentice."
"To be a star, you've got to be a great boxer, but you've also got to have great charisma," he said. "What's wrong with boxing today? There are not enough great characters."
Burnett intends for his show to establish great characters in the boxing arena and bring them to a huge, new audience that, until now, was immune to boxing's charm: "Maybe we can kick-start a wonderful, noble sport."
New York is the eighth of 13 cities visited by the show's scouting party. The sweep will yield some 4,000 fighters, who then will be winnowed to 50 occupying a single, yet-to-be-determined weight class. After more callbacks, this number will be trimmed to 16.
The 16-episode series will track those finalists training and living together as they eliminate one another in the ring.
"This is a story of hopes and dreams," said Burnett, who called himself a lifelong boxing fan. "It really is the `Rocky' journey."
An essential element of the series, added Stallone, is that the characters be "allowed to show, behind the scenes, their fears, their underbelly, their childlike insecurities – and prove they're human, so people see they're not beasts, not animals."
Listed as a "mentor" for the fighters is boxing champ Sugar Ray Leonard, who, also on hand Monday, playfully sparred with Stallone for the cameras.
NBC has announced "The Contender" will be a midseason entry on Tuesday nights – facing off its time slot against Fox's biggest show, "American Idol."
But Fox hopes to beat NBC to the punch with its own boxing contest-drama – and, according to "The Contender's" producers, it's hitting below the belt by stealing their idea.
Announced last month, "The Next Great Champ" boasts a real-life Rocky, six-time World Champion Oscar De La Hoya, who will offer the series' champ a possible title fight and a boxing contract with his Golden Boy Promotions, as well as the cash prize.
This series, with no announced premiere date, has just concluded its own seven-city search, which will result in about a dozen finalists. It's being produced by Endemol USA, a heavyweight in the "reality" genre with such series as "Big Brother" and "Fear Factor."
Fox had no comment on any charges that it had stolen the "Contender" concept.
Local journalism is essential.
Give directly to The Spokesman-Review's Northwest Passages community forums series -- which helps to offset the costs of several reporter and editor positions at the newspaper -- by using the easy options below. Gifts processed in this system are not tax deductible, but are predominately used to help meet the local financial requirements needed to receive national matching-grant funds.
Subscribe to the sports newsletter
Get the day's top sports headlines and breaking news delivered to your inbox by subscribing here.
---