Sports
Vikings' Morton State 5A boys medalist
Tue., May 18, 2004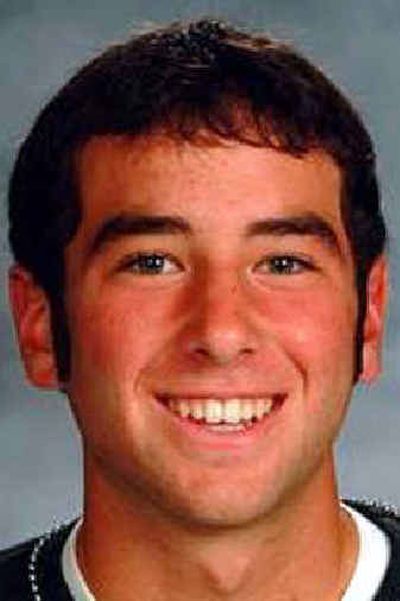 For Coeur d'Alene High senior Ryan Morton, mettle and medalist went hand-in-hand Monday at the Idaho State 5A golf tournament.
Morton chased Mountain View's Joe Panzeri all day before forcing a playoff with a clutch 20-foot eagle putt on No. 18 at the Coeur d'Alene Golf Club. On the fifth playoff hole, Morton made a 3-foot par putt – two holes after missing a chance to win on a putt of similar length – to claim medalist honors.
"Make it – that's all I was thinking," Morton said. "You don't get second opportunities very often. I was very happy I had another chance to end it."
When it was over, Morton stayed true to his unflappable demeanor, flashing a smile and calmly shaking hands with well-wishers. About 100 people followed the tense, five-hole playoff, including a number of Morton's friends, family and teammates.
Morton's 68 helped the Vikings grab a five-shot lead in the team race entering today's final round. Russell Grove shot 74, Mike Dorosh 76 and Taylor Lowe 79 as CdA totaled 297. Mountain View is second at 302, followed by Lewiston's 304 and Minico's 305. Lake City shot 329 and saw its season end.
"Great day," Vikings co-coach Darrell Hull said. "I think it's going to take a lower score (today), but our kids are a bunch of grinders and they have a mission to try to get it done."
Twin Falls' girls built a sizable lead by shooting 327, 19 shots better than Eagle. Six teams advance to today's final round. Coeur d'Alene placed eighth with a 391. Lake City shot 451.
Borah sophomore Lauren Archer parlayed an accurate driver and hot putter to an even par 74 to take girls' medalist honors.
Morton and Panzeri waged an entertaining duel throughout. Panzeri seemed to make every putt he stood over, moving to 4 under after draining a 5-footer on the par-5 16th. Morton birdied, too, to go 2 under, and he remained two back as he stood on the tee at the par-5 18th.
Panzeri followed his pre-round strategy and hit driver, but caught a tree on the right side. Morton's drive came to rest along the left tree line, 210 yards from the green. He laced a 3-iron from a hardpan lie – "About as good as I could hit it," he said later – to 20 feet below the cup. His putt was just as pure, dropping for an eagle.
"That's the first putt all day I felt I hit good," Morton said.
Panzeri was roughly 18 feet away and his birdie putt for the win burned the edge but didn't drop.
"Before (Morton) hit his putt, I had a feeling he was going to make it," said Panzeri, who will play at the University of Washington next year on a 70-percent scholarship. "It was weird, but he hit a good putt. I knew my putt was big and I thought I made it."
Morton made the next big putt, too, on a day when he had a love-hate relationship with his putter. On No. 1, the first playoff hole, he missed the green left and chipped within 6 feet. Panzeri narrowly missed a downhill 13-footer for birdie. Morton made his putt to stay alive.
Morton, who has signed with the University of Idaho, had chances on the next three holes – missing from 14 feet on Nos. 2 and 4, sandwiched around a three-putt from 12 feet on No. 3. On No. 5, Panzeri's approach from 105 yards came up short in the greenside bunker. He blasted out to 10 feet, but missed the putt.
Morton two-putted from 25 feet to end the playoff.
"That was just awesome," Hull said. "Like a couple of prize fighters going at it. That eagle was very clutch. He gave himself a chance and even in the playoff he kept the pressure on (Panzeri). That just shows the character of Ryan and the type of player he is."
"I got off to a slow start, but I kind of hung around," Morton said. "I had fun playing with (Panzeri). We played together two years ago and we got along well. We just kind of played today, going back and forth and once you made a birdie you knew he was going to make one."
Morton tied for third at state last year. Monday marked his first medalist honors this season. "What a time to do it," Hull said.
Borah's Archer finished two shots in front of Skyview's Kali Quick. Twin Falls' Mandi Hedberg was third at 78.
Archer birdied Nos. 7 and 16, both par-5s. She three-putted No. 18 for bogey, but that was about her only complaint with the putter. "I made a lot of putts," said Archer, a 5.2 handicapper. "I hit it pretty straight and kept it out of the trees."
Local journalism is essential.
Give directly to The Spokesman-Review's Northwest Passages community forums series -- which helps to offset the costs of several reporter and editor positions at the newspaper -- by using the easy options below. Gifts processed in this system are not tax deductible, but are predominately used to help meet the local financial requirements needed to receive national matching-grant funds.
Subscribe to the sports newsletter
Get the day's top sports headlines and breaking news delivered to your inbox by subscribing here.
---