News > Features
As actors go, you could call Gyllenhaal a Jake of all trades
Mon., May 24, 2004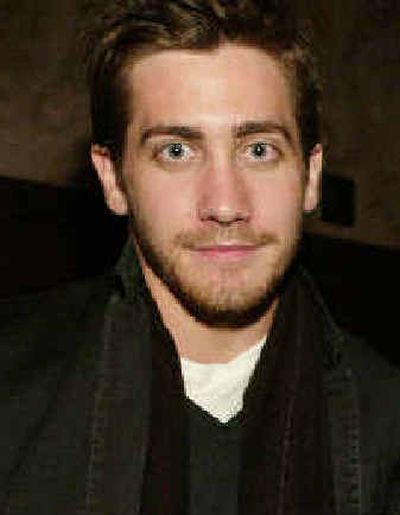 An orchestra of wheezing milk-steaming machines sporadically drowns out Jake Gyllenhaal's voice.
But the 23-year-old actor isn't sipping a nonfat latte with extra foam. He isn't even at the coffee shop where an interview had been scheduled. Instead, he was calling from his white-walled ("what does that say about me?") bedroom in Los Angeles, where he lives with Kirsten Dunst.
Gyllenhaal has been busy promoting his new movie, "The Day After Tomorrow," an elements-driven, effects-packed action flick that opens Friday.
"It felt like a different movie than I've ever done … just in terms of scope and size. It blew me away," he says, adding: "Not to toot my own horn or anything."
Gyllenhaal said he doesn't normally like seeing himself on screen, even if he has a bag of popcorn, no butter, to distract him. "I don't usually have the best time watching because I am so critical, which I don't like being," he said.
Among Gyllenhaal's best-known films are "Donnie Darko," with his sister Maggie and Jena Malone, and "The Good Girl" with Jennifer Aniston.
He can also be seen in next year's "Brokeback Mountain," with Heath Ledger. The movie is an adaptation of a love story between two cowboys that was originally published in The New Yorker.
Gyllenhaal said he is often drawn to projects, like "Brokeback Mountain," that explore relationships.
"That idea that two people can fall in love, can actually fall in love … and that due to circumstances and things in their lives they can physically consummate (the relationship) but they can't really and emotionally consummate it. … I was really into that idea."
A kitten's plaintive meow interrupts Gyllenhaal. He just adopted the tiny, unnamed ball of fur — white, with gray ears and tail — from the litter of a friend's cat. "The dog is chasing the kitten around," he explained.
The whir of the milk steamer breaks up the conversation again, as the barista asks a customer: "Would you like that tall, grande or vente?"
On the other end of the line Gyllenhaal free-associates that if he weren't an actor he could see himself as a chef. He said he likes to cook "every possible thing — anything I can get my hands on."
The Los Angeles native said he was even more inspired after meeting renowned Berkeley, Calif., chef Alice Waters recently at a party in New York. "I was so thrilled to meet her," he gushed.
He doesn't gush often, he says, adding: "I don't really get star-struck on actors."
The problem, he said, is that after watching someone on screen there's an expectation about how that person will be — a set-up for disappointment.
Gyllenhaal said that with his own roles, he never feels as if he takes on a persona. He's not the type to "hide behind the mask," he says, but rather likes to take on characters in whom he sees a part of himself or people to whom he can relate.
The kitten again cuts in, right on cue with a woman ordering a caramel macchiato amid the wheezing steamers.
"I should go feed the cat," Gyllenhaal said. Goodbyes were exchanged. The kitten meowed.
The birthday bunch
Actor-comedian Tommy Chong is 66. Musician Bob Dylan is 63. Actor Gary Burghoff ("M.A.S.H.") is 61. Singer Patty Labelle is 60. Actress Priscilla Presley is 59. Actor Alfred Molina is 51. Singer Rosanne Cash is 49. Actress Kristin Scott Thomas is 44. Actor Eric Close ("Without a Trace") is 37. Rapper Heavy D is 37. Guitarist Rich Robinson (Black Crowes) is 35. Actor Billy L. Sullivan ("Something So Right") is 24. Actor-rapper Big Tyme is 21. Country singer Billy Gilman is 16.
Local journalism is essential.
Give directly to The Spokesman-Review's Northwest Passages community forums series -- which helps to offset the costs of several reporter and editor positions at the newspaper -- by using the easy options below. Gifts processed in this system are not tax deductible, but are predominately used to help meet the local financial requirements needed to receive national matching-grant funds.
Subscribe to the Coronavirus newsletter
Get the day's latest Coronavirus news delivered to your inbox by subscribing to our newsletter.
---