News > Features
Changing their lifestyle can lead to weight loss
Mon., May 24, 2004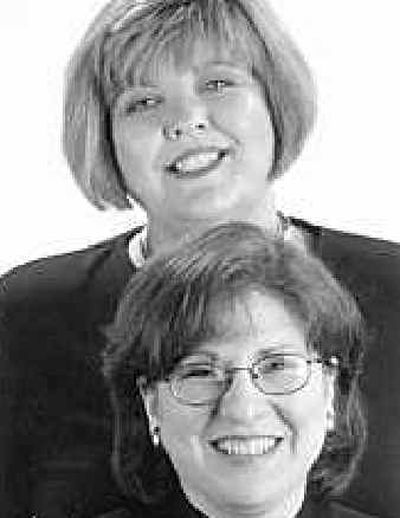 Dear Annie: I have never written to anyone about this problem, although it's been bothering me for over 10 years. Annie, I am a large woman. (I weigh 240 pounds and am 5 feet 4.) I am a divorced mother of a 7-year-old girl who also is heavy for her age.
I fear my bad eating habits and couch-potato routine are forcing "Abbie" to be overweight. I was big as a child, and I still remember all the name-calling and being the last one picked on a sports team. I do not want this for Abbie, but I feel helpless. I have tried diets and exercise programs, but they last only a few weeks. What can I do? — Struggling with Weight in Texas
Dear Struggling: You are not alone, but you are wise to recognize that your habits have a huge impact on your daughter. Both of you need to eat healthier, and she needs to see Mom exercise every day. Ask your doctor to refer you to a nutritionist, and consider Weight Watchers (weightwatchers.com). You must change the way you buy, cook and eat food. This must be a lifetime change.
Enlist Abbie's participation in an exercise program. (Don't invest in a piece of home equipment unless you are certain it won't become an expensive coat rack.) Check out some nearby fitness centers and take Abbie with you. Talk to one of the trainers. Look into computer or video games that involve movement and dance. Perhaps Abbie would be interested in taking a karate class at the park district, swimming at the YMCA or joining a local soccer team. Take a bike ride together on weekends and a walk after dinner (also a great way to talk with Abbie about her day).
Readers, let us hear from those of you who have taken off substantial weight and kept it off for two years or more. Tell us what worked for you.
Dear Annie: I am so upset right now I can hardly type. Last night, there was a message on my answering machine from a salesperson. It said, "Hi. This is Mike, and I got a message that 'Tyler' called requesting information." Annie, Tyler is my 14-year-old son who died last year.
I phoned the salesman back. To his credit, he did apologize. However, I am terribly upset by the practice of stating that Tyler had called requesting information when, obviously, his name was pulled off some list. We have worked hard on our grief journey to be able to function normally, and this was a horrible intrusion.
Salespeople cannot possibly know what is going on in my home. If companies are going to make these cold calls in an effort to sell something, they should NOT use a name from a consumer list they purchased from heaven knows where. Thanks for letting this mom vent. — Grieving in Kansas
Dear Grieving: Our hearts are breaking for you. Some telemarketers believe using a person's name will lure the customer into talking, and possibly buying. Unfortunately, as you have pointed out, such a tactic can backfire. We hope those companies will read your letter carefully, and cease and desist.
Dear Annie: When I was 12 years old, my father started molesting me. A year later, I told a childhood friend. She told someone, her parents, a teacher or a counselor. I'll never know, but that anonymous voice saved me. Dad got a phone call, and the abuse ended. I owe my friend a debt of gratitude for her courage.
I want to encourage others to be the voice for a silent child. Your words can make a huge difference. — Forever Grateful in West Virginia
Dear W.Va.: Heroes come in all shapes and sizes — and ages. Bless your friend for having the strength to speak up.
Local journalism is essential.
Give directly to The Spokesman-Review's Northwest Passages community forums series -- which helps to offset the costs of several reporter and editor positions at the newspaper -- by using the easy options below. Gifts processed in this system are not tax deductible, but are predominately used to help meet the local financial requirements needed to receive national matching-grant funds.
Subscribe to the Coronavirus newsletter
Get the day's latest Coronavirus news delivered to your inbox by subscribing to our newsletter.
---