Sports
Gardner, and his shoes, will be at Athens
Mon., May 24, 2004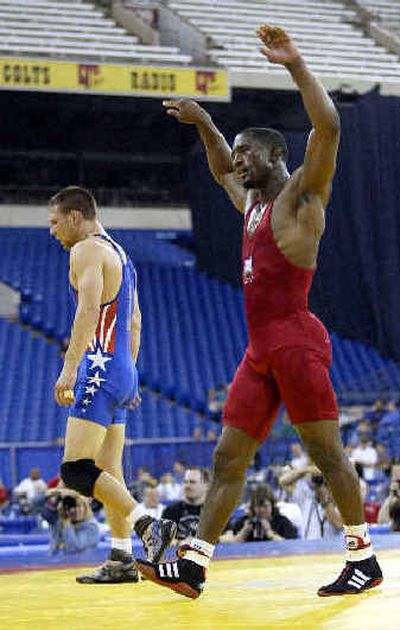 INDIANAPOLIS — Rulon Gardner walked off the mat Sunday at the U.S. Olympic wrestling trials with an unmistakable look of determination on his face and his shoes still firmly on his feet.
Gardner, who promised to leave his shoes on the mat in the wrestler's traditional show of retirement if he lost, won a pair of tight 2-1 overtime decisions over top-seeded Dremiel Byers to gain the return trip to the Olympics that once seemed a long shot.
"I told myself, `I'm not putting those shoes out there today,' " said Gardner, the 2000 Greco-Roman super heavyweight gold medalist at the Sydney Games. "I have more matches to wrestle."
While Gardner successfully wrestled out of the challenge tournament that determined who would meet the U.S. national champions in Sunday's best-of-three trials, only four others did — including the other American big name, four-time NCAA champion Cael Sanderson.
Sanderson needed three matches to outlast former Iowa college rival Lee Fullhart at 185 pounds, winning 3-1 and 4-1 in-between an overtime loss in the second match. Fullhart upset Sanderson at last month's U.S. nationals to gain the No. 1 seeding in freestyle.
National champion Jamill Kelly eliminated Sandpoint High graduate Jared Lawrence in three matches at 145 1/2 pounds.
Otherwise, the top-seeded wrestlers had relatively little trouble.
Five of the seven freestyle champions needed the minimum two matches to earn trips to Athens: Stephen Abas (121 pounds), Eric Guerrero (132), Joe Williams (163), Daniel Cormier (211 1/2 ) and Kerry McCoy (264 1/2 ).
U.S. women's champions Patricia Miranda (105 1/2 pounds), Sara McMann (138 3/4 pounds) and Toccara Montgomery (158 1/2 pounds) also won two in a row, with Montgomery eliminating the fast-tiring Kristie Marano by 9-6 in overtime and 4-2.
Marano was top-seeded at 138 1/2 , but missed making weight Friday by one pound. She may spend the next four years wondering if that one pound cost the seven-time world medalist an appearance in the first Olympic women's wrestling competition.
The only women's challenger to make the team was 121-pounder Tela O'Donnell, who once played on her Alaska high school's boys football team. She beat top-seeded Tina George.
The challengers went 3-3 in Greco-Roman, with 121-pounder Dennis Hall outlasting top-seeded Brandon Paulson in an exhausting three-match series. Also making the Greco-Roman team were Jim Gruenwald (132), Oscar Wood (145 1/2 ), Brad Vering (185) and Garrett Lowney (211 1/2 ), who ousted national champion Justin Ruiz.
Local journalism is essential.
Give directly to The Spokesman-Review's Northwest Passages community forums series -- which helps to offset the costs of several reporter and editor positions at the newspaper -- by using the easy options below. Gifts processed in this system are not tax deductible, but are predominately used to help meet the local financial requirements needed to receive national matching-grant funds.
Subscribe to the sports newsletter
Get the day's top sports headlines and breaking news delivered to your inbox by subscribing here.
---