News > Spokane
Horses and riders compete as a team
Mon., May 24, 2004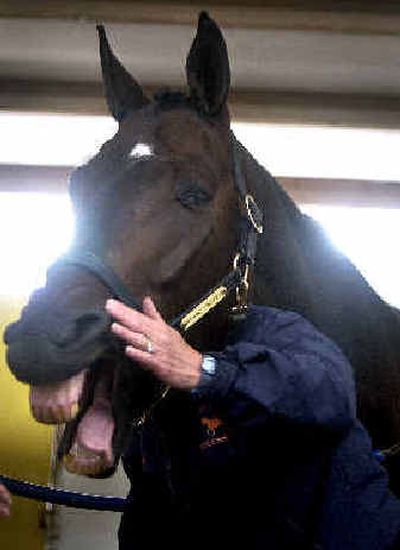 Maggie Nicolino designs Starbucks coffee houses, but her real love is found in the barn.
His name is Pauli – a 13-year-old Hanoverian warm blood who arrived in the United States from Germany last August with a $70,000 price tag.
After a test ride in Virginia, Nicolino fell in love with the German-born horse. Her mother, Margie Clizbe of Spokane, also couldn't resist and bought the chestnut-colored beauty.
Now, after Nicolino finishes her day job as a project manager at Starbucks, she drives 15 miles to a stable in Auburn, Wash., where she boards Pauli. He recognizes her and begins "nickering" as soon as she reaches his boarding stable.
"The first thing I had to do is teach him English," Nicolino said of her horse, trained to respond to German commands.
The 35-year-old former Spokane woman, who now lives in Kent, Wash., brought her Hanoverian to Spokane over the weekend to compete in the ninth annual Spring Dressage.
The event at Spokane Sport Horse Farm, on Sherman Road southwest of the city, attracted about 100 dressage riders and their horses from Washington, Idaho, Oregon, Montana and Canada.
The showcase 8-year-old private facility is owned by Dr. Christel Carlson, a horse-lover, dressage rider and Spokane anesthesiologist.
Even with a weekend of rainy weather, Carlson was all smiles.
Younger riders, including Olivia Chapeski, 19, of Missoula, and Taryn Yates, 18, of Lolo, Mont., were involved in a competition that ultimately will lead to the selection of four riders in the region who will advance to the Olympic trials.
Dressage is a form of formal riding where the horse walks, trots and canters, following only the body-language and rein commands of the rider. Judges deduct points if they hear a rider giving verbal commands.
"The purpose of dressage is the harmonious development of the horse's physical and mental condition, to improve its natural gait … in perfect understanding with the rider," the event's program explained.
The dressage rider is formally attired in a black top hat, white or black gloves, white full-seat britches, a starched white smock or shirt, a black riding jacket or "shad belly" and black dressage boots tipped with silver spurs.
Most horses, like their riders, get a bit nervous when they begin their dancelike prancing routine. The rider must put the animal through about two dozen separate routines, committed to memory from days of practice, Nicolino explained.
"He just knows he's on display when he steps into that arena," she said of her horse, whose formal name is Favourite Dream. Pauli is his "barn name," she explained.
The horses compete one at a time in a special arena, about 120-by-215 feet, covered with a special, expensive mixture of gravel and ground-up rubber. Three judges sit at one end of the arena, while hushed spectators watch from the sidelines.
Lightning and rain forced the cancellation of outdoor competition on Saturday, but events were rescheduled in an indoor arena where Nicolino and her horse earned good marks on Saturday and Sunday.
Dressage involves accruing points throughout the season. With her weekend scores, Nicolino is now qualified to compete in the regional competition in early October at Emerald Downs in Auburn.
Nicolino, born Maggie Anderson, was raised in Spokane, attended Gonzaga Prep and graduated from Washington State University with a degree in interior design. She climbed on a horse for the first time when she was 4, and has been in the saddle ever since.
She started with western and hunter-jumper riding. She began dressage when she was in college.
"Three or four hours a day, six days a week, I'm down at the stables with Pauli," Nicolino said. Her husband is involved in computer program design work, drives a Corvette and is only casually interested in horses.
"Pauli did pretty well," Nicolino said atop her ride after the competition. "His half-passes were excellent, and his trot work was good. We had a little difficulty with our canter work."
Among those offering applause after Sunday's test was Nicolino's mother, who officially owns the horse and got to see it compete Sunday for the first time at the Spring Dressage. Nicolino's brother, John Anderson, of Spokane, also watched.
"I thought she did real well, and the horse looked good, too," Clizbe said of her daughter's performance atop Pauli.
After the competition, Nicolino took her horse to a stall in one of three large barns at the Spokane Sport Horse Farm.
Once in the stable, Nicolino grabbed a special treat for Pauli – a day-old raisin panino. Even before Nicolino pulled out the French roll, the horse seemed to recognize the paper sack.
"It's the Starbucks logo," Nicolino said. "He sees it and he knows what I've got for him. He knows."
Local journalism is essential.
Give directly to The Spokesman-Review's Northwest Passages community forums series -- which helps to offset the costs of several reporter and editor positions at the newspaper -- by using the easy options below. Gifts processed in this system are not tax deductible, but are predominately used to help meet the local financial requirements needed to receive national matching-grant funds.
Subscribe to the Coronavirus newsletter
Get the day's latest Coronavirus news delivered to your inbox by subscribing to our newsletter.
---