Sports
Kansas City makes closer out of Affeldt
Mon., May 24, 2004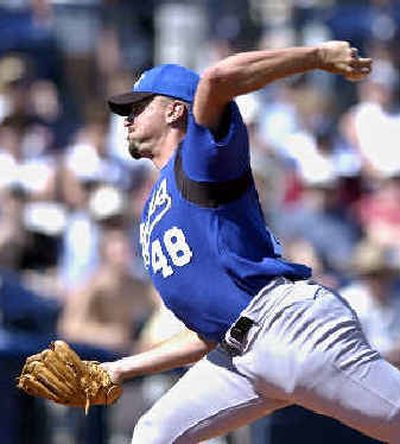 Jeremy Affeldt's move from starter to closer for the Kansas City Royals got off to a rough start Saturday.
In his first game as closer, Affeldt came into the ninth with a 4-2 lead. The Northwest Christian product then gave up a two-out, two-run home run to Eric Chavez that tied the game. Oakland won it in 11 innings.
The runs were unearned after Royals shortstop Angel Berroa committed an error that allowed Eric Byrnes to reach base.
The left-handed Affeldt started eight games, but was asked to switch roles because Mike MacDougal is working on his control problems at Triple-A Omaha and the Royals have been relying on several pitchers to finish games.
"It was a mutual decision," Affeldt said Friday before the Royals played the Oakland Athletics. "I did the job last year. I like the job. I had a blast. It wasn't a demotion or a promotion, anything. They told me it wasn't a decision based on performance."
Manager Tony Pena said he didn't expect the move to be permanent. There is no timetable when MacDougal might rejoin the Royals.
MacDougal was 0-1 with a 10.80 ERA and one save in five chances following a stint on the disabled list caused by a stomach virus.
He was 3-3 with 24 saves and a 2.59 ERA when he was selected to the All-Star game last July. After the break, he was 0-2 with three saves and a 6.85 ERA.
Affeldt has pitched in relief in 45 of his 78 career appearances and went 1-1 with a 2.56 ERA and four saves in 18 relief outings last season. He held opponents to a .193 average as a reliever last year.
Pena had predicted the 24-year-old Affeldt would be a 20-game winner one day. Now Pena believes Affeldt will save 40 games a season.
"Last year, he did it for us and did a real good job," Pena said. "Right now, we need somebody. He said he'd do whatever it took to help. It's not necessarily a long-term thing. I needed a closer right now. He has the attitude and the stuff to be one of the great closers of the game."
Johnson takes perfection into third
Randy Johnson's bid to become the first pitcher to throw consecutive perfect games ended in the third inning Sunday.
Johnson set down the first six Florida Marlins he faced — extending his run to 39 straight batters retired over his last three starts — before allowing Abraham Nunez's leadoff double in the third inning.
Johnson, 40, became the oldest major league pitcher to throw a perfect game when he retired all 27 Atlanta batters he faced last Tuesday night. It was the 17th perfect game in baseball history.
Had Johnson been perfect through three innings against the Marlins, he would've eclipsed the major league record of 41 straight batters retired set by San Francisco's Jim Barr 32 years ago.
•Arizona first baseman Richie Sexson was placed back on the 15-day disabled list with an injured left shoulder.
Sexson, who partially dislocated and tore a muscle in the shoulder while checking his swing against the Chicago Cubs on April 28, reaggravated the injury on another check swing against Florida on Saturday — just his second game since being activated.
Burnett strong in rehab start
Florida Marlins right-hander A.J. Burnett passed another test in his comeback from reconstructive elbow surgery Sunday.
Pitching for Class-A Jupiter of the Florida State League, Burnett allowed two hits and one unearned run in four innings during a rehabilitation start.
His next outing is tentatively scheduled for Friday with Double-A Carolina or Triple-A Albuquerque. He could be back in the Marlins' rotation by June 2 against Cincinnati.
Pirates eye Aaron Boone
The Pittsburgh Pirates are interested in signing injured free agent third baseman Aaron Boone.
"It's something that's really more of an exploratory situation at this point," general manager David Littlefield said. "We're a team that has interest in looking into the situation. We want to stay in touch with him to see where it goes, to see how he progresses physically."
Littlefield identified third base as an area of need. The Pirates have started four different players at third this season, including Chris Stynes, who was hitting .214 in 24 starts through Saturday.
Local journalism is essential.
Give directly to The Spokesman-Review's Northwest Passages community forums series -- which helps to offset the costs of several reporter and editor positions at the newspaper -- by using the easy options below. Gifts processed in this system are not tax deductible, but are predominately used to help meet the local financial requirements needed to receive national matching-grant funds.
Subscribe to the sports newsletter
Get the day's top sports headlines and breaking news delivered to your inbox by subscribing here.
---