News > OurGen
Sequel gives more of best ingredients
Mon., May 24, 2004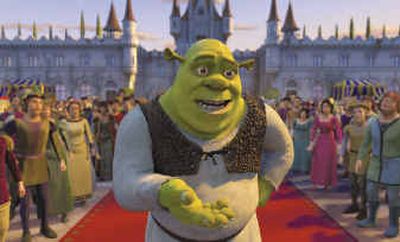 Somehow the hideously ugly, green and anti-social ogre known as Shrek has become — gasp — loveable. So loveable, in fact, he's now available at Wal-Mart stores everywhere in the form of a cuddly 12-inch plush doll.
And that's not the only place you can find him. He's loved so much, it's now possible to have Shrek for breakfast, sleep within the warm folds of a Shrek comforter and play Shrek on the X-Box.
Go figure that a sequel to 2001's exuberant, playful and even charming "Shrek" was not far behind. And, as any wise Hollywood studio would have it, the sequel, the aptly named "Shrek 2," has all of what people loved about the first and more: More jokes, more supporting characters, more fragmented fairy tales and more of the Gingerbread Man.
Just returning from their honeymoon, and admittedly more docile and housetrained than ever before (dare I say lovable?), Shrek (Mike Meyers) and his ogre bride Princess Fiona (Cameron Diaz) are called by her parents (John Cleese and Julie Andrews) to their kingdom of Far Far Away for a royal banquet in their honor. With Donkey (Eddie Murphy) in tow, Fiona drags a diffident Shrek back to her homeland so that she may introduce him to her parents and obtain their blessing.
But she doesn't count on the king's less-than-lukewarm reception of her ogre groom — who was, instead, expecting Prince Charming to be the one to rescue Fiona and awaken her from the spell with a kiss.
So, under pressure from the sinister Fairy Godmother (Jennifer Saunders) — whose own churlish and narcissistic son, Prince Charming (Rupert Everett), was simply late – the King hires a frisky cloaked hit-cat to take care of Shrek. The debonair feline caper, Puss-in-Boots (voiced with perfection by Antonio Banderas), stands no chance against Shrek's charm, however, and soon ends up as Sidekick #2 — much to Donkey's dismay. He had rather enjoyed his position as the sole-annoying, talking-animal associate.
Still just as brash and cheekily energetic as "Shrek" in spirit, "Shrek 2" is fine entertainment, typically quite funny and sometimes genuinely clever. The messages of the first are reaffirmed — that children must be themselves and happy for whom they are, and that it's OK to be ugly, especially if you have your own merchandising line.
These are messages that need to be heard today — and while neither film compares with Pixar's offerings, neither in visual intensity, educational benefit or artistic merit, both films are respectable for the raucous fun and valuable message.
This time around, the pop-cultural spoofs, satirical in-jokes and visual puns are so much more frequent than in "Shrek" — by my count, no less than a dozen popular films are lampooned. No doubt attempting to greater satisfy the film's audience, the filmmakers also push their luck with the PG-rating by having a far more vulgar coarseness and blatant, self-aware bawdiness than its predecessor.
This approach of loading a film with loutish mockery and lampooning isn't exceptional in Hollywood, of course. And "Shrek 2" does carry it all out with a droll smartness and ease — but you're left walking out of the theater with a strange, somewhat unpleasant and skeptical distrust of the film. It's all funny, but shouldn't the humor be inherent in the screenplay to begin with, without needing to resort to such shameless charades? Ironic that a film about being yourself no matter what steals from other movies for laughs.
Nonetheless, "Shrek 2" is still the same old Shrek – loveable despite his warts. It lacks the cleverness and audacity of the original, and it's disheartening to think of the beautiful masterwork it could've become — but somehow, you can't help but love the big green ogre. And I've got the plush doll to prove it.
Grade: B-
Local journalism is essential.
Give directly to The Spokesman-Review's Northwest Passages community forums series -- which helps to offset the costs of several reporter and editor positions at the newspaper -- by using the easy options below. Gifts processed in this system are not tax deductible, but are predominately used to help meet the local financial requirements needed to receive national matching-grant funds.
Subscribe to the Coronavirus newsletter
Get the day's latest Coronavirus news delivered to your inbox by subscribing to our newsletter.
---