News > Spokane
Take time to give road construction crews a 'brake'
Mon., May 24, 2004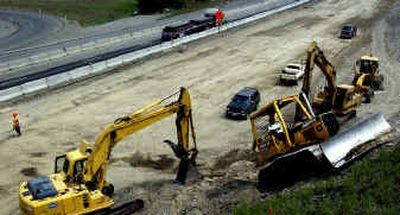 It's pretty scary when a huge tractor trailer speeds by within two feet of where you're standing. The ground isn't really supposed to shake like that.
But that's what road construction crews along Interstate 90 experience every day.
At least they have a concrete barrier between them and the high-speed traffic. At other jobs, the only thing separating workers from vehicles are those little orange cones.
Even those concrete barriers will move two feet if hit by a car at 60 mph.
Just last week a Vancouver, Wash., road worker was seriously injured on the job by a hit-and-run driver.
And since 1950, 56 Washington state Department of Transportation workers have been killed in a work zone.
Is it any wonder that WSDOT is urging motor-ists to give road workers a "brake?"
"All that's required is a split second of inattention and it could mean death for a state worker or contract employee," said WSDOT spokesman Al Gilson.
Drunken drivers, people fiddling with cell phones, motorists irritated by traffic tie-ups – road crews have been endangered by them all, said Chris Damitio, assistant project engineer for the I-90 widening project between Argonne and Sullivan.
Damitio and Gilson said that drivers need to slow down and pay attention in all work zones.
It takes less than a minute longer to drive through a two-mile work zone at 45 mph than it does at 60 mph.
Last Wednesday, the Washington State Patrol was doing its part to keep construction crews safe, ticketing speeders in the I-90 work zone between the Sullivan and Argonne exits.
That was good news for workers, but bad news for those who were ticketed. Traffic fines are doubled inside construction zones.
No free parking
Dozens of Lilac Parade-goers found out last week that parking at Value Village for a special event is no bargain.
Goldie Campbell returned from the parade with her four children to find her van had disappeared.
"They were hysterical because they thought the car had been stolen," Campbell said.
Turns out it had been towed away. Getting it out of the impound lot cost about $230.
Value Village had about 15 cars impounded because they were taking spots needed for customers, said company spokeswoman Gina Cohen.
"Signs said, 'No event parking. Patrons only. Violators will be towed,' " Cohen said.
But to Dwana Miotke, the tow truck seemed to hit at random.
Miotke complained that her car was impounded while others belonging to parade-goers weren't.
Evergreen State Towing co-owner Ken Meyers said he can impound only cars identified by the property owner.
The Season Ticket restaurant and bar shares a parking lot with Value Village.
Owner Chuck Randazzo said that parking can become an issue there when there is an event downtown or at the Spokane Veterans Memorial Arena.
Often an attendant will monitor the situation by taking money for some parking spots, but that wasn't the case for the Lilac Parade.
"Unfortunately a lot of people would rather take a chance than pay a few dollars to park at the Arena," Randazzo said.
Explore Washington
Is your Washington state road map a little tattered after years of folding it the wrong way?
Well, the Washington state Department of Transportation is giving out free maps. The 2004 highway map features sites that Lewis and Clark visited during their journey through the state 200 years ago.
Cartographers used 142 different levels of information to create the map, which includes topographic and road information. The state prints 1 million copies of it every two years. The first was printed in 1931.
And while William Clark used crude tools to make his maps, this map was created digitally. Clark didn't do too badly, though. His map was just 50 miles off when measuring the distance from St. Louis to the mouth of the Columbia.
Call (360) 705-7279 or visit www.wsdot.wa.gov/communications/Map/order.htm to get your copy.
Slow going
Mt. Spokane Highway travelers will experience some delays starting today.
Crews are resurfacing the road from Bruce Road to the entrance to Mt. Spokane State Park. The work will last from 7 a.m. to 6 p.m. and take about five days. Expect the trip to take 15 minutes to 20 minutes longer than usual.
Local journalism is essential.
Give directly to The Spokesman-Review's Northwest Passages community forums series -- which helps to offset the costs of several reporter and editor positions at the newspaper -- by using the easy options below. Gifts processed in this system are not tax deductible, but are predominately used to help meet the local financial requirements needed to receive national matching-grant funds.
Subscribe to the Coronavirus newsletter
Get the day's latest Coronavirus news delivered to your inbox by subscribing to our newsletter.
---