Sports
CdA tabs CV's Poffenroth as girls coach
Tue., May 25, 2004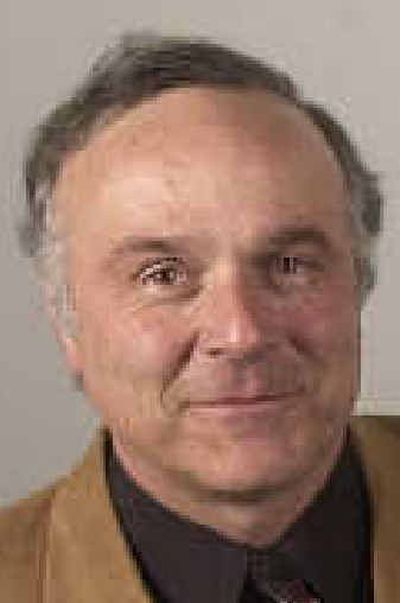 Dale Poffenroth, one of the most successful girls basketball coaches in Greater Spokane League history, has resigned at Central Valley High School to become head coach at Coeur d'Alene.
"I guess you reach that stage where you need a challenge," Poffenroth said. "I had one here last year. People said all the kids graduated. We had one senior and six sophomores and went 25-4 and finished seventh at state. They'll continue to do the same (next year). I don't have that to prove anymore."
Poffenroth, 55, who is in his 32nd year of teaching, said he's been eligible for retirement in Washington for two years. He knows many believe he's leaving CV so he can build another retirement in Idaho. But he says that's not exactly true. He says he wants to see if he can build a program at CdA similar to what he's leaving at CV.
Poffenroth guided CV to three state titles and two runner-up finishes in 17 years as head coach. He has a career record of 384-103.
"I have time, I guess, to try it again," Poffenroth said.
CdA athletic director Larry Schwenke said the selection committee couldn't have had a more proven applicant for the job than Poffenroth. He replaces Keri Jaworski, who resigned after three seasons. CdA was 2-19 last year in a season where injuries ravaged the roster. CdA will return four starters and four other lettermen.
"Obviously, his background is impressive," Schwenke said. "He brings a wealth of experience both in the classroom and on the court. We're excited for the future."
Poffenroth will teach math at CdA.
Lake City coach Darren Taylor, whose teams have finished third, second and third at state the last three years, has tried to get CV on the schedule in recent years. Interestingly, LC and CV are scheduled to play an afternoon game New Year's Eve next season. But now, Taylor's team will play at least three games a season against Poffenroth's teams at CdA.
"We've tried to go where ever his (CV) teams have gone in the summer," Taylor said. "That's quite a coup for Coeur d'Alene. He's an excellent coach. I don't know how quickly he can get it to where he wants it at Coeur d'Alene. It might be a little frustrating early, but if the girls buy into what he wants they'll be good."
Poffenroth will meet with returning CdA players, parents and boosters Wednesday at 5:30 p.m. in the school's commons.
He broke the news of his resignation with players and parents at CV on Monday evening.
"That will be difficult to sit down tonight and explain why I'm leaving and break their hearts," Poffenroth said in an interview a couple of hours before the meeting. "They'll be wondering what they did wrong to cause this to happen. It's not going to be a comfortable evening. But it's not a single thing they did. I started looking for an opportunity like this a couple of years ago. This is an opportunity that fits."
Returning and prospective CdA players will play in a summer league Poffenroth started at CV. He said he will discuss other summer plans with players and parents at the meeting Wednesday.
He's confident he can build a winning program at CdA.
"It's a good program," Poffenroth said. "The right things are there and in place. It's a matter of pushing and routing them in the right direction. I'll work very hard at it. I'm very driven – I'm probably considered a workaholic.
"If I can't make it happen – if I"m not having fun and the kids aren't having fun – I'll sit down with Steve (Casey, principal) and Larry (Schwenke) and say 'thanks for the opportunity, but it's not going to happen.' But that's not going to happen. We'll be competitive the first year, but it isn't going to happen right away. There's no magic wand. But it will happen before I leave."
Poffenroth will have to organize his coaching staff. He said Jamie Thacker, a volunteer junior varsity coach at CV, will join him in some capacity at CdA.
Three others interviewed for the CdA job – CdA JV coach Russ Giles; Kevin Sheffler, a coach most recently in Alaska; and former Kellogg girls head coach Wayne Pfeifer.
Poffenroth declined to speculate on who might replace him at CV. He said part of the difficulty is the school isn't likely to have a teaching job to package with the coaching position.
"They're in a bind," he said.
Local journalism is essential.
Give directly to The Spokesman-Review's Northwest Passages community forums series -- which helps to offset the costs of several reporter and editor positions at the newspaper -- by using the easy options below. Gifts processed in this system are not tax deductible, but are predominately used to help meet the local financial requirements needed to receive national matching-grant funds.
Subscribe to the sports newsletter
Get the day's top sports headlines and breaking news delivered to your inbox by subscribing here.
---