News > Spokane
Cuba boosts prices
Tue., May 25, 2004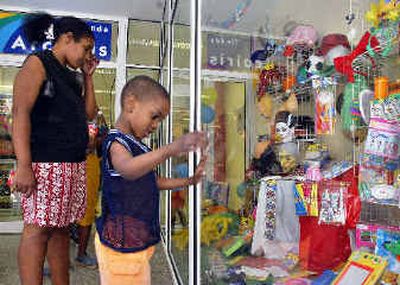 HAVANA – Stores selling everything from cigarettes to refrigerators for dollars reopened Monday, two weeks after Cuba's communist government abruptly shut them down to raise prices because of U.S. measures squeezing the island's economy.
The government imposed price increases of up to 25 percent for alcohol, 22 percent for gas and 15 percent for electrical goods in the island's 5,000 dollar-only stores. The opening of the stores and the price increases were announced in a front-page article in the Communist Party daily Granma.
"Oh my, the prices have really risen," said Gracie Zaeta, 46, who went to the Plaza Carlos III mall with her husband.
The couple was mostly interested in the prices of such basic items such as chicken, soap and children's shoes. They were unhappy with the increases because their salaries are paid in Cuban pesos and have remained stagnant.
"We don't agree with this, because we do not earn our salaries in dollars," said Zaeta, who each month makes 250 pesos, or about $10, as director of personnel for Havana's municipal government.
Now, a pack of black Cuban tobacco cigarettes known as Populares costs 60 cents, up from 50 cents. Imported cigarettes purchased mostly by foreigners, such as Dunhills, cost about $4.50 for a pack of 20.
Regular gasoline rose 5 cents to 80 cents a liter, which roughly one-quarter of a gallon.
A pound of chicken rose from 85 cents to $1.08. A bar of nationally produced deodorant went from $1.80 to $2.10. A pair of women's slacks that once cost $17 now costs $19. A tiny electric washing machine with a hand-operated wringer now goes for $205, up 25 percent from a little more than $160.
Cuba was forced to implement liberal reforms in the early 1990s to cope with the loss of Soviet aid and trade. The possession of dollars was legalized in 1993 to draw hard currency from tourism and from family purchases at state stores.
But most Cubans are still paid in pesos, and Cuban leaders worry that the shops, which accept only U.S. dollars, create social inequality.
Cubans have free rent and receive free health care, university education and other services, and some receive meals at work. But wages average less than $20 a month and monthly rations of nearly free food have dwindled.
Cuba blamed the price increases on U.S. measures aimed at reducing hard currency on the island by limiting how often Cuban-Americans can visit relatives, decreasing how much they can spend here and prohibiting money transfers to Cuban officials and Communist Party members.
Cubans who can get dollars that filter through the economy from abroad turn to hard-currency shops for food products and other goods that are difficult to obtain for pesos.
The Granma article directly linked the price increases to the U.S. measures, saying Washington wanted to "pummel the country's economy as part of its murderous and genocidal plans against the Cuban people."
The article, entitled "Information for the People," said prices at the dollar stores were increasing by an average of 15.4 percent. The government similarly raised prices at dollar stores two years ago, but it did not close them to do so. It also reduced some prices after customers complained.
Local journalism is essential.
Give directly to The Spokesman-Review's Northwest Passages community forums series -- which helps to offset the costs of several reporter and editor positions at the newspaper -- by using the easy options below. Gifts processed in this system are not tax deductible, but are predominately used to help meet the local financial requirements needed to receive national matching-grant funds.
Subscribe to the Coronavirus newsletter
Get the day's latest Coronavirus news delivered to your inbox by subscribing to our newsletter.
---