Sports
Griffey inches closer to 500th homer
Tue., May 25, 2004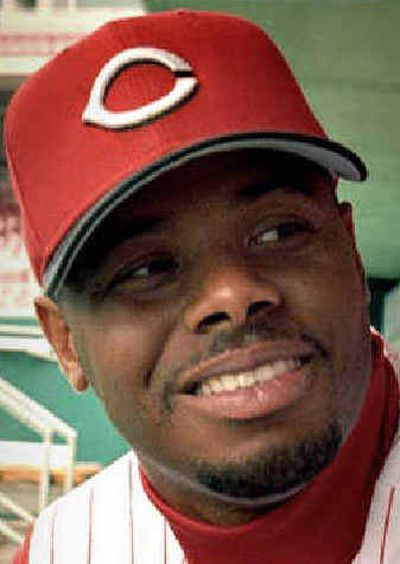 Ken Griffey Jr. knows what he'll do when he hits home run No. 500.
Nothing.
He'll round the bases with his head down, careful not to show up the pitcher. There will be nothing to set it apart from the first 499.
That's the way his father would want it.
Griffey's two-run homer Sunday moved him to 490 and started the countdown to the milestone. Large white-on-red countdown numbers have been added to the home run smokestacks at Great American Ball Park.
He edged closer Monday with a solo shot in the second inning off Houston's Tim Redding, his 10th of the season and 491st overall, tying Fred McGriff for 21st on the career list.
Griffey said before Monday's game that he won't celebrate as he rounds the bases on No. 500. His father, former Reds outfielder Ken Sr., called him over and scolded him after he raised his arms in celebration of his first home run in knothole baseball.
The message: Never show up a pitcher.
"I was 14," he said. "I hit a home run and ran around the bases like Steve Garvey. I touched home plate and he said, 'Bring (yourself) over here.' I never even got to shake my teammates' hands. It was the first time I ever hit a ball over a fence."
Assuming he gets it this season, Griffey, 34, will be only the sixth player to hit 500 homers before his 35th birthday. Sammy Sosa was 34 when he hit No. 500 at Great American last season. Babe Ruth, Hank Aaron and Willie Mays also were 34, and Jimmie Foxx was 32 years old.
Griffey was on target to become the youngest player to reach 500 when he arrived in Cincinnati as part of a trade before the 2000 season. He hit 40 that year, then was limited to 22, 8 and 13 each of the next three seasons because of injuries.
Bone scan negative on Wood
Kerry Wood's right arm is structurally sound, a bone scan showed Monday, but the Chicago Cubs' pitching ace is still expected to miss up to three weeks. The test confirmed the original diagnosis of tendinitis in the lower triceps muscle. There was no evidence of a stress fracture.
The Cubs said they expect him to be sidelined for 2 1/2 -to-3 weeks, pushing his return back to early June.
Brewers' Helms out up to four weeks
Milwaukee third baseman Wes Helms will miss two-to-four weeks after having surgery Monday on his strained right knee.
Helms was hurt Wednesday when he slipped on a wet ramp outside the clubhouse at the ballpark in San Juan, Puerto Rico, where Milwaukee was playing the Montreal Expos.
Delgado leaves game with knee injury
Toronto Blue Jays first baseman Carlos Delgado left Monday night's game against the Anaheim Angels after the third inning with a jammed right knee.
Delgado, who has a history of knee problems, was called out at second base on a fielder's choice in the third. Dave Berg replaced him at first to start the fourth.
Local journalism is essential.
Give directly to The Spokesman-Review's Northwest Passages community forums series -- which helps to offset the costs of several reporter and editor positions at the newspaper -- by using the easy options below. Gifts processed in this system are not tax deductible, but are predominately used to help meet the local financial requirements needed to receive national matching-grant funds.
Subscribe to the sports newsletter
Get the day's top sports headlines and breaking news delivered to your inbox by subscribing here.
---