News > Spokane
No offers too small in city sale
Tue., May 25, 2004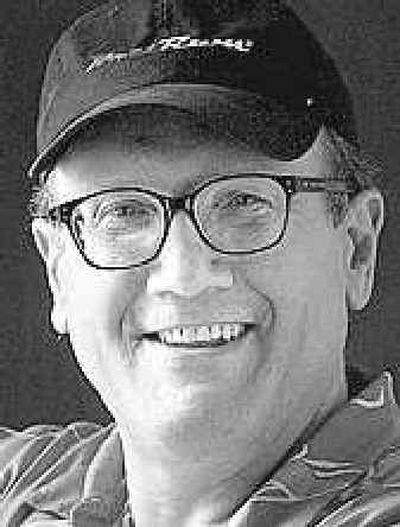 Howdy folks. Dealin' Doug here for Lilac City Liquidation.
Today I'm helping Mayor Jim "The Tire Kicker" West sell off Spokane.
Parts of it, anyway.
Looking for a good buy on a vintage City Hall?
Make us an offer!
Ever thought of owning your own sports stadium?
Show us the moolah!
Interested in five acres of prime city real estate?
Let's crunch the numbers!
If it looks like I've done a flip-flop on selling city property, well, I have.
I was a bit hard on the mayor the other day when he revealed he was "kicking the tires" on a deal to sell our classy art deco City Hall and relocate the municipal government in that 17-story cracker box otherwise known as the Metropolitan Tower of Vanishing Dividends.
Our old City Hall is a civic centerpiece. It has an exquisite view of Riverfront Park. The thought of some greed-grubbing developer turning it into overpriced condos gave me a wedgie of the worst kind.
"Hey, West," I wrote. "Sell off City Hall and I'll lead the charge to kick your mayoral patootie."
But before the dryer lint could settle on that controversy, the mayor announced he was "kicking the tires" on yet another scheme.
This plan would:
A.) Sell Albi Stadium and some of the city-owned land that surrounds it.
B.) Move all the proposed softball razzmatazz to the recently demolished Playfair Race Course site.
Well, this got me thinking.
West is a political mastermind. All those years in the state Senate earned him a reputation as an astute strategist, a tough negotiator.
In short, the guy obviously knows something.
And so I arranged to have lunch with the mayor to find out more.
And guess what?
He shows up on his 142nd day in office toting an actual tire. No retread, either. A brand new tire. With a red and white ribbon tied to it.
Only a confident wheeler-dealer walks around downtown carrying his own tire.
"I'm just a plain, simple guy," says West.
Yeah. And I'm the new drummer for the White Stripes.
West explained the tire was a recent gift from the Junior League. This was verified in the following inscription written on a brass plaque that came with the tire:
Kick the Tire Award presented to Mayor Jim West from the Junior League of Spokane for helping to make Spokane a better community.
OK. I'm sold.
During lunch West told me that he's also thinking about unloading the city's five-acre garage/maintenance complex located on the fringe of downtown.
You go, mayor! Who needs it?
West says he's currently analyzing city assets so he can see what we don't need. The goal, he maintains, is to build a cash reserve.
As Gary Gilmore said before the state of Utah shot him to death, "Let's do it."
Ever thought of owning your own historic clock tower?
Wouldn't your kid be the envy of the neighborhood with his own giant red wagon slide?
Check out the downtown library, with its grand view of the falls and the Monroe Street Bridge. Wouldn't that place make one killer bachelor pad?
Pull out the greenbacks. Let's see where the rubber meets the road.
It's all priced to move. Let's sell it all and move the whole city into Millwood!
Think of the reserve we'll have then.
West says slow down. He's not trying to turn his mayorship into Jim's Appliance.
No parks are for sale, he scolds. No libraries.
"When you have a yard sale," he adds, "you don't sell grandma's jewelry."
Hey, it all depends on the price. You start selling off the barns and the corrals and you're just a half-step or two away from selling the whole farm.
"We're not selling it," notes West. "We're improving it."
I'm sure the mayor has our best interests at heart. The copy of a recent survey he brought to lunch shows that the public thinks he's doing quite well.
West received an "A" from 18 percent of adult Spokane residents surveyed. Another 43 percent gave him a "B." A scant 5 percent flunked the mayor.
West tells a story about someone who came up to him and told him:
"I can't stand you, but you're doing a helluva job."
I believe him. I heard pretty much the same backhanded endorsement about West from one of the town's biggest supporters of former Mayor John Powers, the man West helped oust in the primary election.
So why fight City Hall?
Go ahead, Jimbo. Sell this beautiful civic treasure. Nobody besides me seems to give a flying fig.
"We'll sell you one of the condos," jokes the mayor.
Step right up folks. If you've got the Benjamins, we've got the bargains.
Local journalism is essential.
Give directly to The Spokesman-Review's Northwest Passages community forums series -- which helps to offset the costs of several reporter and editor positions at the newspaper -- by using the easy options below. Gifts processed in this system are not tax deductible, but are predominately used to help meet the local financial requirements needed to receive national matching-grant funds.
Subscribe to the Coronavirus newsletter
Get the day's latest Coronavirus news delivered to your inbox by subscribing to our newsletter.
---