News > Spokane
Pizza and punk rock register at SCC
Tue., May 25, 2004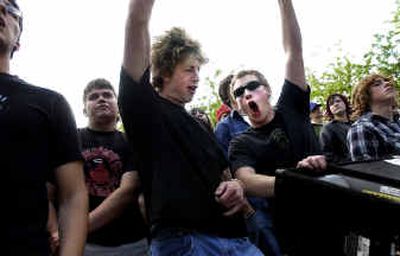 Most students came to the center of campus Monday for the live music from jumping and jamming punk rockers.
Students such as freshman Amber Frederickson, 18, left empowered as new registered voters.
Spokane Community College held a Rock the Vote event that drew students with music and 100 free pizzas, then offered them a chance to weigh into the political process in time for the November presidential election.
Frederickson walked past a crowd of people with dyed red hair and pierced faces. Thinking the commotion was a fund-raiser of some kind, she hurried past until a volunteer asked the Rogers High School graduate why she wasn't registered to vote.
"How am I going to vote when I don't know what I'm voting for?" said Frederickson, sporting a pink Playboy bunny logo on her shirt and a cross around her neck.
One conversation later – after hearing how national policies could affect her future career in corrections – Frederickson signed up.
"The hardest was when he asked me what party I belong to," said Frederickson, who struggled to name the political parties of Democrats or Republicans. "I was like, 'I don't know.' "
In all, 97 students were registered to vote Monday as California bands including Bleed the Dream wailed songs about breakups and immigration. For a few hours, dozens of students wandered past the row of tables set up for various local candidates, such as Bill Burke for Spokane County commissioner and Don Barbieri for Congress, and presidential campaign volunteers. Another estimated 500 students wandered in and out of the outdoor amphitheater where bands played.
SCC's event started with Ryan Ballou, a student government senator who was having trouble selling his vision of free pizza and rock bands on campus. Then he joined forces with other student senators Stefanie Freatman and Andrew Gibbs, who had connections with the nonprofit, nonpartisan Rock the Vote group, which has held similar events around the country.
"Our events are usually pathetic," said Freatman, who is director of legislative affairs for SCC student government.
This event seemed promising early in the planning.
"It blew up," Freatman said. "I called like three or four people and I got 20 different calls the next day. (Candidates) wanted to come and tell people what they're all about."
All three agreed they wanted to do something important.
"It's not all Republicans. It's not all Democrats. It's not all rock groups," Freatman said. "It's a mix of people."
History professor Stacy Kowtko stood in the grass taking attendance for her class. She had assigned students to find history at the event. Some grumbled, like the student who checked in and said, "How long do we have to stay."
Kowtko, a modern music fan, told her students they had to write a paper about the event. She hoped they'd realize how this was an effort for leaders to connect with voters. Years ago, former President Bill Clinton played a saxophone on the "Arsenio Hall Show" to entice young voters. Democratic presidential candidate John Kerry was videotaped snowboarding down a mountain this winter. President George Bush was just reported bouncing back from a wreck on his mountain bike.
"They're trying to reach people that aren't getting reached (through events like this)," Kowtko said.
A van-load of GED students came for the event at SCC.
Vicky Lamont, 45, a student pursuing a General Education Development degree, found herself engaged in a 15-minute education from Burke on the duties of a Spokane County commissioner.
Burke has yet to secure Lamont's vote. She'll investigate him further, she said. He was part of her personal education, she said.
"I'm tired of being ignorant," Lamont said, concerned she'd feel embarrassed for asking questions. "He was really easy to talk to."
Gibbs said he did receive a complaint from the chair of the science department who said his class' test was disrupted.
"We just wanted it loud and in the center of campus," Gibbs said after the event. "I've been here two years. I wanted to go out making some noise. My ears are ringing."
Local journalism is essential.
Give directly to The Spokesman-Review's Northwest Passages community forums series -- which helps to offset the costs of several reporter and editor positions at the newspaper -- by using the easy options below. Gifts processed in this system are not tax deductible, but are predominately used to help meet the local financial requirements needed to receive national matching-grant funds.
Subscribe to the Coronavirus newsletter
Get the day's latest Coronavirus news delivered to your inbox by subscribing to our newsletter.
---