News > Business
Spitzer sues Grasso to get back millions
Tue., May 25, 2004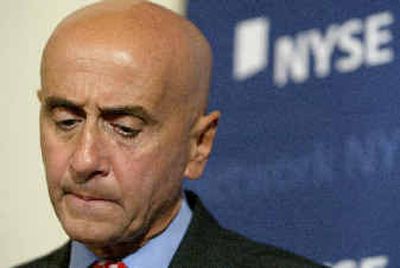 NEW YORK — The New York state attorney general's office sued to get back more than $100 million of former New York Stock Exchange chief Richard Grasso's big pay package Monday, accusing him of bullying and manipulating his way to vast wealth.
Attorney General Eliot Spitzer's suit also named the exchange itself and a former NYSE board member as defendants following a four-month investigation into the controversial pay package. Grasso resigned as chairman and CEO last September amid intense criticism of his pay.
The suit asked that a State Supreme Court judge rescind the pay package and determine a reasonable level of compensation for Grasso. It names Grasso, the NYSE and Kenneth G. Langone, a former NYSE board member and ex-chairman of the exchange's compensation committee.
"This case demonstrates everything that can go wrong in setting executive compensation," Spitzer said. "The lack of proper information, the stifling of internal debate, the failure of board members to conduct proper inquiry and the unabashed pursuit of personal gain resulted in a wholly inappropriate and illegal compensation package."
Spitzer maintained that Grasso, Langone and former NYSE human resources executive Frank Ashen misled compensation committee members by omitting retirement accounts and other aspects of Grasso's pay package. The attorney general said he singled out Grasso and Langone because they allegedly actively misled the other board members, although the entire board could have been held responsible for approving the compensation.
"I drew the line based on those who misled and those who were misled," Spitzer said.
Spitzer claimed the exchange's directors were given inaccurate and misleading information before approving Grasso's contract, and that certain deferred compensation plans and benefits were entirely left out of documents given board members.
He also cited testimony from an unidentified director and compensation committee member, whose firm answered to Grasso in exchange business, and who said he was asked to meet with Grasso in 2001 after privately expressing concern over the extent of his 2000 pay. Spitzer claimed Grasso cowed the director into approving the compensation package.
The attorney general also claimed Grasso's payment formula was "inappropriately driven by a comparison with the salaries of top executives in the world's largest corporations."
"The compensation formula that generated huge payments for Grasso was flawed and under Grasso's control," the attorney general said, adding that even using those benchmarks, Grasso's pay surpassed them by $80 million.
In a statement, Grasso said he looked forward to a "complete vindication in court and fully expect that my fellow NYSE directors and I will be adjudicated to have acted completely in accord with our fiduciary responsibilities and always in the best interests of the Exchange."
Local journalism is essential.
Give directly to The Spokesman-Review's Northwest Passages community forums series -- which helps to offset the costs of several reporter and editor positions at the newspaper -- by using the easy options below. Gifts processed in this system are not tax deductible, but are predominately used to help meet the local financial requirements needed to receive national matching-grant funds.
Subscribe to the Coronavirus newsletter
Get the day's latest Coronavirus news delivered to your inbox by subscribing to our newsletter.
---